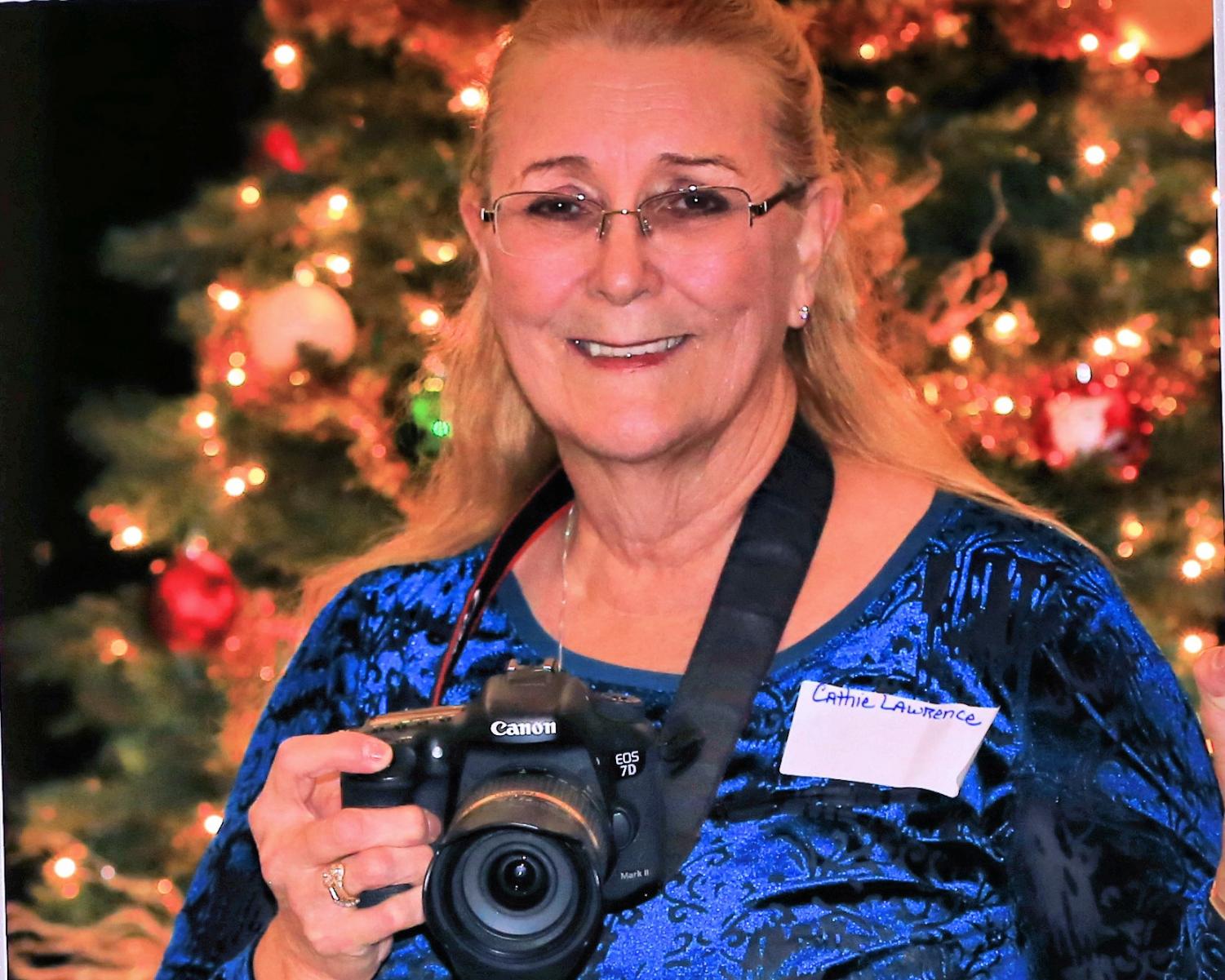 I'm very excited to be working on the staff of the Experience. I continue to enjoy my position as a Sports Photographer and Staff Writer for another semester.
I first started classes at LMC in the Fall of 2005 with a Digital Photography class followed by an Advanced Photography class in the Spring of 2006. I came back in 2011 for a PhotoShop course to learn digital photo editing techniques. My first semester on the Experience staff was as a staff photographer in the Fall of 2013. I have now been on the Experience staff for ten semesters. I am working towards a AA in Journalism and Graphic Arts and look forward to taking more courses in Journalism and Graphic Arts classes.
My other passion is Martial Arts. I am a 3rd Degree Black Belt in Kajukenbo and teach and train this system through a local Antioch dojo.
Cathie Lawrence, Sports Photographer/ Staff Writer
Apr 24, 2020

Current VP steps down from Academic Senate

(Media)

Apr 18, 2020

Graduation ceremony to be held online

(Media)

Apr 26, 2018

Falcons sweep Mustangs

(Media)

Apr 19, 2018

Stangs stomp Falcons

(Media)

Apr 12, 2018

Catcher on the road to success

(Media)

Apr 12, 2018

Mustangs overcome obstacle

(Media)

Apr 11, 2018

2016 MVP adds award

(Media)

Apr 03, 2018

Long journey back from Tommy John

(Media)

Mar 15, 2018

Comeback kids walk off

(Media)

Mar 13, 2018

Bangert follows path to success

(Media)

Mar 08, 2018

A struggle continues

(Media)

Mar 07, 2018

First years stand out

(Media)

Mar 01, 2018

Split double header

(Story/Media)

Feb 23, 2018

Mustangs dominate Eagles

(Media)

Feb 23, 2018

Bittersweet win

(Story/Media)

Feb 22, 2018

Cleary's clear path to SFSU

(Media)

Feb 21, 2018

Student talent honored in show

(Media)

Feb 11, 2018

'Stangs aim for victory

(Story/Media)

Feb 08, 2018

Baseball has busy weekend

(Media)

Feb 08, 2018

Mustangs soar past T-Birds

(Media)

Feb 08, 2018

Women lose in a nailbiter

(Media)

Jan 31, 2018

Baseball underway

(Media)

Jan 30, 2018

Softball on diamond

(Media)

Jan 28, 2018

Mustangs win big by 47 points

(Media)

Jan 27, 2018

Mustangs cruise over CCC

(Media)

Jan 24, 2018

LMC beat Solano in close win

(Story/Media)

Jan 24, 2018

Stangs thrash Falcons 96-89

(Story/Media)

Jan 23, 2018

Mendocino defeats Mustangs

(Story/Media)

Jan 23, 2018

LMC Women's Basketball trample Mendocino Eagles

(Story/Media)

Dec 06, 2017
Dec 06, 2017

Hartnell Hunts Down LMC 96-89

(Media)

Dec 04, 2017

From town to town her passion never left

(Media)

Dec 04, 2017

Volleyball repeats success this year

(Media)

Nov 08, 2017

LMC masters Marin

(Media)

Oct 13, 2017

Mustangs thrash thunderbirds

(Story/Media)

Oct 12, 2017

Football continues perfect run

(Media)

Oct 05, 2017

Mustangs stomp out Storm

(Media)

Sep 28, 2017

Volleyball splits series

(Media)

Sep 28, 2017

Stangs clawed by Falcons

(Media)

Sep 20, 2017

Mustangs fall to West Valley Vikings 3-0

(Media)

Sep 14, 2017

Volleyball gets the W

(Media)

Sep 14, 2017

Sophomore captain no stranger to big plays

(Media)

Sep 07, 2017

Mustangs kickoff season with victory at home

(Media)

Sep 06, 2017

One win, one loss in Mustang Classic

(Media)

Aug 31, 2017

Stangs ready for challenge

(Media)

Aug 31, 2017
Aug 25, 2017

Football back in full force

(Media)

Aug 22, 2017

Soccer squad aims for bounce-back year

(Media)

Aug 15, 2017

LMC graduates celebrate milestone

(Media)

May 04, 2017

LMC in 2nd, makes playoffs

(Media)

Apr 29, 2017

Mustangs finish third

(Media)

Apr 28, 2017

'Freshest' ride on campus

(Media)

Apr 13, 2017

Stangs drop both games to Eagles

(Media)

Mar 25, 2017

'Jesus' saves the day

(Media)

Mar 24, 2017

Tracking The 'A Train'

(Story/Media)

Mar 16, 2017

LMC loses to Solano at home

(Media)

Mar 10, 2017

Never too old to finish school

(Story/Media)

Mar 09, 2017

Mustangs hit stride late

(Media)

Mar 02, 2017

Arcidiacono bucks the status quo

(Media)

Feb 23, 2017

Stangs flash potential

(Media)

Feb 22, 2017

LMC dominates DVC

(Media)

Feb 10, 2017

LMC art show inspired by students

(Media)

Feb 10, 2017

Stangs ready for season

(Media)

Feb 09, 2017

LMC equity with a Kwist

(Media)

Feb 07, 2017

Drama preps for stage

(Media)

Feb 06, 2017

Waterlogged ballfields draw attention to drains

(Media)

Feb 02, 2017

Mustangs scuttle the Jr. Pirates

(Media)

Dec 02, 2016

Alumni gets board seat

(Media)

Dec 01, 2016

Soccer team struggles, but has bright future

(Media)

Nov 17, 2016

Quijada finds his seat

(Media)

Nov 16, 2016

LMC is bowl game bound after 8th win

(Media)

Nov 15, 2016

Stangs stomp Storm

(Media)

Nov 14, 2016

Stangs end season with big W

(Media)

Nov 03, 2016

Mustangs bags another victory

(Media)

Nov 03, 2016

Soccer scores another win

(Media)

Oct 28, 2016

Experience staff takes home awards

(Media)

Oct 28, 2016

College nets new courts

(Media)

Oct 28, 2016

Soccer flashes improvement

(Media)

Oct 25, 2016

Football wins two a row

(Media)

Oct 21, 2016

LMC swings into preseason

(Media)

Oct 21, 2016

LMC teams swing into preseason

(Media)

Oct 12, 2016

Board trustee Nejedly dies

(Media)

Oct 06, 2016

Sullivan's life-long pursuit

(Media)

Oct 06, 2016

LMC falls in close game

(Media)

Sep 29, 2016

Mustangs drop to 0-3

(Media)

Sep 29, 2016

LMC win streak is over

(Media)

Sep 19, 2016

Mustangs stand united

(Media)

Sep 09, 2016
Sep 08, 2016

Tennis court nearly finished

(Media)

Sep 08, 2016

YouTuber shares his journey

(Media)

Aug 25, 2016

Mustangs are set for kickoff

(Media)

Aug 25, 2016

Volleyball is primed for success

(Media)

Aug 24, 2016

Capping off the journey

(Media)

May 13, 2016

Trustee ends his term

(Story/Media)

May 13, 2016

Before the ump yells 'Play ball!'

(Media)

May 13, 2016

A teapot takes shape

(Media)

May 12, 2016

Leaving with a legacy

(Media)

May 05, 2016

Stangs head to regionals

(Media)

May 04, 2016

Athletes honored

(Story/Media)

May 02, 2016

Team wins tournament

(Media)

May 02, 2016

Instructor awarded for online classes

(Media)

Apr 29, 2016

Sanchez wins district award

(Media)

Apr 29, 2016

LMC hunts down Falcons

(Media)

Apr 20, 2016

LMC wins double header

(Media)

Apr 20, 2016

Armed robbery at LMC

(Media)

Apr 15, 2016
Apr 01, 2016

Players unite to support fight

(Media)

Mar 03, 2016

'RACE' empowers students

(Media)

Mar 03, 2016

Scriven success story

(Story/Media)

Feb 19, 2016

Stangs suffer close loss

(Story/Media)

Feb 12, 2016

LMC Baseball trounced by Bear Cubs

(Story/Media)

Feb 09, 2016

You win some and you lose some!

(Media)

Feb 05, 2016

Coaches vs. cancer

(Story/Media)

Feb 04, 2016

Silva leaves to Iowa

(Media)

Jan 28, 2016

Lady stangs ready for play

(Media)

Dec 04, 2015

New production a spectacle

(Media)

Dec 03, 2015

Examining filmmaking

(Media)

Dec 03, 2015

LMC Winter Jazz Concert

(Media)

Dec 03, 2015

LMC bids fond farewell

(Media)

Dec 03, 2015

Honors 'thanks' at potluck

(Media)

Nov 19, 2015

Stangs playoff bid stifled

(Media)

Nov 19, 2015

Lotsa pasta in quad

(Media)

Nov 19, 2015

HBCUs bring opportunity to LMC

(Media)

Nov 18, 2015
Nov 12, 2015

Learning from the real world

(Media)

Nov 12, 2015

Basketball tips off

(Media)

Nov 12, 2015

Honoring LMC's vets

(Media)

Nov 12, 2015

Day of the Dead inspires

(Media)

Nov 12, 2015

Puente fundraises for scholarships

(Media)

Nov 06, 2015

Tour impresses youth

(Media)

Nov 06, 2015

Teams argue vaccines

(Media)

Nov 05, 2015

Volleyball 10-2 in conference

(Media)

Nov 05, 2015
Nov 03, 2015

Halloween 5k Fun Run

(Media)

Oct 30, 2015

Honor'-ing Halloween

(Media)

Oct 29, 2015

LMC capitalizes on turnovers

(Media)

Oct 29, 2015

Event to focus on careers

(Media)

Oct 29, 2015

Mustangs destroy Comets

(Media)

Oct 29, 2015

Soccer drubbed 9-0 by Folsom

(Media)

Oct 15, 2015

Walking toward a common goal

(Media)

Oct 15, 2015

LMC partners with LG

(Media)

Oct 15, 2015

Bay Area football struggling

(Media)

Oct 09, 2015
Oct 08, 2015

Defensive battle ends 0-0

(Media)

Oct 05, 2015

Stangs outlast Jags, 24-16

(Media)

Oct 01, 2015

LMC hunts down Eagles

(Media)

Oct 01, 2015

Yeong accepts award

(Media)

Oct 01, 2015

Clubs recruit members

(Media)

Oct 01, 2015

Constitution celebrated

(Media)

Sep 29, 2015

Senate Assembly Gallery

(Story)

Sep 25, 2015

Current Renovations Around Campus

(Media)

Sep 21, 2015

Standing up for vets

(Media)

Sep 21, 2015

LMC combats drought plight

(Media)

Sep 21, 2015

Alumna returns as new director

(Media)

Sep 18, 2015

On a level playing field

(Media)

Sep 17, 2015

Athletics Logo gets an update

(Media)

Sep 10, 2015

Volleyball struggling early on

(Media)

Sep 10, 2015

Mustangs Trounced by 30

(Media)

Sep 10, 2015

LMC Gets New Director of Student Retention

(Media)

Sep 08, 2015

Mustangs march in

(Media)

Sep 03, 2015

New season, same struggles

(Media)

Sep 03, 2015

Vball vying for first

(Media)

Sep 03, 2015

LMCAS monies lacking

(Media)

Aug 27, 2015

Academic accolades

(Media)

Aug 27, 2015

Football season set to hike

(Media)

Aug 27, 2015

New CCCCD Student Trustee hails from LMC

(Story/Media)

Aug 26, 2015

Class of 2015 Raises the Bar

(Media)

Aug 26, 2015
Jul 11, 2015

Pedestrian Bridge is now up in Antioch

(Media)

May 07, 2015

LMC baseball honored

(Media)

May 07, 2015

"My Block" reaches farther

(Media)

May 07, 2015

Other options to transfer

(Media)

May 07, 2015
May 07, 2015

Debate over vapors

(Media)

May 07, 2015

Goodbye LMC, hello world

(Media)

May 07, 2015

Budget climbing back

(Media)

May 07, 2015

District awards Yeong

(Media)

May 04, 2015

Softball honored with awards and achievements

(Media)

Apr 30, 2015

LMC drubbs Comets

(Media)

Apr 30, 2015

Parking fees driving higher in fall

(Media)

Apr 23, 2015

Stangs win wild walk-off

(Media)

Apr 23, 2015

Students get oriented

(Media)

Apr 23, 2015

Sophomores say goodbye

(Media)

Apr 23, 2015

'Block' beats expectations

(Media)

Apr 23, 2015

"From Phnom Penh to Guantanamo,"

(Media)

Apr 23, 2015

Diversity Elevated

(Media)

Apr 23, 2015

Transfer options abound

(Media)

Apr 16, 2015

Hip-Hop gets real

(Media)

Apr 16, 2015

Calendar conundrum

(Media)

Apr 16, 2015

Books animate at LMC

(Media)

Apr 09, 2015

College toots its horn

(Media)

Apr 09, 2015

Langlois a leader on and off the field

(Media)

Apr 09, 2015

A 'dream' to sing for

(Media)

Apr 09, 2015

Inconsistency hurts Stangs

(Media)

Apr 09, 2015

Spirit still in society

(Media)

Apr 07, 2015

Musical 'Block' is coming

(Media)

Mar 19, 2015

LMC throws for a victory

(Media)

Mar 19, 2015

Faeries enchant the Little Theater

(Media)

Mar 19, 2015

Don't alienate female gamers

(Media)

Mar 19, 2015

Delta Art Guild Gallery captivates

(Media)

Mar 19, 2015

Better habits make better grades

(Media)

Mar 19, 2015
Mar 19, 2015
Mar 12, 2015

It was a chili day

(Media)

Mar 12, 2015

Baroque breaks the silence

(Media)

Mar 12, 2015

Mustangs fall to the 49ers

(Media)

Mar 12, 2015

Guest Ph.D talks MESA

(Media)

Mar 12, 2015

Sanction withdrawn

(Media)

Mar 12, 2015

Committee promotes health

(Media)

Mar 05, 2015

Mustangs finish with 1-15 record

(Media)

Mar 05, 2015

Semesters may shorten

(Media)

Mar 05, 2015

'Midsummer' coming this spring

(Media)

Mar 05, 2015

The 'Devil' is delightful

(Media)

Mar 05, 2015

Rally replaces March

(Media)

Mar 05, 2015

LMC chops down Redwoods

(Media)

Feb 26, 2015

Falcons soar above Mustangs

(Media)

Feb 26, 2015

Softball on losing streak

(Media)

Feb 26, 2015

Lights, camera, action

(Media)

Feb 26, 2015

Honoring the 'Ram'

(Media)

Feb 26, 2015

Sanction underway

(Media)

Feb 26, 2015

H.S. talents adorn gallery

(Media)

Feb 26, 2015
Feb 24, 2015

LMC quality confirmed

(Media)

Feb 19, 2015

Clutch hitting gives Stangs a win

(Media)

Feb 19, 2015

Sophomore night spoiled

(Media)

Feb 19, 2015

B-ball home finale a loss

(Media)

Feb 10, 2015
Feb 06, 2015

Honors organizes speed dating

(Media)

Feb 06, 2015

Swing space is now vacant

(Media)

Feb 06, 2015

Streak continues

(Story/Media)

Feb 06, 2015

3-point shoot out

(Story/Media)

Feb 06, 2015

Softball slides in with wins

(Media)

Feb 06, 2015

Powelson brings the knowledge

(Media)

Feb 06, 2015

Challenging the norm

(Media)

Feb 06, 2015

'Tis surely but a 'Dream'

(Media)

Jan 30, 2015

Men struggling in conference

(Media)

Jan 30, 2015

Jr. High marches to showing at theater

(Media)

Jan 30, 2015

Dinner honors vets

(Media)

Jan 30, 2015

Foundation relocates

(Media)

Jan 30, 2015

LVN program gets 10k grant for clinicals

(Media)

Jan 30, 2015

Hawk balk on the Stangs

(Media)

Jan 30, 2015

Interim CCC president selected

(Media)

Jan 30, 2015

Ageism has a negative effect

(Media)

Jan 30, 2015

Police are way too aggressive

(Media)

Jan 30, 2015

Women suffer 27-point loss

(Media)

Jan 30, 2015

Speech includes LGBT milestone

(Media)

Jan 23, 2015

Students honored at reception

(Media)

Jan 23, 2015

Mustang Day runs through campus

(Media)

Jan 23, 2015

Innovation celebrated by district

(Media)

Jan 23, 2015

Student Services open

(Media)

Jan 23, 2015

LVN program returns

(Media)

Jan 22, 2015

"Midsummer" coming mid-March

(Media)

Jan 22, 2015

Stay connected to what's real

(Media)

Jan 22, 2015

Ballin' for cancer awareness

(Story/Media)

Jan 22, 2015

Don't focus on materialism

(Media)

Jan 22, 2015

Phony soldiers need punishment

(Media)

Jan 22, 2015

New season brings promise

(Media)

Jan 13, 2015

Women get big win while Men struggle with health

(Media)

Dec 14, 2014

Sculpture Art 3D class unleashes its inner creativity

(Media)

Dec 04, 2014

Center nears finish line

(Media)

Dec 04, 2014

Postseason play comes to a halt

(Media)

Dec 04, 2014

V-ball a love for Vega

(Media)

Nov 26, 2014

Stangs bounce back strong

(Media)

Nov 20, 2014

A duel for 'free hugs'

(Media)

Nov 20, 2014
Nov 20, 2014
Nov 14, 2014

Pies for S.T.A.R.s

(Media)

Nov 13, 2014

Stangs honor sophomores

(Media)

Nov 13, 2014

Spicing things up

(Media)

Nov 07, 2014
Nov 07, 2014

Finishing strong

(Story/Media)

Nov 07, 2014

Wonderful woven works

(Media)

Nov 07, 2014

Bay Valley title is in reach

(Media)

Nov 06, 2014

Nazario's journey

(Media)

Nov 06, 2014
Oct 30, 2014

Debating propositions

(Media)

Oct 30, 2014

New site draws concern

(Media)

Oct 30, 2014

Soccer back on right track

(Media)

Oct 27, 2014

LMC upsets Falcons

(Media)

Oct 23, 2014

Debate stalls at SDSU

(Media)

Oct 23, 2014

Stangs battling for the top

(Media)

Oct 23, 2014

New equality standard

(Media)

Oct 23, 2014

Antioch youth reprieve

(Media)

Oct 23, 2014

Award something to sing about

(Story/Media)

Oct 16, 2014

Wins end at home vs. Yuba

(Media)

Oct 16, 2014

'Flesh' a quality production

(Media)

Oct 16, 2014

Bands awe a full house

(Media)

Oct 16, 2014

LMC impresses team

(Media)

Oct 16, 2014

Viewers flock to gallery

(Media)

Oct 16, 2014

Soccer continues to slide

(Media)

Oct 09, 2014

Soccer on a downswing

(Story)

Oct 09, 2014

Volleyball digs in

(Media)

Oct 09, 2014

Music is in the air this fall

(Media)

Oct 09, 2014

Loss quells a 'Pink' afternoon

(Media)

Oct 02, 2014
Oct 02, 2014

Faces of LMC now on display

(Media)

Oct 02, 2014
Oct 02, 2014

Mustangs going streaking

(Media)

Oct 02, 2014

LMC rules court against Laney

(Media)

Oct 02, 2014

Surprising road leads to LMC

(Media)

Oct 02, 2014
Oct 02, 2014

Equity Plan steams on

(Media)

Oct 02, 2014
Oct 02, 2014
Oct 02, 2014

Kaiser Permanente Healthy Living Fair

(Media)

Sep 18, 2014
Sep 18, 2014

There's drama ahead

(Media)

Sep 18, 2014

Soccer gets first win

(Media)

Sep 18, 2014

Accreditation nears

(Media)

Sep 18, 2014

'Classic' tourney

(Media)

Sep 17, 2014

Fourth quarter resurgence

(Media)

Sep 11, 2014

Construction on track for spring

(Media)

Sep 11, 2014

Soccer shows improvement

(Media)

Sep 04, 2014
Sep 04, 2014

Fresh faces represent students

(Media)

Sep 04, 2014

Debate team makes switch

(Media)

Sep 04, 2014

New year, new team

(Media)

Aug 29, 2014

Facing the Future

(Story/Media)

Aug 28, 2014

LMC volleyball ready to attack new season

(Media)

Aug 28, 2014

Mustangs football returns

(Media)

Aug 28, 2014

Classified leaders honored by state

(Media)

Aug 28, 2014

The nature of art

(Media)

May 08, 2014

Wearable tech for nocturnal auditors

(Media)

May 08, 2014

Nine Stangs earn awards

(Media)

May 08, 2014

Bringing the #PanzellaEffect to Los Medanos

(Media)

May 08, 2014

The Engelstad pedigree

(Media)

May 08, 2014

Measure E worth weighed

(Media)

May 01, 2014

Themes of expression

(Media)

May 01, 2014

One and done in playoffs

(Media)

May 01, 2014

'Earth' event raises awareness

(Media)

May 01, 2014

Presenting change

(Media)

Apr 25, 2014

'Snare' ready to hit hard

(Media)

Apr 24, 2014

UMOJA Easter Celebration

(Story)

Apr 24, 2014

Job fair highlights industry need

(Media)

Apr 24, 2014

Back-to-back CCCBCA Players of the week

(Media)

Apr 24, 2014

Mustangs 'steal' a spot in the playoffs

(Media)

Apr 17, 2014

Polansky skunks Eagles

(Media)

Apr 17, 2014

LMC volleyball gears up for fall

(Media)

Apr 17, 2014

Human Library informs

(Media)

Apr 11, 2014

Double feature release

(Media)

Apr 02, 2014

Academy of excellence

(Media)

Apr 02, 2014

Chávez values awarded

(Media)

Mar 27, 2014

Double feature showing

(Media)

Mar 27, 2014

Allies teaches equality

(Media)

Mar 27, 2014

Playing different types of ball

(Media)

Feb 26, 2014

Blood heroes deliver

(Media)

Feb 19, 2014

From a chair to a throne

(Story/Media)

Feb 06, 2014

A dunk on disease

(Media)

Feb 06, 2014

Snell's work is honored

(Media)

Feb 04, 2014

Pictures show cultured world

(Media)

Jan 31, 2014

Mustangs set to swing into season

(Media)

Jan 31, 2014

Bent out of Shape: ETEC class gets hands-on training

(Media)

Jan 30, 2014

Fresh talent welcomed

(Media)

Jan 24, 2014

LMC looks to finish on high note

(Media)

Nov 21, 2013
Nov 20, 2013

"Queer" bares all

(Media)

Nov 14, 2013

LMC volleyball's lucky number seven

(Media)

Nov 07, 2013

Rematch, David vs. Goliath

(Media)

Oct 31, 2013

Last second dream killer

(Media)

Oct 31, 2013

One of a kind: Armendariz proves a wondrous force at LMC

(Media)

Oct 24, 2013

Thefts still an issue on campus

(Media)

Oct 24, 2013

Volleyball wins three in a row

(Media)

Oct 03, 2013

Women pick up first goal

(Media)

Sep 20, 2013

Pittsburg High and Los Medanos co-existing

(Media)

Sep 13, 2013

Numbers a forte for manager

(Media)

Sep 13, 2013

Can Syria Be Trusted ?

(Story)

Sep 09, 2013

Martin Luther King

(Story)

Sep 06, 2013

Dean a lifelong educator

(Media)

Sep 06, 2013

Ready to kick some grass

(Media)

Sep 06, 2013

Dean a lifelong educator

(Media)