A struggle continues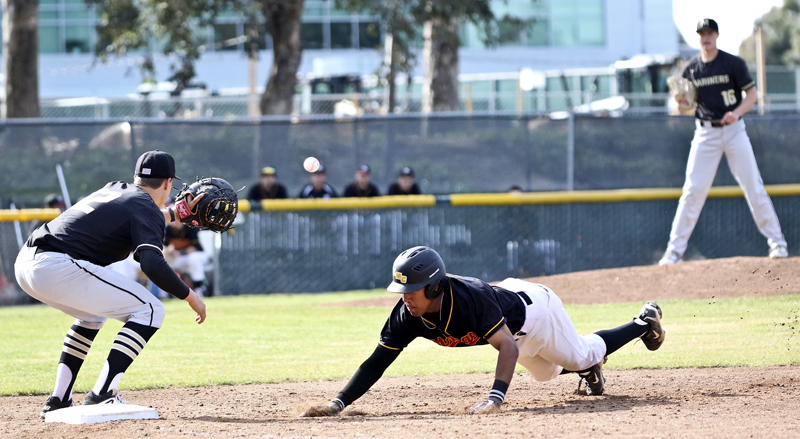 Los Medanos College loss to College of Marin on Tuesday afternoon by a final score of 10-2.
LMC headed into the game with a 3-2 preseason record, coming off a narrow 5-4 loss to Merced College.
On the mound, Austin Cannedy put his team in a sticky situation allowing all of the bases to be loaded on the top of the first. He acted promptly by striking out Merced's James Harwell to make sure no runs were scored.
The Mariners were the first to take the lead. In the top of the third Alex Davis hit a single to get an RBI and MacLean Meyn hit a sacrifice fly to extend their lead to 2-0.
Stangs' Jason Ochoa's single was enough for James Biles to record a run, cutting Marins' lead in half.
LMC's newfound hope to take the lead was severely put down in the following inning. Marin took advantage of various Mustang mistakes, increasing their lead by four runs. Adam Hussian's single hit deep towards right outfield was enough for him to put up two RBI's while Owen Hamilton and Dominic Burke each made unearned runs. The Mariners ended the inning with a score of 6-1.
Hussian would further extend his team's lead hitting a homer against Jonathan Little's pitch, with Davis getting his second run of the game as well.

Mustangs' Victor Anguiano was slotted into outfield where he was slowly but surely adjusting as Marin only scored two more runs.
"I feel like I could have done better in the outfield. I was two for three and the ball I missed," said Anguiano. "Behind the plate I kind of came in short notice. I got the job done, no mistakes there. At the plate today I went zero for four. I'm fine with the three barrels but the one strikeout was not ideal."
Anguiano has four RBIs and one run throughout preseason.
LMC did end off on a good note, scoring a run in the seventh inning. Jose Vasquez hit a RBI to make the final score 10-2.
"I think we just gotta keep doing our thing. You can say we didn't play as well as we could have, but it doesn't mean we have to start over tomorrow. I think we just have to get back to executing the simple things," said Head Coach Anthony D'Albora. "When you're getting beat like that it's easy to tuck your tail between your legs and I think there were enough guys that came in to execute pitches in the game."
Los Medanos College host Napa Valley College at 2 p.m on Tuesday Feb. 2018. For more information on the Los Medanos College baseball team visit http://www.losmedanos.edu/baseball/.