Volleyball gets the W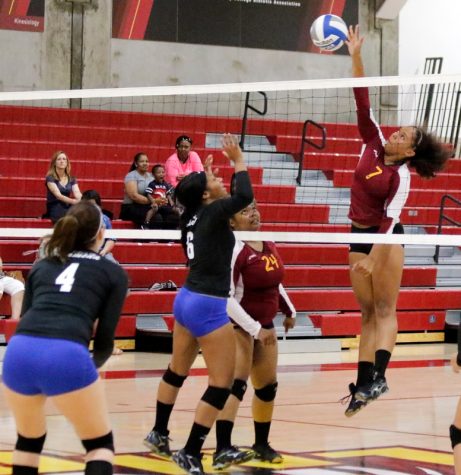 The Los Medanos College women's volleyball team cruised to an easy 3-0 sweep over College of Alameda. Wednesday's win gives the Mustangs their first Bay Valley Conference victory of the season against the Cougars.
After a beautiful rendition of the national anthem by middle-hitter Nuru Boone, the Stangs were locked in and determined to grab the first set win. Play began with a simple serve by the Cougars and a ball set-up for opposite hitter Vei Finau to kill the ball for the first point.
Everything from then on was smooth sailing for the Stangs as they didn't make many errors and gelled well as a team. With kills too powerful for the Alameda defense to stop, the end was drawing a near. Sure enough, a bad touch of the ball by an Alameda player was the last play of the first set and gave the Mustangs a 25-18 win.
The success kept rolling for the Stangs as an ace by setter Erica Wilder began the second set. The dominance was a repeat of the first set success. Offensive plays like another Finau kill, another ace by Wilder kept the Stangs away from any potential trouble. After opposite hitter Ashley Dixon's hit was too strong for any of the Alameda players to stop, it got Los Medanos to get the precious 25th game-ending point to win the second of the three-game set.
Although the Mustangs took the first two sets easily, it didn't stop their always-win attitude. Another Finau kill opened the third set and continued the Stangs' streak of obtaining the first point of the game. However back-and-forth dives and saved kills by both teams highlighted their performance. Ultimately the Mustangs continued to work hard doing whatever they needed to get closer to the magic number 25 to finish an impressive conference opening game. Boone's kill was the last and final play of the entire game and brought the third set to a finish with an impressive final score of 25-8.
"We started off a little sloppy in the first set" said Head Coach Lou Panzella, acknowledging the team and a few errors but "we made that up for it as we cleaned it up with our ball control."
Jolero Sophia Clavido, said that despite "the team did really well as we continued to be consistent throughout the game." For more information on the Los Medanos College women's volleyball team go to