V-ball a love for Vega
Found best friend along the voyage
Hard work and a positive attitude are important attributes for an athlete to have. Those attributes were instilled in Mustangs outside hitter Ana Vega from her time at Liberty High School and helped her earn second team all-conference in the Bay Valley Conference.
"Once I started playing I fell in love with it," Vega said. "I was decent, and when you're good at something you just want to play it more. I just fell in love with it the moment I started playing."
That love started when Vega joined her first team in the seventh grade.
She had always been an active and energetic person and playing sports was the best way for her to focus that energy.
Growing up in a Mexican household to two loving parents she knew one thing, she didn't want to play soccer like the other kids in her culture. She also didn't like basketball, so she turned to volleyball and it stuck.
Now it is something she can't get away from.
"I've reffed, I've coached and I've played so I'm always around volleyball," she said.
She did get away from playing, though. For two years after graduating from Liberty High School Vega was not on a team as she began her collegiate career.
"I first had gone to DVC and I had a class at 7 a.m. and I live in Brentwood so I would have to leave my house at 5:50 a.m."
Getting up that early wasn't working for her and playing volleyball at DVC did not fit into her schedule, so she came to LMC. She wanted to join the volleyball team when she first came to LMC too, but her new job schedule conflicted with the volleyball schedule.
After a two year layoff from the court she found a way to make it work.
"I knew (head coach) Lou (Panzella) because I practiced on one of his club teams so I was always in communication with him, and my best friend Taylor Morgan played on the team," she said.
Her friendship with Morgan was a huge reason for Vega making it work because they had a long history as teammates and became best friends because of it.
"We didn't exactly become close right away but we were friendly right away," Morgan said, continuing, "she was and always has been a great teammate."
They first met when the both played on the freshman team at Liberty together and their friendship grew as they both made varsity together as sophomores and they became best friends during their senior year.
"We're pretty close. We tell each other everything," Vega said. "This semester we carpooled every Tuesday and Thursday because we have the same school schedule and we have the same break."
Their friendship extended off of the court, but on it was where they first bonded. Because of that bond they didn't just play together, after graduating they also coached the Liberty freshman team together.
After five years together playing and coaching at Liberty, this season together was memorable for both of them as they reunited.
"Our time together at LMC has been great especially because we had each other this season," Morgan said. "I really couldn't have imagined this season without her."
This season will not only be memorable for the two of them, but it will be memorable in the history of LMC as well. The Mustangs made the playoffs for the first time in 11 years behind Vega, Morgan and the rest of the ladies after finishing second in the Bay Valley Conference.
"It's pretty exciting to know that it hasn't happened in 11 years and to know that I'm on the team that made that happen," Vega said. "We all did it together and it's pretty exciting. It's just that I can say my team made the playoffs and it hasn't happened in 11 years, it makes you feel good."
The team finished the season with four players earning awards.
The reason for the team playing that well and earning that many awards was the team's personality. They communicated well, played as a team and were resilient. That resiliency is what Vega said is the most important attribute of the team.
"We all have that mentality of 'that point is in the past' and let's move on to the next one," she said. "I've been on teams where we lose a point and we get in a slump and we can't get back. With this team it's really different because we may lose a couple points but we keep fighting and don't give up."
That's the way Vega plays her game and that's why she fit in so well with this team, and it is those moments of resiliency that she will always remember about this team.
Now that the season is over those memories will stay with her, and she will try to make more as she moves on to state college. She's applied to San Jose, Sacramento, East Bay and San Francisco.  She has no preference, but she is just hoping to get in, and possibly continuing her career there, but it's not a deal breaker.
"If it happens it happens and if it doesn't, I'm okay with it," she said. "It is definitely more competitive, but if it were to happen I'd be more than happy."
Wherever she goes she will continue her path towards her business degree that she hopes will help her move up in her present company, State Farm Insurance.
While she may or may not continue to play volleyball on her journey, the sport will always be a part of her life.
While nothing is certain in life, Vega will always have volleyball, Morgan and her family, and that may be all that she needs.
Leave a Comment
About the Contributors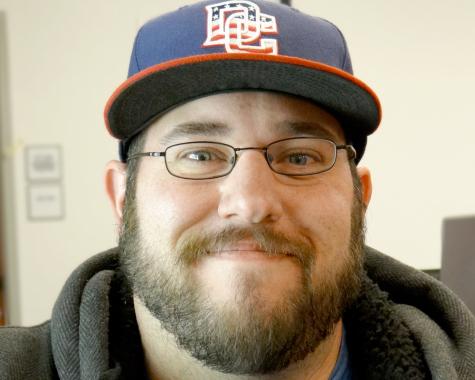 Steven Luke, Sports Editor
My name is Steven Luke and I am currently in my fifth semester at LMC and my third on staff for the LMC Experience. This semester I am the Sports Editor...