Editor's note: This is the fifth part of a nine-part project capturing the housing reality in Contra Costa County. Conversations of homelessness and lack of affordable housing have been ongoing for decades, but what progress has been to solve this issue? The Experience's housing project, "A Tough Climb," was designed to give readers a better understanding of the struggles many face and the steps being taken to improve housing accessibility and security for all.
Projecting an estimated growth in population, racial diversity, income and urbanization in the coming years, Contra Costa is California's ninth most populous county. As a result, this expected increase will magnify the demand for supportive housing across all demographics and require municipalities to respond.
While accessible housing remains essential, the pandemic only magnified housing insecurity as the U.S. economy experienced an economic downturn due to low-interest rates and high inflation impacting different populations. During times of uncertainty, some residents of low to moderate income were "one paycheck away from being homeless," said Contra Costa County's funding director Gabriel Lemus.
Some residents were promised a stable paycheck, others were not, as job insecurity increased and renter and landlord issues led to steeper prices, which many could not afford. Increased costs led people to overpay for housing, with residents spending more than one-third of their incomes on their homes.
As Assistant Deputy Director for the County's Housing and Community Improvement program, Lemus works to increase affordable housing development. Federal and state-level assistance helps Lemus's team finance private, public and nonprofit development agencies to construct and manage housing projects and homeless services for residents.
Progress comes at a tall cost for developers, but as the funding source for these housing agencies, Lemus describes his work as a "bank with a different outlook." Project approval stems from reviewing applications for the best investment and prioritizing the number of affordable units over the return on investment.
"We try to make it easier to get that financing to develop affordable housing. Granted, the number of resources we have is still insufficient to address the need overall for the county, so we have to be selective," said Lemus.
The housing market comprises primarily single-family units, which account for 79.7% of the housing stock, and multi-family units make up 15.9%, with 4.4% mobile housing listed in the 2023-2031 Contra Costa County Housing Element Update, revised in January 2023. The focus has shifted toward sustaining those units and increasing affordability to address the present housing crisis. Each year the program finances around four to six projects and after they are completed, can provide a list of units and services avalible for residents when necessary.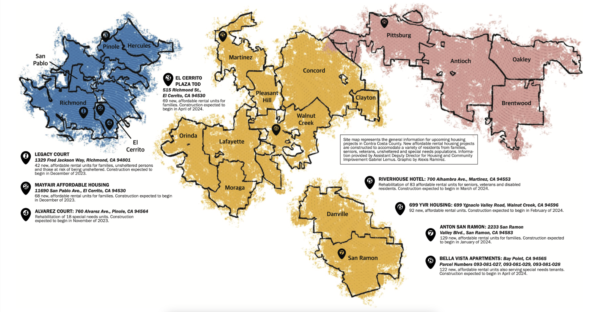 Moreover, the county plans to incorporate a new initiative toward guaranteeing affordability in services and housing. Contra Costa Supervisor John Gioia, Alameda County Supervisor Keith Carson and Santa Clara County Supervisor Susan Ellenberg support the AT HOME plan.
This comprehensive plan focuses on helping those unhoused or at risk of being unhoused by following an initiative to address homelessness, coordinate across cities and counties to solve it, and ensure the money is spent wisely. AT HOME is centered around six pillars: Accountability, Transparency, Housing, Outreach, Mitigation and Economic Opportunity.
Developed from almost a year of research by the California State Association of Counties, CSAC, the three supervisors created a plan to address the underlying causes of housing insecurity due to its correlation to homelessness with sustainable programs centered around mental health, addiction and employment.
"Housing needs to improve in our counties and cities in a big way," said Tania Pulido, County District Coordinator for North Richmond, who works alongside Gioia. "We are not seeing these changes the money promises to do at the ground level, so that is what AT HOME is trying to grapple with. There is money, so how do we make sure that it is being used effectively?"
Currently, supervisor leaders are working toward making the plan a state requirement to promise accountability and transparency across the state to the county level.
The AT HOME plan recognizes the importance of incorporating the community to work alongside city leaders to address the housing crisis. Contra Costa's Housing Element Update breaks down the community's take on the issue, including a wide range of voices.
Many organizations serving low-and moderate-income persons and those with special needs indicated the "county should encourage rent control, fair housing law practices, and balanced jobs to housing ratio." At the same time, the county should "address homelessness by focusing on mental health services and supporting various housing types, including transitional, supportive and affordable mobile units."
Feedback gathered since March 2019 through consultations with community representatives, focus groups, meetings and individual input, found residents want to expand diverse resources for health, education and affordable housing. Residents have determined these resources are an "expressed need" to address unaffordability, minimize vacancy in housing and support unhoused people.
As Contra Costa continues to expand, Lemus believes the availability of resources needs to grow alongside its residents. Hence, housing cannot be accessible for the growing community without acknowledging the needs across all demographics, whether housed or not.
Editor's note
A Tough Climb is a nine-part project that addresses housing insecurity in Contra Costa County from diverse perspectives. Check out the other related stories.