Editor's note: This is the fourth part of a nine-part project capturing the housing reality in Contra Costa County. Conversations of homelessness and lack of affordable housing have been ongoing for decades, but what progress has been to solve this issue? The Experience's housing project, "A Tough Climb," was designed to give readers a better understanding of the struggles many face and the steps being taken to improve housing accessibility and security for all.
Since the start of the COVID-19 pandemic in 2020, many areas in California have continued to adapt to the drastic economic changes it brought in job security, housing and resources for residents.
Although homelessness has been an ongoing issue for decades, Contra Costa has been one of the counties with the most significant spike. According to Point-in-Time Count data in the Bay Area published May 16, 2022 by All Home California, there has been a nearly 35% increase in homelessness reported since 2019.
At the same time, unsheltered populations are living outdoors in tents, recreational vehicles, cars and vans. Data from the Contra Costa County 2023 Homeless Point-in-Time Count released on May 4 shows few shelters are available in the area, leaving 70% of unhoused people unsheltered compared with 30% in emergency or transitional housing.
According to California's Homeless Data Integration system, California accounts for a third of the nation's homeless population, and the number of those accessing services across all ages increased by 43% between 2017-2021. 
Significantly, the senior population is the fastest-growing group of homelessness in the area, and people 55 and over seeking services increased to 84%, a substantial jump compared to other age demographics.
Yet without affordable and supportive housing that includes specialized resources for these populations, most unhoused endure mental and chronic health conditions with possible external factors such as substance use disorder.
Data from a UCSF Benioff Homelessness and Housing Initiative study published in June of 2023 reported, "more than 171,000 people experience homelessness daily."
From the study, researchers wanted to reveal the underlying causes of homelessness, understand individual experiences, and learn how to prevent existing conditions.
The report recommended policy changes based on its findings, and outlined six priorities: increasing access to affordable housing, expanding prevention services, providing support for behavioral health needs, increasing household incomes, outreach and service delivery for the homeless and embedding racial equity in the system.
Unsurprisingly, low-income residents are the most susceptible to housing insecurity and homelessness due to high costs. According to the 2023-2031 Contra Costa County Housing Element Update, revised in January 2023, those high costs make the housing market highly income dependent.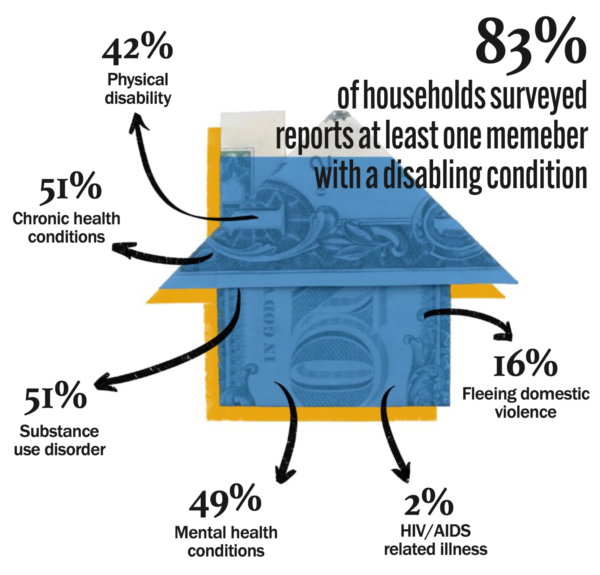 Residents can apply for financial subsidies from federal financing or live in temporary housing, but these are only short-term solutions. 
According to the Housing Element Update, only one-fourth of those who qualify for rental subsidies receive support. Current housing vouchers allow unhoused residents to have a roof over their heads temporarily. Still, it does not ensure a safe, affordable and accessible future for residents whose resources stem from a limited timeline.
"These federal dollars provided housing vouchers through a rapid rehousing program to immediately address the need to house those on the street," reports the Housing Element Update. However, "vulnerable groups such as those living with developmental, intellectual and physical disabilities are not currently given the resources and services to be successful and stay housed."
Living conditions pose another issue as the 2011 American Housing Survey estimates an "additional 22,000 occupied housing units may have other rehabilitation needs, such as missing roofing material, holes in the roof, cracks in the foundation, or broken/boarded windows," in unincorporated Contra Costa County.
Especially for housing geared toward those with lower incomes, conditions can be unbearable as Contra Costa resident Mary Grigsby struggled to live in her rented home, where she said living standards were not a priority. Grigsby describes when "the whole perimeter of the entire house underground was soaking wet" and "the walls were caving in." Due to her circumstances, Grigsby had nowhere else to go and had to send her daughter away as her living situation was unfit. (To learn more about her story, see her profile in part 3.)
Driven solely by the financial aspect of accessible housing, low-income residents are sometimes left to live in poorly maintained units deemed inhabitable.
Therefore, successful homeownership is only possible when sufficient economic and communal resources are available for residents to afford housing and live comfortably. 
This support system not only minimizes the chance of a California family becoming unhoused but ensures they are not disadvantaged in their climb toward survival.
Editor's note
A Tough Climb is a nine-part project that addresses housing insecurity in Contra Costa County from diverse perspectives. Check out the other related stories.