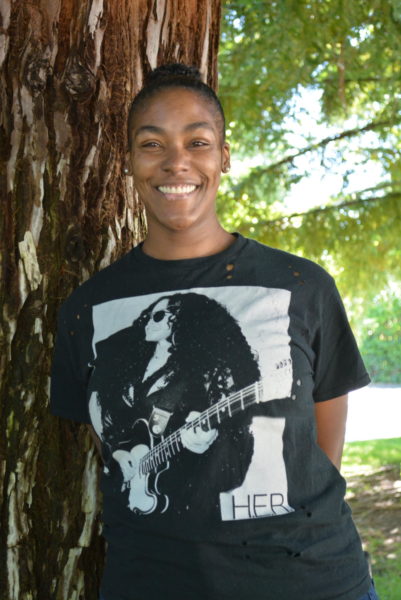 Editor's note: This is the third part of a nine-part project capturing the housing reality in Contra Costa County. Conversations of homelessness and lack of affordable housing have been ongoing for decades, but what progress has been to solve this issue? The Experience's housing project, "A Tough Climb," was designed to give readers a better understanding of the struggles many face and the steps being taken to improve housing accessibility and security for all.
Mary Grigsby describes herself as a "nerd from the hood." Born into a family struggling to make ends meet, Grigsby said this time of her life was her happiest. But this happiness dissipated when she reluctantly left the city.
After this, her family moved to several different areas around the Bay, not settling in a single city for longer than a year. In 2012, Grigsby, then a mother herself, moved to Contra Costa County.
But it took some time before she would enroll at Los Medanos College in 2016. Grigsby was busy being a mother, working jobs and bouncing between homeless shelters. Before she could go to school for an automotive degree, Grigsby had to navigate the challenges of life without any support system in sight.
Seeing herself as the "black sheep of the family," Grigsby said she has had a rocky relationship with her family since moving away from San Francisco. This was made apparent to her as she encountered struggle after struggle in Contra Costa without any help from her family.
As a single mother trying to raise her daughter, Grigsby had to switch majors and jobs and relocate to different places under Section 8 to try and stay afloat.
"I even have to put auto to the side because I have to be on campus for these classes," said Grigsby, who is now a criminal justice major because online classes are offered.
Even the Section 8 Housing Voucher, which Grigsby was approved for when she was residing in a homeless shelter with her three-week-old daughter, has led her to live in uninhabitable conditions. From dealing with unjust landlords and living conditions, Grigsby regards the Section 8 program as "the circus."
Section 8 Housing is a federally run program to help low-income residents. It is designed to help those who might be struggling with housing to transition into a home with federal assistance. But some of these housing units just aren't up to par.
Grigsby recalls living in units that "didn't even have a weather strip on the door," and describes several times when she had to remain in a unit because she didn't know where else to go. But this led to her getting sick while living in an unsanitary unit for two weeks.
"The whole perimeter of the entire house underground was soaking wet. The walls were caving in," said Grigsby.
During this time, Grigsby had to send her daughter away because of the uninhabitable living conditions. But this is just the start of what Grigsby had to endure while under Section 8.
"I moved to the other side of Pittsburg, to like the Railroad area," said Grigsby. "I lived in that place for like two years, dealing with all kinds of disrespect and abuse from the landlord." 
​​There were also several times, according to Grigsby, that while under Section 8 landlords would double her deposit or rent amount to the point where she couldn't live in the unit. 
Despite several attempts to reach out to Section 8, she was made to feel like everything was "her fault."Even now with her nailing down housing in Pleasanton, she struggles to balance her school with her new job at Tesla. A majority of her time is spent making money to survive, all while raising her daughter.
"I'm at a standstill. I have to sit down now and do online classes," said Grigsby.
Given Grigsby's involvement in LMC student government, she is afraid to take a break for a semester for fear of "everything getting snatched away." Yet student government has been something she's wanted to do for years, but couldn't due to her commitments as a single mother
With a full schedule inhibiting her school life, she said it's getting to the point where she is starting to lose motivation for her academics.
"Just surviving is making me not enjoy school at all," said Grigsby. "I feel like I'm in hell."
Among all of the hardships she has endured, Grigsby keeps pushing forward through the motivation given to her by friends. One friend in particular, Roman Smith, has been a major factor in keeping Grigsby going,
As a fellow single mom, they both met in the Child Studies Center on LMC's Pittsburg campus and a friendship blossomed.
"She's such a role model and such an overachiever. I think she was in the Honors program for so long and maintaining that," said Grigsby "I just want to be like her one day."
Grigsby also looks for motivation in her faith, which plays a huge role in how she goes about her daily life. Her faith in religion has been strong ever since childhood and has served as an outlet for her stress.
"I hang out with God a lot more now and I pray a lot. I stay to myself," said Grigsby. "When I'm going through stuff, I'm alone. But God is always right there with me though. He never leaves and I never have to call him to see where he's at."
She makes sure to instill this faith in her 12-year-old daughter, Imani, and it has served as a bonding opportunity for them. 
Grigsby recalls going to an Easter day event at Pier 39 and how ecstatic her daughter was.
"We went to Stoneridge Mall in Pleasanton and it was shut down on Easter Sunday," said Grigsby. "So I told my daughter: 'We're getting on a bus and BART and heading to San Francisco.'"
After an entire day of fun wih her daughter riding attractions and playing interactive games in the arcade, they went back home happy and full of smiles.
But Grigsby wants justice for everything she has had to endure and thinks changes need to be made to the Section 8 Housing Program.
"The people in office [need] to do more than they're supposed to be doing," said Grigsby. "They're not managing anything very well."
Editor's note
A Tough Climb is a nine-part project that addresses housing insecurity in Contra Costa County from diverse perspectives. Check out the other related stories.