Human Library informs
'Books' share their stories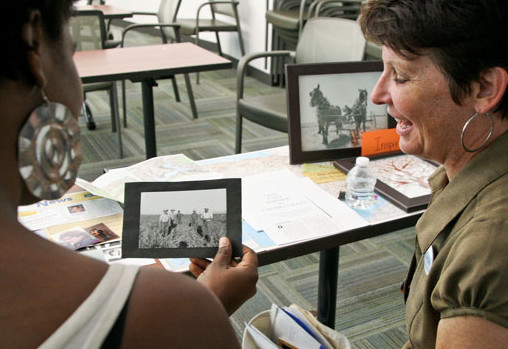 Los Medanos College has harbored people from all walks of life, and now thanks to the Human Library those people get to tell their stories.
Technical Services Librarian Christine Park and Library Director Christina Goff hosted the April 15 event to promote conversation among students and staff alike.
The Human Library concept was created by a youth organization from Copenhagen, Denmark called "Stop The Violence," as a method to promote dialogue, reduce prejudices and encourage understanding among peers.
Park heard of the Human Library on the radio on the way to work and announced the idea to her FLEX workshop group at LMC. With enthusiasm and help from Goff, the event to promote conversation among students and staff was born.
Participants had the opportunity to checkout a human book from L109. 16 human books comprised of both staff and students were able to be checked out for 20 minutes, with an optional renewal for another 20 minutes.
LMC Marketing Director Barbara Cella was one of the many books available for checkout with the title "An Exciting Road Less Traveled," telling the story of the many jobs she has had in her lifetime.
Cella started off as a park ranger in Olympic Park, Washington before branching out as an observer on a Korean fishing vessel for a month, later becoming a vacation specialist and instructor at the Natural History Museum at the California Academy of Sciences for over 11 years.
"It was like working for National Geographic," said Cella.
Afterwards, Cella did public relations for California State University East Bay in Concord.
"I got a lot of events set up at the college and really felt like I helped build a community on the campus," she said. "I know what I do really makes an impact on peoples lives and its great to be apart of that process."
Another title of interest was "Indie Band Leader" by English professor Alex Sterling. He was in a band with his brother and other friends who called themselves Desoto Reds.
A friend in high school first introduced Sterling to the Indie music genre. There were, however, various obstacles the Indie rock patriot had to endure for his music to be heard.
"I had to overcome stage fright and once I got over that I had some trouble getting shows," said Sterling. "There were literally hundreds of bands competing for spots."
To this day, he still has a love for Indie music and although he is no longer in Desoto Reds he still balances his love for the music and teaching.
            LMC student Ashley Goins titled herself "Champion with Disabilities." She grew up with dyslexia and was able to push through the difficulties of her disability with the help of an organization called Disabled Students Programs and Services (DSPS). She was able to graduate high school with a 3.8 GPA and maintain her grades through LMC and is now on her way to Sacramento State University.
"Just because you're disabled doesn't mean you can't pursue a career," said Goins. " If you keep fighting, then you can have anything you want."
Other books that were available for checkout included:
*I Bought a Rainforest by Laurie Huffman, Spanish Faculty
*California Dreaming by Chris Shipe, Head Football Coach
*Go, Do, Be by Paula Gunder, ESL Faculty
*A Female in a Male-Dominated Activity by Marie Arcidiacono, Speech Faculty
*It's Never Too Late! By Jules Patrice Means, LMC Student
*Beating Statistics by Rashaad McAlpin, Media Specialst
*Inspiration by Debora van Eckhardt, LMC Student
*LMC, The Power of Change by Sharon Wellbrook, Biology Faculty
*Me and My Dyna (Mr. Bleu) by Camme Benzel, Senior Administrative Assistant
*Overcoming Adversity by Ahjae Kendrick, LMC Student
*Breaking the Silence by Sable Horton, LMC Student
*Not your Traditional Student by Aisha Hall, LMC Student
*Rape and Murder: A Life Experience by Laura Bernell, English Faculty
"Overall I would say that the books and the patrons really interacted well with each other," said Park.
Leave a Comment