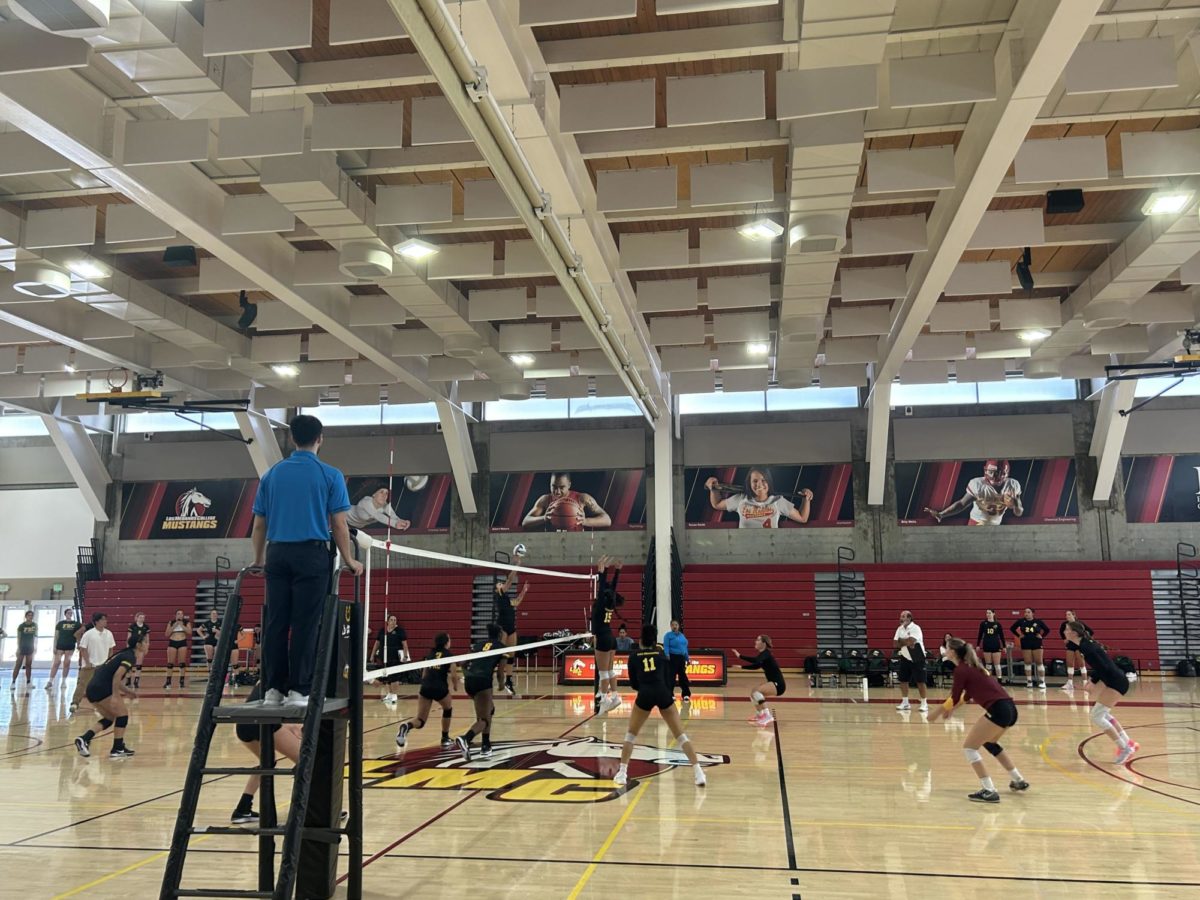 The Los Medanos women's volleyball team came out of the locker room fired up as you can  hear them chanting toward the court against the defending CCCAA women's volleyball champions, Feather River College Friday Sept. 8 at 2 p.m. located in the LMC gymnasium. 
Before the start of the first serve, you can notice the size difference and lack of depth compared to FRC. Feather River had numerous players to sub in and out of rotations meanwhile LMC had to work with the players they had, and it wasn't many.
The first set was close as FRC took it 25-20. The Mustangs gave it all they had, and it was looking very competitive from both ends of the court. There was good communication as the LMC players were directing and announcing to one another where to be on the court. 
"Rotation, rotation, rotations" can be heard by coach Lou Panzella, directing his players where they need to be during the game. 
The second set was when it started to slip away from the Mustangs as they were down 2-0 in sets after a 25-11 loss.
"I love how even though we have limited players compared to a team that seemed to have 500 players, I love how we didn't ever give up," said LMC's volleyball outside hitter, Grace Geisler.
LMC volleyball player Makayla Mak claps as you can hear her telling her team, "let's stay focused." 
"They should be keeping their heads up because they were looking pretty good out there despite the loss," said LMC student-athlete Geno Malone.
The third set ended with a score of 25-13 as it looked like LMC gave it all they had but it wasn't enough as FRC took the 3-0 set lead.
Mak continued to inspire her team with encouraging words, "Come on and let's go stangs." At this time, it was the last set with FRC leading 15-8. 
The lack of size and firepower was exposed by Feather River College. 
"At full strength, things would look way different," said coach Lou Panzella. 
There were over 65 people in attendance, and it was impossible not to hear the home team's  support system.  
The LMC football team can be heard no matter what part of the gym you're in. You can  appreciate the home crowd keeping the LMC women's volleyball team encouraged. 
"How high is the net, too high," and "Who got used, you got used" were just some of the chants the football team cheered as the women continued to fight.  
"The chants came from the pride for the school and for one of its athletic teams. We just want to be there to support the LMC women's volleyball in their shining moments," said LMC  student-athlete John Rigau.
"They were a tough team to play. It upped the competition level with them being the defending  State Champions last year. We just wanted to work together," said LMC women's volleyball middle blocker Eliza Rigel. 
You have to give respect and credit to these women who refused to give up regardless of the  circumstances that they were up against.
"We played with a lot of heart. Didn't give up on each other, and we played together so I'm very pleased with our efforts going up against the defending champs," said LMC coach Lou Panzella.
The next four games will be away games vs DeAnza, Shasta, Redwood, and Siskyous. The next home game will be versus Gavilan at 3 p.m. and Butte at 5 p.m. on Sept. 20.