Co-conference champs
Mustangs extinguish Comets in San Pablo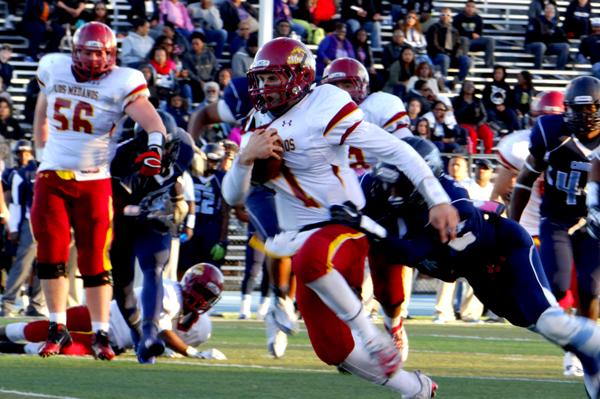 It was a highly anticipated match up that lived to its hype, last Saturday, the Los Medanos Mustangs traveled to San Pablo to take on the arch-rivaled Contra Costa Comets in the final game of the regular season. After a brutal battle of tug o' war, the Mustangs came out victorious, 33-26. Both teams now share a three-way co-Bay Valley Conference Championship with the Shasta Knights.
"To be honest, I had a dream last night, well actually I have a vision that we were going to win. Nothin' told me that we weren't," LMC quarterback Adam Nesheim said. "I knew with all my life and all my confidence. Everyone knew, on the left and the right of me that we were going to win no matter what."
Yellow flags soared across the field and white referee hats launched 25 feet in the air, for a heated contest that totaled 310 yards in penalties and two ejections between both team. There even was a personal foul assessed to CCC before the game, when players went to the LMC sideline and taunted their opponents.
The CCC players boasted that they were going to hold LMC's star running back Shawn Vasquez to less than 50 yards. Vasquez broke that mark in all of about one play. The All-Conference tailback tore up the field for 270 yards from scrimmaged and two touchdowns. He is number one in the state in rushing yards per game.
"This is the biggest win of the year," Vasquez said. "That year of hard work really paid off tonight."
Vasquez put on a show with CCC's running back Devonte Sapp-Lynch, who is the little brother of Bay Area native and NFL All-Pro running back Marshawn Lynch. Sapp-Lynch totaled 183 yards from scrimmage, with two touchdowns of his own.
This co-championship almost seemed like an impossibility after the Mustangs were blown out, 41-7, to Hartnell in the season opener. But the players did not feel like that loss effected the team's morale .
"We didn't play like ourselves," Vasquez said. "I knew this was possible there was no doubt I my mind."
Another player that had success in the big game was LMC wide receiver Jermaine Sims aka "Optimus Prime." The 6-foot-4, 220-pound circus-catching machine faced off with CCC's Oregon-bound cornerback Dominique Harrison. He finished with four receptions for 61 yards, and a touchdown that came on crucial fourth down.
"I ain't gonna lie, I give the man credit, he's good," Harrison said. "He's got the physicality fa' sho'… He's gotta D-1 body. I expect to see him at the next level."
The play of the game was when LMC defensive back Marcus Fenderson tattooed CCC quarterback Malik Watson behind the line of scrimmage, causing a fumble that was recovered by LMC. Ironically, just one week earlier, Fenderson was kicked out of the game against Yuba by his own coaches and received some stern criticism from Defensive Coordinator Darrin Foreman.
"I was just being selfish, [and] I wasn't being a team player," Fenderson said. "I told my coach I was going to get him the ball back. I went there and got him the ball back…. He told me to play my ass off, and that's what I did."
This is the first time LMC earned a conference championship in over a decade, and its 7-3 record is the best in the four-year tenure of Head Coach Chris Shipe.
"For my coaching career, this is my best win," Shipe said. "Best win so far out of four years."
Leave a Comment
About the Contributors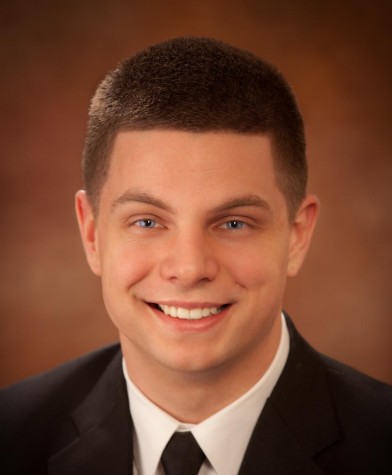 Luke Johnson, Special Projects
Luke "The Scoop" Johnson began writing for The Experience in the fall of 2012. He acquired a passion for sports journalism in high school where he was...