Mustang women shut out two opponents
The Los Medanos College Women's Soccer Team won both of their recent away matches. On Friday Oct. 4, the Mustangs faced Contra Costa College and succeeded with a final score of 0-10. On Tuesday Oct. 8, they visited College of Marin and left with a 5-0 win.
The Mustangs lead Bay Valley Conference (BVC) atop the standings after a perfect 4-0-0 start to conference play. They have a goal differential of +20, outscoring opponents 21-1.
Against CCC, the girl's soccer team scored 10 goals and conceded zero. In the first half, LMC scored seven goals in a span of 40 minutes. The first goal was scored in the third minute by Alicia Cardenas, with an assist from forward Sarah Figueroa. Mariah Minhares would double their lead in the seventh minute, Figueroa getting her second assist of the game.
In the twelfth minute, Figueroa would find the back of the net through an Anissa Gomez assist. Fifteen minutes later, in the twenty-seventh minute, a Marianna Giovanetti set-up would find Nayeli Carbajal for the fourth tally. In the thirty-third minute, Giovanetti would nod her second assist with a goal from Litzy Ramirez for 5-0.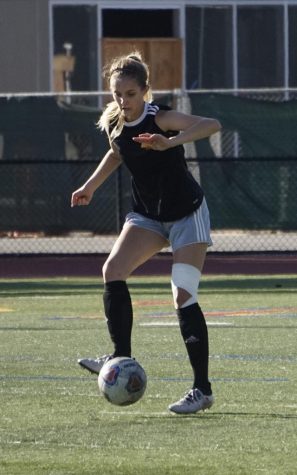 Four minutes later, Jazmin Alanis would get her name on the score sheet for 6-0, this goal had a double assist; Holly Gallagher and Figueroa would team up to set up Alanis this would be Figueroa's third and final assist. The final goal of the first half was scored by Anissa Gomez in the forty-third minute with an assist from Mariah Minhares.
The offense definitely slowed down in the second half, only scoring three goals. In the Giovanetti would add a goal to her two assists increasing their lead to 8-0, assisted by Alondra Huerta. Alondra Huerta would score the ninth goal of the game in the sixty-sixth minute. Ramirez scored a brace, making the score 10-0 in the eighty-third minute via a Minhares assist.
On Tuesday Oct. 8, the Mustangs visited College of Marin, winning 5-0. Again, the offense showed up in the first half, Anissa Gomez scored the first goal in the first minute of the game through an assist from Alicia Cardenas. Only two minutes later, Marianna Giovannetti would score an unassisted goal, resulting in a 2-0 lead.
Early scoring must be a Mustang trademark because in the sixth minute, LMC was up 3-0 after Nayeli Carbajal found her first goal through an Isabel Dumapit assist. The final goal of the game was scored in the twenty-ninth minute by Litxy Ramirez, assisted by Jazmin Alanis.
The Mustangs continue conference play Friday Oct 11, against Merritt College at home, with kickoff scheduled at 4 p.m.
For more information on the team, visit https://www.losmedanos.edu/soccer