Women's soccer season, a historic turnaround
Disney is known for creating iconic princess films, but the Los Medanos College (LMC) women's soccer team has had a Cinderella story of its own this season.
While it may not have been in the fashion they wanted, it achieved what looked like to be the impossible at the beginning, winning its first Bay Valley Conference title in at least 24 years by tying Solano College 1-1 in its last regular season game of the year.
It was a journey that began with a rough patch, when LMC finished its non-conference play on a four game winless streak getting outscored 12-2.
LMC, however, was far from finished.
The Mustangs went 10-1-1 to finish Bay Valley Conference play, and through ten games did not allow a single goal.
Sydney Veuve's rebound shot in the first half off a corner kick marked the conference-clinching goal, but LMC's strong defense was the key throughout the draw with Solano.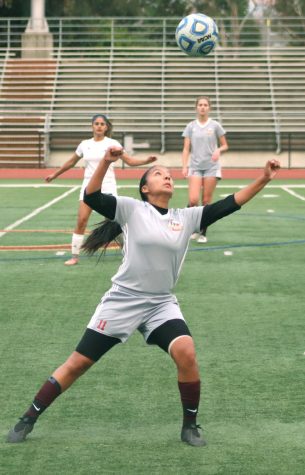 Sophomores Emma Spears and Briana Olmedo have been some of LMC's most reliable players on the back line the entire season, and the amount of steals throughout the game made the difference, especially in the last 15 minutes of the game when Solano was firing on all cylinders.
"Last time we played them, their forwards were really aggressive. They're physical, but I know that when really communicate we work together we can hold them.," said Spears. "It gets stressful, but we keep each other calm. It's just marking and sure the whole team is defending together and not just the backline because if it's just the backline then there's way too many players to defend."
Three-year LMC head coach Zach Sullivan said the team brought in extra players to shore up its defense.
"We brought in a couple extra players to defend, because we knew they were going to try to bring in their forwards. They're pretty fast," he said. "We relied on playing defensive and not really trying to score, just getting players behind the ball."
With just under two minutes to play, the Mustangs' defense committed a foul in the goal box, resulting in a penalty kick.
LMC goalkeeper Rylie Pearson, who had been nothing but lights out throughout the entire conference play after transferring from Diablo Valley College, rose to the occasion again to stop the penalty kick.
"It's really cool to actually make history because at DVC, I didn't have a chance to show off my skills, but here I'm really proud that I get to represent my school and actually show off who I am," Pearson said. "It felt amazing doing that [blocking the penalty kick], I was really relieved."
The excitement was short lived as Solano scored on the following corner kick when Karla Cardinal connected with Jaylynn DelRosario for the equalizer.
That goal didn't matter, however, when the referee blew the final whistle because the Mustangs had the outright title due to having the best record in the conference, as well as a return trip to the playoffs for the first time since 2010.
The transformation of the program since Sullivan took over at the helm in 2016 has been quick. In his first season, he was given the job on short notice. The Mustangs were barely able to field a team and only won two games the entire season.
"The recruiting takes a lot of time; it's still a stepping stone. The conference is good, we want to get better next year," Sullivan said. "It's just getting the locals to come here and realize they just need to come to school here, because they don't have to drive an hour to school each day when it's right here in their backyard. They can play for their community, it's where they grew up, so they might as well represent them in college."
LMC is slated to host a playoff game against Diablo Valley College on Thursday, Nov. 15.