Baseball loses series against De Anza College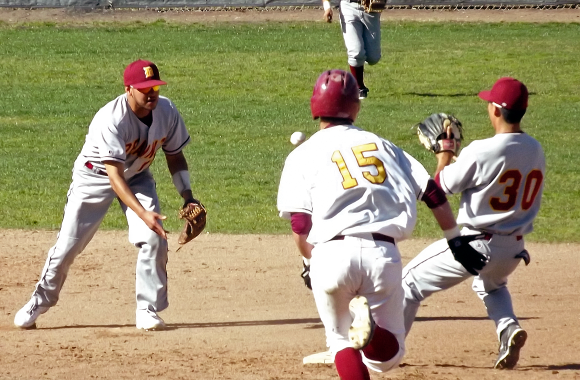 The Los Medanos College baseball team played three games against the De Anza Dons over the last weekend, losing 7-6 Friday, 7-6 in game one of a doubleheader Saturday, and winning 14-1 in game two of the twin bill.
LMC played at home in game one of the series but could not capitalize on the advantage as they surrendered two runs in the ninth loosing their one-run lead, and eventually the game. The next two games were played at De Anza College in Cupertino as the only scheduled doubleheader of their season.
Durability was a key in managing the doubleheader as the team had to make sure no one pitched too long in the first game of the series. LMC Head Coach Anthony D'Albora said, "the benefit of having as many arms as we know we have is that we didn't have to extend anyone, so there isn't anybody that shouldn't be ready for the doubleheader."
Although the scores were the same from game one to two in the series, the path was different. LMC jumped out to an early lead, but gave up seven runs combined in the fifth and seventh innings and were down 7-3 heading into the eight. A couple small rallies sparked in the eight and ninth, as LMC scored two in each frame, but it was all for naught as they came up short in the end.
Game two of the doubleheader was dominated by LMC throughout. A five-run third inning and a six-run seventh paved the way to a 14-1 victory behind the bats of Ryan Lacy, Kelly Starnes, and Will George, who each had multiple RBI's in the game, and the arm of Ben Polansky who gave up only one unearned run over seven innings.
Coach D'Albora was happy with at least splitting the doubleheader and said, "we just need to figure out what team we are. What we learned in the second game is that our goal has to be to push the tempo and put our foot to the floor." He added that the team cannot come away from one-run games with a "coulda, shoulda, woulda" mindset and need to walk away from games thinking that they did everything they could to win.
De Anza Head Coach Scott Hertler said that both teams swung the bats well. He said, "I think we made the first two games a little closer then they should have been… LMC really drummed us the second game Saturday to their credit."
LMC's record is now 4-8.