Tragedy inspires action
Students rise above violence
High school and college students around East Contra Costa County made their voices heard during the National School Walkout Wednesday, March 14. Students from Freedom, Heritage, Dozier Libbey, Pittsburg, Antioch and Deer Valley high schools, as well as from Los Medanos College, walked out of their classrooms in protest against gun violence and to advocate for stricter gun control.
The National School Walkout which was promoted by the Women's March organizers was executed by local student leaders across the nation with the help of their school administrators. Students walked out of their classrooms at 10 a.m. and remained outside for 17 minutes, each minute in remembrance of the victims of the Feb. 14 shooting at Marjory Stoneman Douglas High School in Parkland, Fla.
LMC used the time as "a tribute" and a way to make a "call to action" LMC President Bob Kratchovil said. A modest amount of students gathered in the Student Services building for a moment of silence and to listen to speeches from various campus leaders.
"We must be advocates for all of those every day who lose their lives to gun violence," said LMCAS president, Marco McMullen.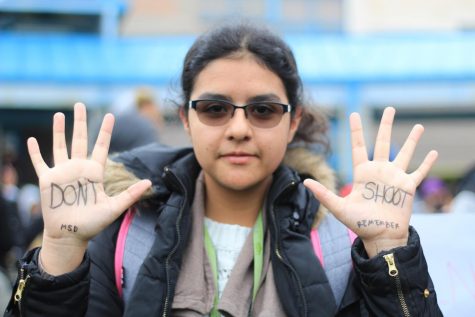 Dozier Libbey High School also took time to remember the victims. Five minutes before 10:00 a.m. when the protest was to occur, the names, ages, and occupations of the victims were read over the intercom. Afterward, students gathered in the quad and chanted, "No more silence. No more gun violence."
Various speakers also stood to make their voices heard. "To anyone who demeans us, we will be able to vote soon," said Brianni Flores, a senior.
Coming into adulthood and making a political debut was a common theme among the protests. Students said that they were fed up with the slow-pace of change in Congress and that they hoped their advocacy would make finally make a difference.
"It's sad that it keeps happening like this and nothing is really changing," said Peyton Thornton, a student at Freedom High. However, he said he was hopeful the discussion will not die down this time because, "the students are more involved with it and it's not washed away."
Students also emphasized the need for strict gun control in the hope that it would keep their schools safe and prevent further gun violence on campus.
Justin Clar "I don't think the adults see it how we do," Pittsburg High student Justin Clark said, "because we're actually in the schools and we don't feel safe every day."
Other students agreed with the need for stricter gun control, but disagreed with how to best achieve it.
As for "the adults," school administrators were sure not to explicitly support the political move for legal reasons, their compliance helped make keep the demonstrations safe and peaceful. Administrators were proud of their students and the way they presented themselves. Though many were excited and emotional — like Heritage with their rallying cries of "Not with the B.S." or the impassioned speeches of the students at Deer Valley — they were also peaceful and well thought out.
Heritage principal Carrie Wells said, "I think that [the protests were] within the parameter of students' rights to free speech. I was really proud of our students, listening to the adults on campus."
Kelly Menke, Freedom's principal expressed similar sentiments about her faculty and students.
"We definitely underestimate teenagers," she said. "I think it's just because there are more of them than there are of us."
Staff and students alike were excited to participate in the nation wide event and hope that this is the beginning of the end to gun violence on school campuses across the country.
A.R. Broom, Jesus Cano, Brenna Enos, Chris Ruiz, Perry Continente, and Robert Pierce contributed to this report.