Handful of LMC students present work at Stanford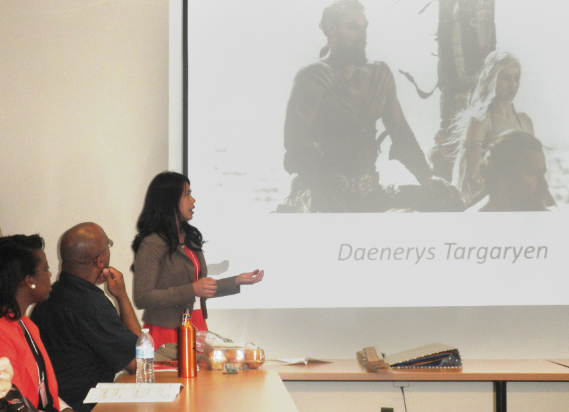 Six students from Los Medanos College's Honors Program were among 82 students from all around the state who presented their original research projects at the sixth annual Honors Research Symposium at Stanford University on Saturday, May 4.
Dishan Jones presented his report on the overlooked stories of America's Black pirates.
"I wrote a paper in anthropology and my teacher suggested that I present the paper," Jones said.
Jones's said his inspiration for the paper came from the Disney film "Pirates of the Caribbean.
"I don't know, something came to me and just said, lets do something with my heritage. I don't want to do slavery," Jones said. "I was thinking about Pirates of the Caribbean and thought about the Asian pirates and then the African pirates. I wonder how many black pirates there really were back then and I embarked on that mission."
As a result of his research and presentation, Jones was one of two students at the symposium to receive a Heslet Scholar Honorable Mention award.
"I was immediately shocked. I didn't know so many people were interested in hearing my presentation. Standing on stage, all I could do was look over at Jen Saito and blame her.
Standing on stage, all I could do was look over at Jen Saito and blame her. I think she set me up," Jones said. Saito is LMC Honors director, and president of the Bay Honors Consortium.
"I was extremely thrilled and proud of Dishan, but not really surprised because his work was on such an intriguing subject," Saito said. "He spent hours reading old letters and ship's logs to piece together the story. I hope he writes a book on it someday."
Aubrey Manzon, also from LMC honors, presented her research called "Not Just a Game," which compared the book 'Games of Thrones,' by Cersei Lannister, to female political leaders such as Hillary
Clinton, Corazon Aquino and Irene Saez.
"I'm so devoted to the 'Games of Thrones,' and I'm so stoked to talk to people about it," Manzon said.
"And to actually find a pattern and to relate it to the real world, it's just something awesome."
Of 185 submitted proposals, 82 were selected for presentation at Stanford University.
"There's a committee of honors faculty around the Bay Area who read all the proposals blind," Saito said. "They don't know what college it's from, who the student is, and they choose the best ones. And it's very competitive."
Also representing LMC Honors at the symposium were Evan Mullicane, Kelly Challand, Ann Lawani and Vincent Hoeschen.