A dinner for heroes
Veteran pride and awareness praised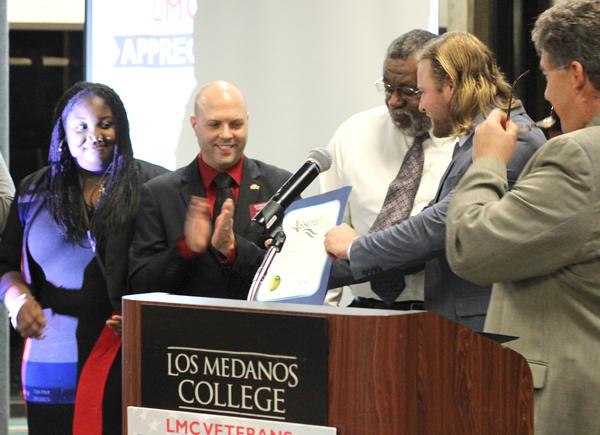 The rain did not stop an appreciation dinner hosted by the Associated Students and LMC on campus Feb. 6.
Student veterans, their families and supporters were invited to a veterans appreciation dinner emceed and hosted by Gary Walker, LMCAS president.
The packed house of more than 200 were treated to an Olive Garden dinner and dessert while listening to heart-touching stories of experiences from student veterans, as well as from LMC President Bob Kratochvil, Student Senate for California Community Colleges President Omar Paz, Jr. and Assemblyman Jim Frazier. Other guests included board members Dr. Helen Benjamin, representatives of the Department of Veterans Affairs Concord Vet Center, and Gerald "J.R." Wilson, Executive Director of the Delta Veterans Group in Pittsburg.
Walker opened the festivities with introductions and instructions. The color guard presented the flags and attendees stood for the Pledge of Allegiance. Xavier Johnson, LMC drama student, sang the national anthem.
As everyone sat down, Walker asked for a moment of silence, drawing attention to a lone table in back with a complete place setting waiting for the dinner to begin. The table stayed vacant throughout the night as a reminder of those who did not come home, the POW/MIA soldiers.
LMC President Bob Kratochvil thanked everyone for coming and announced the reaffirmation of the college's accreditation in his speech.
This dinner was in honor of those who served and hoped to shed light on their struggles, provide more information for services and resources offered to them, as well as bring these services to LMC. The newly chartered Veterans Club is one such service.
Stuart Wadsworth, Veterans Club president, member of the Veterans Advisory Task Force of LMC and retired U.S. Marine Corps Scout sniper says this is just the beginning. "I wanted to bring a veterans resource center to our campus and other campuses to prevent other veterans from slipping through the cracks, like I did," Wadsworth said, adding, "Every day 22 veterans take their lives."
He wants to stop that.
The Veterans Advocacy Task Force will be transitioning into the Veterans Club. Wadsworth hopes to also create a "soft space" for veterans on campus. "The club will be the first line of defense in recognizing any issues that require therapy or mental health," he said, adding, "This is about increasing the retention rate of students, and ultimately, of human lives. This is something we can't afford not to do."
In his speech thanking LMCAS for this dinner, assembly member Frazier mentioned his uncle, a veteran. He choked up a bit as he mentioned more services and resources are needed. He also stated he will be here to help everyone as much as he can.
Frazier spoke on the different bills he has worked on concerning veteran students, such as AB2099, concerning colleges, which used GI Bill funds in other capacities rather than what they were slated for. Now those colleges will be held accountable.
Several veterans' centers in the area were on hand to get their information out there for the veterans in attendance. Randy Smith, from the Veterans of Oakley, mentioned a dinner they hold every Thursday at 5:30 p.m. at the old firehouse on 2nd Street in Oakley for veterans.
They also have open coffee meetings with Veterans on Mondays at 9:30 a.m. at the Black Bear Diner in Oakley.
The Delta Veterans Group said they would be holding for the first time in the East County a "Stand Down" at the CCC Fairgrounds in September for homeless veterans.
LMCAS received an award from Congressman Jerry McNerney for their efforts in putting on the dinner and voicing the concerns of veteran students on campus.
"I was shocked and surprised," said Walker, adding, "That's a pretty big accomplishment. I am so proud to lead LMCAS."
Assembly members and veteran students have suggested an appreciation dinner be held annually.
Military personnel go through many hardships and some of their injuries cannot be seen when you look at them. Yet, these men and women of various ages, backgrounds, religions, and ethnicities feel called upon to fight for freedoms every American seems to take for granted.
Leave a Comment
About the Contributor
Tamara Seward, Staff Writer
Hi, my name is Tamara but most people call me Tammy. I'm a divorced mother of three beautiful girls returning to school after eight years as a homemaker...