Final review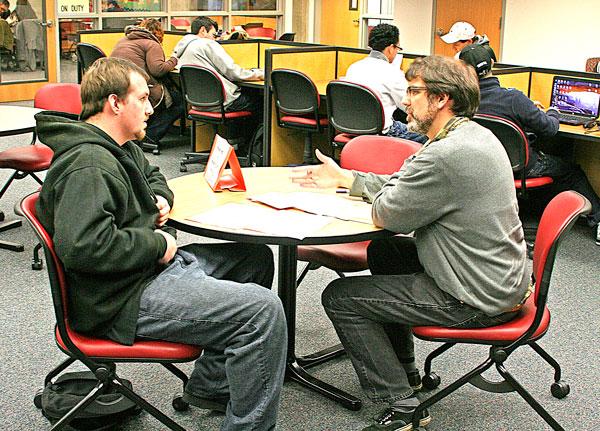 Los Medanos College Students feeling hammered by the approaching pressure of finals will have a chance to hit back by attending Study Slam in the Center for Academic Support. The event being held Thursday, May 8 from 4 to 9 p.m. in Room 300 of the Core located on the third floor of the Central Complex will offer students a chance to meet with reading and writing consultants as well as peer tutors on a drop-in basis.
This will be the fourth time Study Slam is put on. Students who find it beneficial will have the Center for Academic Support Lab Coordinator Sandra Mills to thank for the opportunity since she dreamed it up. Mills explained she was looking for a way to bridge the gap between the week before finals, which is when peer tutors stop tutoring so they have a chance to study for finals.
"I came up with it to give people that last chance to get a final review in," said Mills, adding, "The students who come seem to really, really appreciate it. Faculty who have taken part seem to enjoy it and think it's a great idea."
Mills added they stay open late for the event.
English Professor Alex Sterling is one of the faculty members who participated in the event in the past and will take part in the upcoming one as well.
"Study slam is very beneficial. At a community college level you don't always get that social studying experience you get at a four-year university. Plus there are all the consultants and student tutors there so students can get a lot of help without an appointment," Sterling said.
LMC student Anthony Gutirrez plans on attending.
"I think it is a great opportunity for people who have procrastinated or maybe just as a warm up to get people ready for an exam or test," said Gutirrez.
According to an informational flier students will be able to get a wide range of help from Math, Spanish, Political Science as well as the sciences of Chemistry and Physiology among other subjects. The peer tutors will be available at differing times, so students looking to take advantage of the opportunity should visit the center beforehand or call 439-2181 ext. 3176 to find out their availability.
In addition to the peer tutoring and reading and writing consultants, Christine Park from the LMC library will be acting as a librarian from 4 to 7 p.m. to offer her own set of expertise.
Students looking for an extra nudge may be pleased to know snacks will also be offered. They may also appreciate the extra couple hours the center will be open as Mills seeks to make up for some of the cutbacks the center has faced over the years.
LMC students like Yolibeth Monge who said she missed the posters, fliers and sandwich board may want to listen to Gutirrez's vote of support for the center.
"I've gotten help. I had an English paper one time and I couldn't figure out a thesis statement. They helped me open up my mind more," said Gutirrez.
For more information pick up a flier from the Center for Academic Support located in CO-300 or call 439-2181 ext. 3176.
Leave a Comment