Graffiti defaces campus
Tagging is among recent trail of crimes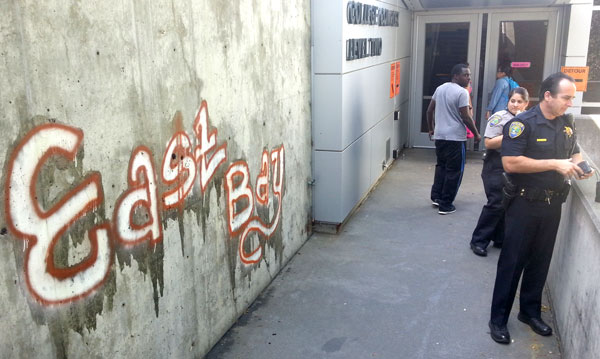 Los Medanos College was defaced with graffiti between Friday and Monday outside of College Complex Level Two.
The face of the wall on the outside stairway taking students from the mid level up to the main complex level and down to parking lot A read 'EA$T BAY,' while a bench facing the Honors Center and Student Life was tagged with '420 Blunt end zone.'
John Snelling of grounds and maintenance said that while vandalism was a past problem at the LMC Lake, it could be a growing concern for the campus.
"It ruins the college," said Snelling. "It ruins the look of the college, especially when we're having these new buildings being put up and we've got graffiti. That's not a good look."
Contra Costa Community College District Police Officer David Oleski, a 20-year veteran in the district, contradicts the growing concern, claiming that graffiti isn't a problem at LMC.
"I've worked here for 20 years, and it's been a while since we've seen graffiti like this," said Oleski.
The graffiti follows a trail of crime that has been increasing on campus. In March there were three reports of theft, one a cell phone and the other two auto, and one reported disturbance involving a knife.
Lt. Ryan Huddleston reported that while the district police cannot be on campus all the time, they are aware of the growing problem.
"We aren't a 24/7 operation, there's no one there in the middle of the night," said Huddleston. "If we see someone doing it, we obviously will try to take care of it when it's happening right then and there."
Huddleston says he hopes the police have a visible presence, despite the inability to cover the campus 24 hours a day. Huddleston said police services has a two-pronged approach to the problem.
"We try to identify places for additional lighting and keeping an eye out as well as being as visual as we possibly can so that people will see us on campus," he said. "That way it will hopefully deter people from damaging property."
As far as the drug tag, and the fact that the underground 4-20 holiday celebrating marijuana is approaching, Huddleston said his officers are prepared to handle any campus disturbances that may occur.
"Our officers are fully aware of the dates and obviously if they see someone suspicious on campus, they will address it."
Leave a Comment