Silva leaves to Iowa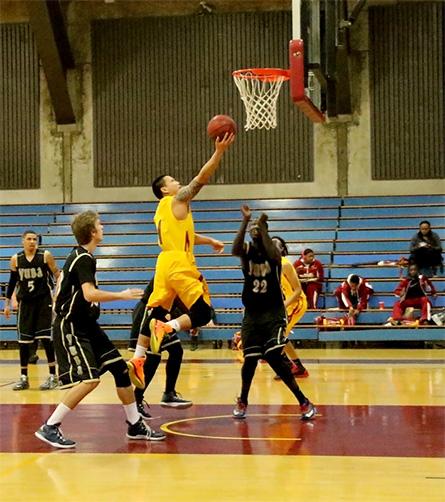 Los Medanos has seen another one of its students move on due to receiving an athletic scholarship. Former LMC basketball guard Brandon Silva accepted his 80-85% scholarship offer from Waldorf College.
He doubted if the sport he loved would put him into a position to get most of his education paid for. Silva recalls, "I didn't think it would actually, I wanted to, it was my goal, but I didn't think I could."
Silva's journey began when he started playing basketball as a kid. "Its basically my life since, I've been playing since second grade. It means a lot because its been apart of my life for so long," said Silva.
Not long after he started playing basketball, the sport started taking him places. Silva said, "I played travel basketball. It was in 5th grade, we started a travel basketball team. My older brother was already on it, but we started a younger basketball team. One of my coaches from my Catholic Church league started it, that's how it was formed." Silva's traveling team played all over in places like "Vegas, Reno, and Sacramento."
Silva traveled with the team playing all the way up until he graduated from Clayton Valley High School, however at that point it seemed to like the basketball ball's same old routine had grown stale. "I didn't even want to play basketball after that," said Silva. "I think I just got tired of it. I didn't feel like I wanted to play anymore."
As his drive to play basketball slowly dwindled, there was another sport that was vying for Silva's athletic attention. "I played volleyball in high school my freshman year, I was on JV. I got MVP of that team at Ignacio Valley High School. I started having knee problems after my freshman year so I stopped playing volleyball. Then I tried giving it another shot junior year, I got top 3 in tryouts," said Silva. While he proved to be no slouch in volleyball, it proved to be a minor detour on the road that lead back to basketball. Silva recalls, "I didn't want to play anymore, I just wanted to focus on basketball." He sited, "being on a team. Just competing and having fun," as reasons to returning to basketball, however his return to the hardwood would have to wait a year.
For almost everyone college is a new experience, while most people adjust to longer classes and over priced text books, Silva had to adjust to one more thing; school without basketball.
Without having to meet a GPA requirement to stay on a team, Silva's grades began to take a hit. "My first year after high school I went to DVC, my grades were bad. I didn't really care about classes. I never really went to school to go to school," said Silva. Recognizing that he couldn't go on like this, made a change for the better. "I had a 1.8. I had to pick myself up so I went to LMC and when I played basketball it really shaped me to get my grades better so I could transfer out. I went from a 1.8 to a 3.0. It really helped me." Silva said.
With this being the beginning of his college basketball career, Silva had to adjust to playing against the "better players" and "better teams" he stared facing. The adjustment was seamless as he enjoyed success both in the classroom and on the basketball court. "In my freshman year when we won the Mendocino college tournament, we ended up forming a close bond." "That freshman year was the most fun I've ever had playing basketball," said Silva.
Things were going great for Silva after his freshman year, but just prior to year two, tragedy hit.
"Before my sophomore season at LMC my friend got murdered. I dedicated my sophomore year to him. He got stabbed at a house party, we were all sad and I made a promise to myself to play my sophomore year to him and I did pretty well. He was a friend, but he was like a big brother to me. He was my older brothers best friend so I've known him for a while, like 6 or 7 years. He would always sleep over at my house so we got really close," said Silva.
Not long after being struck by a huge loss, Silva was recognized with a huge opportunity.
St. Francis University, Trinity Christian College, and Waldorf College were all pursuing Silva to come bring his talents to their school. In the end, after talking it over with his family, Silva decided to commit to Waldorf College.
Renee Smith contributed to this report.
Leave a Comment