Starnes is Twinning
This past summer Los Medanos College outfielder Kelly Starnes was selected by the Minnesota Twins in the Major League Baseball draft.
The fleet-footed Starnes has ranked among conference leaders in triples and stolen bases the past two seasons. The speedster raced not only along the diamond, but also on the gridiron in high school. In fact, he was so good at football that he broke multiple Northern California records at wide receiver.
In Starnes's senior year at Concord High he caught 112 passes for 1,749 yards and 25 touchdowns to help lead the Minutemen to an undefeated regular season record in 2010. He was named First Team All-State and received scholarship offers across the country for football, but none for baseball. Even with a football career proposing a more extravagant opportunity, Starnes said it was an easy decision to go in the career route of baseball, because it was close to his heart.
"It was always baseball," Starnes said. "It wasn't ever, 'Which one should I pick?' It was baseball the whole time."
When Starnes first picked up a baseball at 4 years old, he already had a natural feel for the game, his father said. Ever since second grade it was his passion. It was all he thought and talked about. He used to bundle up a sock and wrap plastic tape around it to form a ball, and then grab a stick to go out and have batting practice. It was a rare sight to ever catch Starnes in the house.
By the time Starnes was 10 years old he was playing with 14 and 15 year olds. His father was his biggest mentor in the early years of his playing days, but when Starnes reached 13 years old his father said he could no longer teach him because he surpassed him in baseball knowledge. Starnes never used his excellent talent to boast to others. He was always a shy kid, remained humble and "never talked crap," his parents said.
Growing up, Starnes primarily played shortstop, but when he was pulled up to the varsity level of high school during his freshman year, the team placed him in the outfield to utilize his speed. From day one, Starnes was in his comfort zone out there, and that is where he has played ever since.
Starnes, who grew up in Concord, and moved to Pittsburg when he was 14, chose to still attend high school in Concord. It was not until then, when he began to play football. He teamed up with his childhood friend, and Division-I recruit, Ricky Lloyd. As Starnes's quarterback, Lloyd threw for 4,451 yards and 52 touchdowns in their senior season. The Concord High Minutemen's fierce aerial attack attained three postseason victories in 2010.
In Starnes's senior season on the diamond, he led the team in hits, runs, doubles, triples and stolen bases on top of having a .400 batting average and earned First-Team Bay Valley Conference honors. When the team's postseason didn't go the distance, Starnes was left hungry, as he feels after every defeat.
Starnes said he chose to go to LMC because it was literally down the street from his house. He was also enticed by the way Kasey Coakley, the head coach at the time, ran the baseball program. When Coakley unfortunately had to resign due to a personal matter in 2012, Starnes was glad to have a quality couch like current Head Coach Anthony D'Albora be able to step in and build on what Coakley had done. continue the team's success.
"The easiest first impression of Kelly is that he is as athletic as anyone on a baseball field," D'Albora said. "The way he moved and played was very special and we could tell from the minute he got here he was going to be a very good player… He was always hungry to get better and wanted to find ways to continue to improve every day."
During practice and training in the fall for baseball, teammates pick individuals to represent as captains. Starnes was a natural selection for his peers.
"Kelly was a leader, but he didn't have to be vocal to do it," D'Albora said. "Guys played harder when they were around him because they knew how hard he would work. And most of all guys really enjoyed playing with him because they knew they were going to get 100 percent from him on every play."
In Starnes's freshman year he led LMC in hits, triples, stolen bases, slugging percentage and tied for the most homeruns. He was also one RBI behind the team leader despite primarily being used as a lead-off man.
Starnes shines beyond offense, and is also prized for his defensive talent. He has a blast out there snagging balls on the green. D'Albora said he trusted every ball that came Starnes's way would be caught. The sure-handed Starnes says playing wide receiver along with kick and punt returner has aided him in tracking down balls.
In his sophomore season at LMC, Starnes was moved to the three hitter spot. This was a new experience for him, for most of his life he has gone to bat first.
In 2013, Starnes was the second leader in the state in RBI with 37 in 40 games played. He also ranked first in doubles, second in triples and fourth in slugging percentage. He was second in stolen bases, only to be behind a fellow teammate, second baseman Jimmy Gardner. Starnes was selected First-Team All-Conference for a consecutive year.
During last season, Starnes began to work out with MLB scouts in San Diego as the summer progressed. It is no small feat to perform for a 19-year-old to perform in front of important people who determine his value. But Starnes prevailed again, hitting multiple balls out of the park along with robbing a homerun.
In June, Starnes was drafted by the Minnesota Twins in the 40th round of the MLB draft. His father received the big news in a text message while he was at the movie theater. He immediately jumped out of his seat and started shouting for joy. He did not care if he was disturbing the film for others, as he was brought to tears.
Starnes and the Twins did not reach an agreement. He once again declined the more luxurious offer, and accepted a scholarship the California State East Bay, where he plans to start next season. Both of his career decisions are his father's proudest moments of him.
Leave a Comment
About the Contributor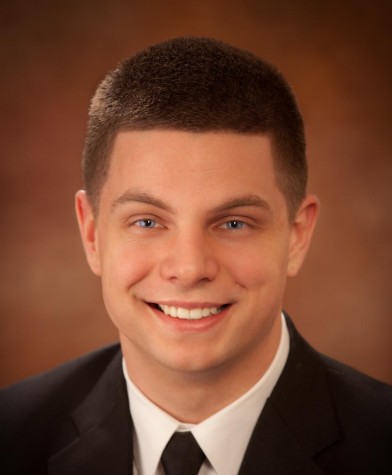 Luke Johnson, Special Projects
Luke "The Scoop" Johnson began writing for The Experience in the fall of 2012. He acquired a passion for sports journalism in high school where he was...