Work Education continues through COVID-19
With constant changes occurring due to the COVID-19 virus, like Los Medanos College campus being closed and courses being switched online, many are still adjusting to new routines weeks into the shelter-in-place.
Cooperative Work Experience Education students and instructors have been dealing with work-related changes due to the effects of COVID-19.
Many students have been out of work due to the shelter-in-place order and CWEE has been trying to figure out ways in which they can help those students still earn their work-related credits.
"Students, at this time, are not required to adjust units or drop CWEE classes if they've experienced loss of work as a result of COVID closures," stated in an email sent to the instructors by Transfer and Career Services Director Rachel Anicetti.
Anicetti also stated that work experience programs were awaiting guidance from the state and until then instructors and students continue "as many 'normal' assignments as possible, knowing that some [like the mandatory employer site visit, or supervisor evaluation] might not be possible at this point."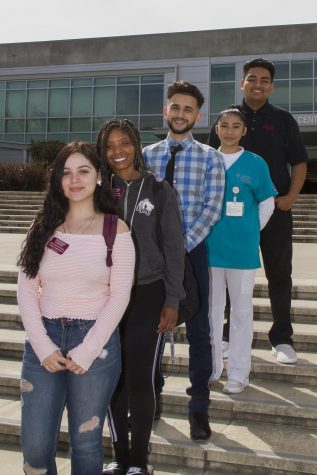 There has also been an influx of work for many students due to the virus.
"Currently, in the CWEE program we have several students working more hours than before COVID-19," said Cynthia Perez-Nicholas, CWEE Program Coordinator, in an email.
Even throughout all of the issues, students have been trying to stay up to date with their CWEE courses, as each individual has a different work situation.
"Despite the current situation, the students in our program have been amazingly positive and open to talking about their work situation. It goes to show the strength and resiliency of our students and the challenges in today's workforce. Students also share important life lessons learned as they experience the impact of this pandemic," said Perez-Nicholas in an email.
Although there has been many changes through all of this, the CWEE program continues to move forward holding orientations for the summer and fall semesters through Zoom.
"We are approaching CWEE as we normally do, with the summer and fall applications currently open which are accessible to all employed students. While we are in shelter-in-place, the required CWEE orientations are now being conducted via a live Zoom Session; there will also be an online option called 'CWEE Orientation To Go' where students can participate at a time that works for them," said Perez-Nicholas in an email.
The CWEE program has supported working students in the past by providing credit related to work and helping those who don't wish to pick between work and school. The program continues to help those students through the current changes and hopes to gain more students through this.
"Students who are essential workers are being asked to work harder than ever. We encourage them to apply… If you have a job, internship, or volunteer experience in any field, this program is an excellent option. Please talk with your counselors about how these units apply toward your certificate, degree, or transfer. It is a great opportunity to earn units toward graduation that tie directly to true work experience," said Perez-Nicholas in an email.
If you have any questions relating to the CWEE program, email CWEE Program Coordinator Cynthia Perez-Nicholas at [email protected] or use this link to schedule a virtual appointment: https://www.losmedanos.edu/cwee/
See the CWEE Orientation schedule at https://www.losmedanos.edu/cwee/orientation.aspx