Alumni showcase artwork
Touchable artwork, interactive galleries, mannequins dressed in art pieces and many more pieces of art were displayed at the Alumni Exhibition Thursday May 2. Students and visiting Alumni attended the art gallery to meet some of the alumni artists and admire their work in the exhibition.
"It is important that young people can see where people go from college," said gallery Director Rebecca Talley. Art was displayed alongside snacks such as cheese, crackers and cucumber water.
"I really enjoyed seeing people wander around and learn new things," said Kristina Zuroff, a Los Medanos College student in attendance. This event is a good way to allow former students to promote themselves and current projects after school or when they are in the real world.
"People can see that it's not just the fine arts that can be published, it can be cartoony styles too," said artist Nicole Barakat who graduated from LMC in 2017.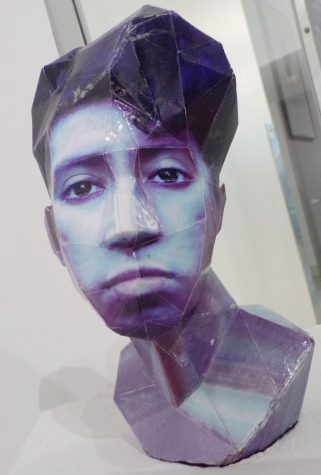 Multiple alumni who had their art featured in the exhibition were at the event to talk to students and guests who may have had questions for them.
"There's a point of pride for seeing the success story of LMC students and alumni. Seeing people who made the leap from community college to the real world or adult life," said artist Ali Zoe Cameron who graduated in 2015.
Many of the artists hoped to inspire those who wish to follow in similar steps to them, but some just wished to help students however they could with their studies with words of encouragement.
"I came to school here, it's nice to have my art up. I hope people expand and experiment and stop being afraid of doing things in school," said  Stephanie Gomez, an artist who graduated in 2016, "a lot of courses teach art a certain way, hopefully people break away from the cycle and break out of the boundaries. This was out of my comfort zone, I was a painter but now I'm making wearable art. I just hope it inspires some students."
Though this exhibition is not an annual one, Talley thinks having an event like this that showcases creativity from former or current students is important.
"It's good for students to see because art speaks to life. Art is all about passion and chronicling our world. Honestly, STEM should have an A for art in it. This is where the creativity comes from in our world, without the creativity, people won't do what they do," said Talley.
The exhibition is free to the public and will run from Monday through Thursday 12:30-2:30 p.m., and 4-6 p.m. from May 2 to May 23 in the Library Building by parking lot A.
Leave a Comment