Students bring 'Serenity'
Directing class original drama impresses
The Los Medanos College drama department's production of "Project Serenity," is able to convey its message of perseverance, despite minor issues with its writing and execution.
The directing class put the show together after being inspired by a pair of virtual reality goggles brought in during an exercise in class where each student brought in one object to draw inspiration from.
The show is set in a mental institution that uses virtual reality technology on its patients to control them.
The play follows the journey of a man named Allarick, known more commonly as Al, (Sergio Ramirez) who when "accidentally" sent to the mental institution uncovers a way to glitch out of the virtual reality systems the patients are kept in with the help of Annie (Anise Gonzales). Together along with Eva (Priscila Rodriguez) and Goggles (Devareay Williams), they are able to find the connections between each others worlds and figure out how to break the system they are stuck in.
Although difficult parts of the show were executed in creative ways, such as the choice to use light and sound effects to make it look as though the characters were swimming, at times it felt as though the play should be produced as a film rather than an on-stage production.
Additionally, at the beginning of the show a few of the actors stumbled over their lines and emphasized awkward portions of their dialogue making it hard at first to connect to their characters. However, as the show went on, the actors seemed to settle into their roles and grow more comfortable on stage.
The explanations of each characters back story on their past traumas and why they were sent to the institution made the characters feel more real.
Although each character had moments where they shined, Jazmin Brehaut, who acted as the virtual reality system able to adapt to each world within the system, captivates with her abilities to morph into each character, particularly in her role as Annie's mother.
Still, as a student-led production, this play is able to show the drama department's directing class's expertise. Even though it has slight issues, the cast and crew's abilities to write and produce such a creative production in just a semester is impressive.
There are only a few more chances to watch "Project Serenity" including tonight, May 13, 14 and 16 at 7 p.m.
Tickets will be $7 for students or those with military ID, $10 for the general public and $5 for middle school and high school students with an ID.
Leave a Comment
About the Contributor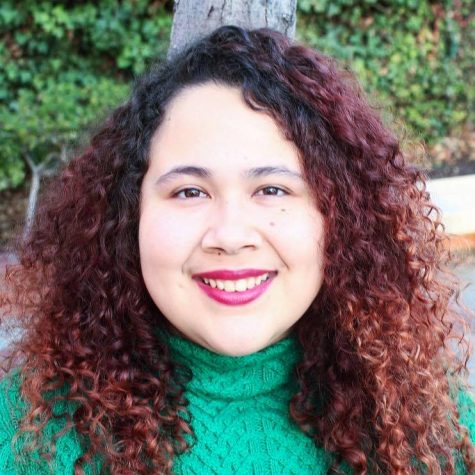 Beatriz Hernandez, Editor in Chief
My name is Beatriz and this is my last semester at LMC. I am a journalism major and I hope to transfer to UCLA.