Instructional assistant lends a hand to all
If you think you haven't come in contact with Eric Sanchez, chances are you actually have, seeing as he currently works as Instructional Assistant for the art, journalism and drama departments and has been teaching various art courses and workshops at LMC since 2011. He's the bearded guy with glasses usually sporting a driver's cap. And he's winning a pretty big award.
You've more than likely also seen his artwork all over campus. All of the remodeling currently taking place at LMC's Little Theater is of his design, as is the mural work on the outside of the building and any canvas posters on the inside.
Sanchez recalls drama professor Nick Garcia, who along with other students helped with the installation of the artwork outside and inside the theater, telling Sanchez, "you're the first one I've ever worked with where your design looked exactly like how you showed me."
Sanchez is humble, but confident enough to acknowledge the truth in that statement. He takes his art very seriously, because it has dominated almost every aspect of his life since he moved to the Bay Area in his senior year of high school.
Born in West Covina, California, Sanchez and his family bounced around SoCal until eventually migrating to New Mexico – a much different climate than the suburban one he was used to.
"My dad had cattle, our nearest neighbors were a quarter mile away," he recollects.
When he was eight, his parents split up. He originally tagged along with his mother who returned to SoCal. But his father, a TV repairman, eventually moved to San Ramon in search of more work, and Sanchez opted to come along. The two moved to San Ramon, where Sanchez would end up graduating Cal High.
He'd lived four years with his mom after the divorce, and so he jumped at the opportunity to spend the next four years with his dad.
"I chose to balance it between both of them."
It seems balance is a key component in Sanchez's life, because from that point on, whether it was in his educational, professional or creative endeavors – with plentiful overlap among the three – he says he has "always had too much" on his plate. But that's just the way he likes it.
Throughout his college career, Sanchez studied just about every medium of fine art you could imagine – sculpture, ceramics, bronze casting, painting, drawing, etc. – and graduated from Cal State Hayward with a Bachelor's in Fine Art Studio.
He then got his first art job at the nonprofit Kala Art Institute in Berkeley. While Sanchez said his passion for fine arts was so strong he never entertained the idea of digital art, he found himself giving it a shot at Kala.
"I learned more there in six months than in my entire schooling," says Sanchez.
In fact, he was even inspired enough to get his Master's Degree, which he received in Fine Art and Printmaking from San Francisco State.
Sanchez went on to teach various art classes at LMC, Diablo Valley College, Contra Costa Community College and College of San Mateo.
Around the same time, he and his friend Matt Reynoso started doing commissioned work under the name Indubitable Design.
"That which cannot be questioned," Sanchez defines the root of the company's title with a laugh. He admits that the majority of design proposals he sends in to a client come back with "little to no changes," which is highly reflective of Sanchez's innate skills in what he does and the pristine vision of his mind's eye.
The Indubitable Design team specializes in various 2D and 3D traditional and digital art applications – specifically art installation, sculpture and mural work – and are housed at the Compound Gallery in Oakland.
Sanchez and Reynoso's partnership seems to be a key component in the success of their business.
"I know software really well, and he knows hardware really well, and we both have overlap in both areas … together we're like an unstoppable force."
Many of their clients are companies in search of art for marketing purposes – one such company Indubitable Design is able to add to their portfolio is none other than Google.
"We're responsive and we're also ambitious. It kind of meets and exceeds their expectations," said Sanchez of their good reputation. "So they like that we're professional, they like how we work."
Sanchez is so committed to his work that he says he "might get between 3 and 5 hours of sleep if I'm doing a commission." He admits there have been times in which he'd work his day job, go to the site of his commission afterward and work from the evening until as late (or early) as 6 a.m., rest for a bit and return to the site later that afternoon.
"I guess I strive in crisis," he says, citing that it's both strength and a weakness. He admits that he will "get stretched thin on occasion," but that he simply has to either ask someone to relieve some of his duties "or I'll have to remind myself 'Oh, this actually isn't my job' and then direct it to that person."
When it comes to his art, Sanchez is self-aware in a way that is not quite self-deprecating, but critical all the same.
"Most people say, 'Oh, that looks great' and I'm like 'No, it can be better.' Like, I need to figure out how to make it better that way I know where the breaking point is."
The fact that Sanchez is rarely fully satisfied with his work is a testament to how far he will push himself in any of his endeavors. That quality has not gone unnoticed in his professional life.
In 2011, he came into a full-time classified staff position at LMC – a position for which he was awarded the district-wide Classified Employee of the Year. According to the Contra Costa Community College District website, the award "recognizes an outstanding classified employee who demonstrates the highest level of commitment to professionalism and community colleges." Members of their college and district community who submit proposals of their choice, nominate the recipients. Sanchez received the district-level award at a reception at the CCCC District Office on April 27, and is now eligible for consideration for statewide Classified Employee of the Year.
"It is a big deal … out of all the classified employees and proposals that went through, mine rose to the surface," said Sanchez incredulously.
It is well known that Sanchez puts ample time and energy into his work to be sure it makes an impact on his environment. He admits that his dream job would entail "a position that has a large impact," but he acknowledges that the impact he's making today with his art and his work at LMC is enough to fulfill that dream.
Leave a Comment
About the Writer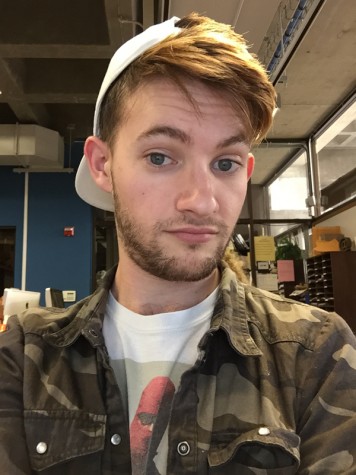 Taylor Stroud, Assistant Features Editor
My name is Taylor Stroud. I currently write and assist the Features editor for the Experience. I'll be receiving my AA in Journalism and then going places....