'Radio Golf' soon to premiere at LMC
The Los Medanos College Drama Department is bringing the show "Radio Golf" to the Little Theater beginning Thursday, March 31 at 7 p.m.
Outreach Director Tyrone Davis from the American Conservatory Theatre in San Francisco will direct the show written by August Wilson.
"I'm a huge fan of August Wilson. [He's] the reason I got involved in theatre," said Davis. "I believe his work is universal and resonates with multiple communities."
"Radio Golf" follows the story of an African-American man running to be the first black mayor of Pittsburgh.
"The show is about the black experience and how gentrification is being brought up in the community," said Steele Lewis who plays Joseph Elder Barlow. "It needs to be talked about because it's a very important issue that's going on right now in America."
While other productions this semester are colorblind casted, "Radio Golf" was specifically written by Wilson for African-American actors.
"It's a moral play … It's time for us to look at ourselves and where we stand as people as a society," said Davis.
As the last part of his famous "Pittsburgh Cycle" series, which recounts the stories of African-American life throughout each decade, Wilson's "Radio Golf" takes a look at the black middle class and focuses on the themes of identity and gentrification
"It's a good way for us to express ourselves as African-Americans and express ourselves, the way we feel and our perspective of what's going on in the world right now and how it was then," said Lewis.
Dee White describes her character Mame Wilks as the voice of reason for her husband, Harmond Wilks.
"Mame has everything planned out," said Dee White about her character. "She controls everything in her and Harmond's life."
"Radio Golf" opens on March 31 and runs April 1, 2, 4, 7 through 9 and 11 at 7 p.m. with a Wednesday matinee showing at 10 a.m. April 6.
Tickets will be $7 for students or those with military ID, $10 for the general public and $5 for middle school and high school students with an ID.
"If [you] don't know who August Wilson is it's a great introduction to him," said Davis. "His plays are beautifully written, the characters are rich [and] the stories are universal. I think it will be a great night at the theatre."
Leave a Comment
About the Writer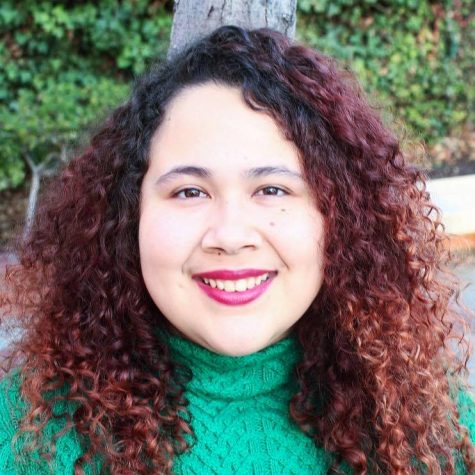 Beatriz Hernandez, Editor in Chief
My name is Beatriz and this is my last semester at LMC. I am a journalism major and I hope to transfer to UCLA.