Pittsburg native inspires MESA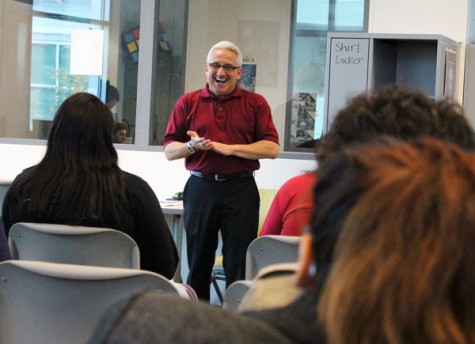 Civil Engineer and Pittsburg native Mark De La O wants students to know that their backgrounds don't always determine their future. This was the message conveyed when he spoke to Los Medanos College's MESA program in Science Room 202 this past Friday.
The Pittsburg High School alum was an economically disadvantaged youngster and said it wasn't easy coming up. "We were farmworkers from time to time but it just wasn't for me," he said. "Crime was rampant and some didn't make it out. I consider myself one of the more fortunate ones."
Despite living in these conditions, he said he still had his brothers, who helped him keep his nose clean. It was this sort of encouragement that led him to a full-ride scholarship, but unfortunately with increasing tuition prices, by the late 1970's, he was struggling to pay off accumulating debts to the University of Pacific.
"I spent a year, two years working just to pay it off," he said. But things began to look up and he started attending classes at San Jose State in 1981, where he took an internship with Westinghouse Electric Corporation his junior year. After earning his BA for civil engineering in 1987, he went "from business to business" looking for work.
He was eventually able to find steady work and he talked about some of his early involvement on projects.
"I helped design a propulsion system, a sealed system. It was really neat being a rookie and getting to have those experiences."
"It's amazing what you can do when you hold the course and stay focused," said De La O.
He then took questions from some of the attendees who asked him about how to get internships and jobs after college.
"There's a shortage of civil engineers," he said, and because of this "you'll get a lot of great offers." He didn't just mean civil engineers though. He talked about there being opportunities for other kinds of engineers, particularly if you're a woman. According to De La O, the starting salary for female engineers is higher than the starting salary for males.
"The males may think that's unfair but women have been dealing with this [wage inequality] for years," he said.
Afterward, he stayed and chatted with students about different career opportunities. He passed out business cards and everyone chatted amongst themselves.
Student RC Kubota said what she took away from De La O was "inspiration and encouragement."
"Whatever your background is, throw it out the window," said Kubota referencing De La O's central message. She also appreciated the fact that he encouraged the students to "make connections" and to not be afraid to ask for assistance. During his presentation, he said he was a shy person but he knew he needed help in order to achieve his life goals.
Who gets to speak is decided based on people who can relate to the students in the MESA program said Nicole Trager. "I like to get speakers who have a good personal story and who have attended community colleges," she said. "It's based on their experiences."
Leave a Comment
About the Contributor
Kimberly Stelly, Web Editor
I started writing for this paper in 2013. Since then, I've held a variety of positions on this paper. My only goal is help my fellow writers as well...