Students explore options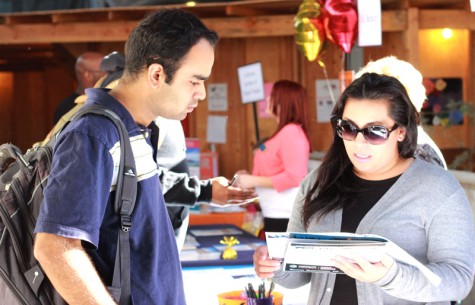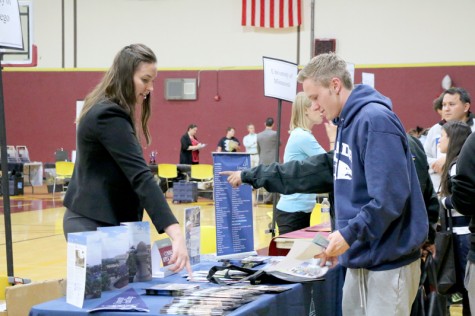 Following a Transfer Rally held Oct. 24, students were able to explore their options for higher education during Transfer Day Monday, Oct. 27 on level 3 of the College Complex from 10 a.m. to 1 p.m.
Many representatives from state colleges and universities were available to further explain the benefits of transferring to their schools. A majority of the colleges that were included in the event are located in California, however, a few out-of-state colleges attended, including the University of Idaho and Sierra Nevada College.
"I attended it because I want to further explore the majors of different colleges," said student Marcus Green. "This gives me a chance to learn about several out-of-state colleges that I can't take a campus tour to."
The event helped students who are looking to obtain more information about their majors, as well as find schools that would offer similar programs.
"The three D's," said Michelle Prior-Alameda on what students need to transfer from Los Medanos College. As a representative for The Fashion Institute of Design and Merchandising, Prior-Alameda knows that if students have the "Dreams, Desire and Determination," they can successfully transfer to the college of their choice.
There were a variety of schools at the event that were able to fit the needs of students with varied interests and majors. Social work major Nisa Lacey and Zoology major Wendy Zelaya were both able to find schools that provided programs for each of their fields of study.
"Students should look for a fit," said St. Mary's College Representative Erik Coloma, "a school they feel is the right one to go to." Located in Moraga, the private liberal arts college is known to be a small community, with only 4,000 students. This creates smaller class sizes, creating attention toward all students.
For those students who decide to stay in California, such as Markeisha Beckham, many options were available to help make the deciding process less difficult to begin. For her, schools that offer computer science degrees as well as daycare alternatives for her son are something she looked for.
"First year here at LMC," said Beckham, "I did a tour of University of San Francisco, and decided to stay at LMC for 2 years and then transfer there."
For students more interested in attending out-of-state colleges, representatives such as Amanda Hotinger from the University of Idaho said their college offers diverse programs for students and has small classroom sizes to help accommodate all those students.
"The best thing you can do is ask questions as soon as you pick a couple of schools," advised Hotinger.
Planning to transfer in the fall of 2015, kinesiology major Jarell Calvin took advantage of Transfer Day and met with various representatives to help answer questions he had about pursuing a career as an athletics trainer.
"I had questions about fixing my application," said Calvin, "they were all answered."
As students met with the various representatives from the colleges visiting the campus, many were offered pieces of advice as well as words of encouragement to help aide them in their search for a school in which to transfer to.
"If it feels right," said Nick Anderson, representative to Sierra Nevada College, the only private college in the state of Nevada. "Ninety nine percent of the time it's going to be right."
In addition to letting LMC students view their options for transferring, students from local high schools also had the chance to meet with representatives of the colleges later that evening. During College Night, those interested in pursuing a higher education directly out of their senior year had were able to ask questions and receive the information they needed.
Students who are interested in learning more about transferring, or are requiring additional information on colleges of their choice, are encouraged to visit the Transfer Center in room CC2-225.
Leave a Comment