Transfer Day tour hits LMC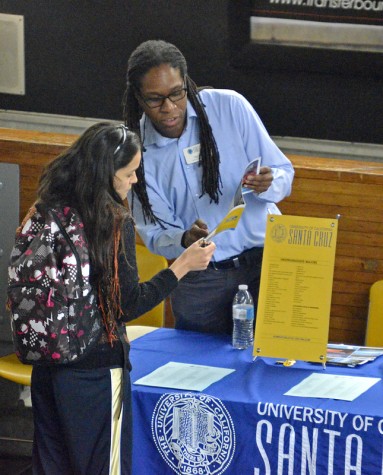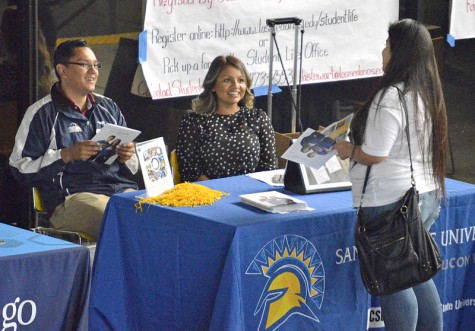 The school's annual Transfer Day event featured more than 50 four-year schools ranging from UC's and CSU's to out-of state and private colleges and universities. The event filled the halls as one of the 20 stops on the tour of college representatives that have been visiting community colleges around the Bay Area.
The event is geared to help educate students about possible transfer destinations and answer their questions face-to-face.
"I think it is definitely a great opportunity for students to explore other options," said David Reyes, an LMC counselor for the Transfer Academy. "It is all-in-one day where students can explore and talk to all the schools. Even if they don't plan on transferring it is a still a good idea to explore all the schools."
Students found this event beneficial and successful for them as well.
"I wanted to learn more about transferring because I was interested in three different schools, " said LMC student Adrian Martinez. "It allowed me to learn what school fit me and helped me make up my mind."
With all the representatives in one place, it was convenient for students to brainstorm their decision for transfer.
"It is helping my decision by being able to ask multiple representatives," said second-year LMC student Kiani Taylor.
The representatives let prospective student know what the most unique part of their schools is.
Admissions Counselor Eli Diez said, California State University, Monterey Bay is the "biggest marine sanctuary on the west coast." He added that the school is "Hispanic-serving" but the school is looking to appeal to a more diverse collective of students.
New School College representative Kellie Stubblefield said she got to talk to a handful of students and added that the perks of attending New School are there aren't as many students.
"There's an average of, maybe, 16 students per class" so it's easier for them to "have personal conversations," said Stubblefield. "Our campus is filled with people really on a mission. Most unique about our campus is the student life. We do a lot of student-based projects." The campus is "filled with people really on a mission."
Northern California Regional Admission Counselor Sarah Moore said Missouri State University of Science and Technology has the seventh highest starting salary in the state.
"We offer 15 different engineering degrees, which is very unusual," said Moore — a lot of students interested in computer science and aerospace have come up to her booth.
Betsie Ruggs Stassen, academic director of Hawaii Pacific University, noted that HPU "is the largest private university in Hawaii" and hosts about "6,000 students."
College representatives also explained what their schools were trying to achieve at these types of events.
"The main goal is to expose students to [University of California, Riverside] and the opportunities we have to offer, said Jackelin Shoji, an admission counselor who was representing the UC Riverside at the event. "I just hope to get students involved in our school."
Assistant Director of Outreach and Recruitment for Golden Gate University Chasity LeDoux said, "I'm here to answer questions for students" and inform them about "the degrees we have to offer."
Representatives agreed students are taking advantage of the opportunity to find out more about schools accepting transfers.
"The students have been asking great questions. The event has been very well put together, the parking, the tables, everything," said LeDoux. "Students have been asking really great questions"
Among the most popular tables during the event featured big names schools such as UC Berkeley and popular local options like CSU East Bay and Sacramento State, and LMC student Eboni Brown was observing the CSUs in particular.
"I recommend CSUs because their tuition is lower than some of the other institutions," said Brown, and noted that she has her eyes set on Sacramento State specifically because "the campus has a chill vibe, there's a lot more to do there and everything is within a 10-mile radius." She added other CSUs don't seem to offer Geriatrics.
For more info on transfer services, events and opportunities contact the student services center at 473-7444. You can also email Director of Transfer and Career Services Kristin Conner at [email protected] or Transfer Services Coordinator Rachel Anicetti at [email protected]
-Jazmine Gordon and Kimberly Stelly contributed to this report
Leave a Comment
About the Contributor
Joseph Delano, Contributor
Hi! My name is Joseph Delano. I am 27-years-old, hailing all the way from Bethel Island. I have been at Los Medanos College for 8 years… for you math...