Calendar conundrum
Compression is considered
After picking up the discussions started by the Compressed Calendar Task Force in 2005, the Contra Costa Community College District is considering switching to a compressed academic calendar similar to what some other community colleges in California have adopted in the last few decades.
Rather than vote as a senate, the LMC's academic senate has decided to vote as a faculty. So far, only DVC has sent in their advisory vote in favor of furthering the discussion of the compressed calendar to the union. CCC is still in the process of voting.
As part of the district's fact-finding process, representatives from colleges that have made the change addressed members of the Los Medanos College Academic Senate at its March 23 meeting. Professors Mitra Moassessi and Fran Chandler from Santa Monica College, and Librarian Donald Brown from El Camino College shared their transition experiences in shortening the length of a semester from 18 to 16 weeks.
If the district decides to make the change in the academic calendar daily class time would increase to make up for the loss of two weeks of instruction.
The district wants colleges to consider this conversion because statistics show student success improves in a 16-week calendar and, because most Bay Area community colleges have not yet made the change, it could potentially provide an advantage in recruiting students to LMC, as well as to Diablo Valley and Contra Costa colleges.
Santa Monica was the first college in the state to make the switch about 25 years ago after being proposed by its Academic Senate vice president.
"I can think of absolutely no one who would go back to the old calendar," said Chandler.
Initially resistance came from the math and science departments as they had concerns about whether they could cover the material in a shorter number of weeks and still have students learn effectively.
However Moassessi, who is a math teacher, found professors had a better chance of covering all of their material as the compressed calendar lengthened class time from 50 to 80 minutes a session at Santa Monica College.
El Camino went to the compressed calendar in 2002 after two years of discussion and has a class schedule designed similar to Santa Monica College. But there are differences in the calendars, which include the number of flex days — faculty service days for professional development — and the number of Saturdays they choose to include in their academic year.
But LMC staff and faculty expressed some concerns about the space for classes due to the increased class time. El Camino and Santa Monica College have classes that start at 6:30 a.m. and to accommodate the lengthened class time here at LMC, which starts at 8 a.m., the school day would have to begin earlier as well.
"When this came up in the mid-2000s we ultimately turned it down," said LMC biology professor Mark Lewis.
As a chance for students to make up units they may have lost by eliminating the longer semesters, Santa Monica College also has a six-week winter intersession and a six-to-eight-week summer session while other colleges have made their summer sessions longer.
"The pass rates were no different, our students were just as successful," said Chandler.
The length of a compressed calendar is similar to those of the California State University and University of California systems, which can make transfer easier for students.
"Santa Monica College has one of the highest transfer rates," explained Brown adding that, "El Camino is only a little bit behind that rate."
The next step in the discussion over the proposal to reduce the academic calendar from 18 to 16 weeks is for the academic senates at LMC, DVC and CCC to further discuss and then vote on the proposal.
If a decision is made to make the change, the soonest it could be implemented is fall 2016.
For more information and access to the videos of the presentations made at Los Medanos College's academic senate meeting, as well as those at Diablo Valley and Contra Costa colleges visit uf4cd.org.
http://www.3cmediasolutions.org/playlists/521
Leave a Comment
About the Contributors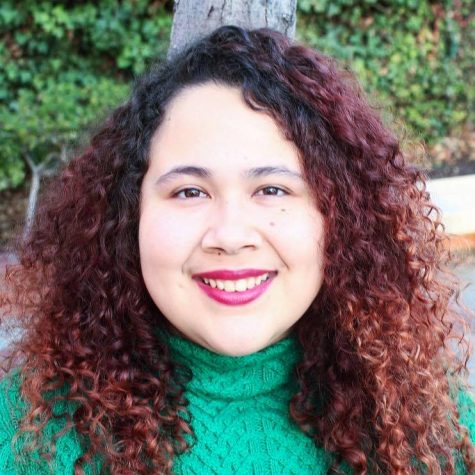 Beatriz Hernandez, Editor in Chief
My name is Beatriz and this is my last semester at LMC. I am a journalism major and I hope to transfer to UCLA.