Saving lives and setting goals
Sierra strives right along with students
Born in El Salvador during the bloody civil war of the 1970s and 1980s, assistant professor German Sierra had no choice but to leave his country at the young age of 14.
"The whole country was engulfed in a nasty civil war. There were executions, kidnappings, disappearances. Fearing the worst, my mother sent money for me to get out of that country fast," said Sierra who made the journey to the Unites States alone.
After his father's passing, his mom moved to Los Angeles to become a nanny, leaving Sierra in the care of his aunt. When the war got out of control, his mom sent for him.
Once he arrived in South Central Los Angeles to reunite with his mother, Sierra found himself lost in a city and country that was new to him and did not compare to his small town in El Salvador. "Coming from a little town that had one car, to the middle of Los Angeles that has millions of cars, skyscrapers and Disneyland, I mean all those places are just a shock," he said.
Since Sierra's father died when he was only 5 years old, he did not have a male figure to guide him in life. It wasn't until he joined the military that he began to see his calling.
Sierra experienced basic training in the Army before he finished high school. "I went to basic training in the military when I was 17," said Sierra, adding, "I still had to go back to high school and finish my senior year." Once he graduated from Los Angeles High School, Sierra, like many recent grads, did not know what he wanted to study. "I had no idea," said Sierra explaining that it wasn't until he graduated basic training as a medic that he discovered his passion for helping people. He credits his stint in basic training for providing him with the right tools for use later in life.
The military provided "core values for me, the notion that I can go further than I ever thought, discipline, respect, teamwork, initiative and drive," Sierra said. "The military gave me the foundations I lacked as a teenager."  He joined the National Guard in 1987 and served until 1993. Then he started paramedic school in 1994 and became licensed in 1995.
After finishing school he met Heather, his wife of 10 years, with whom he has two children. "She worked at a hospital where I took my patients," said Sierra.
In the middle of 1995 Sierra took a chance and relocated to the Bay Area. "Paramedical services in Los Angeles are all provided by the fire department. At the time I did not work for the fire department," said Sierra. "If I wanted to be a real paramedic … I had to move." So, after hearing paramedics receive a higher rate of pay in the Bay Area, Sierra hit the road and headed north to apply for an available position he hoped would further his career. On the way back home to L.A. he stopped in every county and applied for jobs.
"I got hired at two different places," said Sierra, "Alameda County and Santa Clara County." He ended up accepting the Santa Clara position. Being a paramedic is a nurturing career, and he credits his aunt for his caring nature. "I think a lot of the behaviors that I exhibit today came from her," said Sierra, adding, "she actually put herself out there for us, sometimes at the cost of her own life."  Sierra said a true measure of character is when you help somebody who cannot do anything for you. He is passionate about helping people, and calls it "equalizing the playing field." He said everyone should have equal chance regardless of who they are or where they come from, and "the key is to be able to help everybody."
On his down time he likes to travel and hike with his family.
"I like to go hiking," said Sierra, adding, "We definitely like to go see new places and experience new things." As a practicing paramedic for almost two decades, Sierra knows how to help students by guiding them toward their educational goals and giving them the right tools to be successful in the current job market. "An EMT certificate is just the beginning," said Sierra, adding "the education these students receive here at LMC can lead to more opportunities."
"Without the EMT certification that I got, I would have never been able to become a paramedic," said Sierra. "I would have never been able to become a firefighter paramedic, I would have never been able to become a professor."
After 12 years as a paramedic for the city of Oakland Fire Department Sierra retired. Not wanting his career to end there, he found a new job working as part-time professor at a Foothill Community College in Silicon Valley. "My part-time status did not allow me to have a lot of say into the daily operations, curriculum development," said Sierra, adding, "I had all these ideas that I could not put in place."
The program director at the college saw his potential, said Sierra, and advised him to seek a full-time job. So he began an online search and stumbled upon a teaching opportunity at LMC. "What really attracted me here is the ability for me to implement some of the ideas that I have," said Sierra. His approach is not only to teach students, but also provide them with educational goals. He gives additional points to his students who provide him with a written educational plan. Sierra has a caring nature and he shows it in his teaching techniques. "It's really hard to know where you are going, if you don't have a plan," said Sierra, adding, "So all of my students in my class, if they want the extra points, they need to bring me an educational plan and a five-year goal and I think that's key." Sierra adopted this method from one of his own professors, because it helped him to establish a path for his developing career.
The EMT program can be grueling on students, but Sierra's job is to prepare them for the real world and teach them the fundamentals, as well as prepare them for the National Registry of Emergency Medical Technicians exam they will face once they graduate. "I'm actually taking my students to the computer learning center," he said adding that he tries "to duplicate that type of testing."
Sierra holds an associate's degree in psychology and general science, and although these degrees have helped him in his career, he is not yet finished.
He wants to push himself to the next level, and in January he will begin a new journey toward obtaining a bachelor's in psychology and industrial management.
He will take online classes at either at Central Michigan University or Patten University, since both offer online degrees, but Sierra does not want to stop there.
In the long term, he hopes to take a year off from LMC to pursue his master's degree.
"Another dream of mine has been always to become a physician's assistant," said Sierra.
He has once again set the bar for himself and is confident that he will attain his goals. He would like to make this dream into a reality by attending the Stanford School of Medicine Physician Assistant Program and then come back to LMC to resume his teaching career, but with more knowledge under his belt.
Sierra said education is key and one of his few regrets in life is his lack of advance degrees, but with hard work and dedication, this will no longer be the case.
View Comments (1)
About the Contributor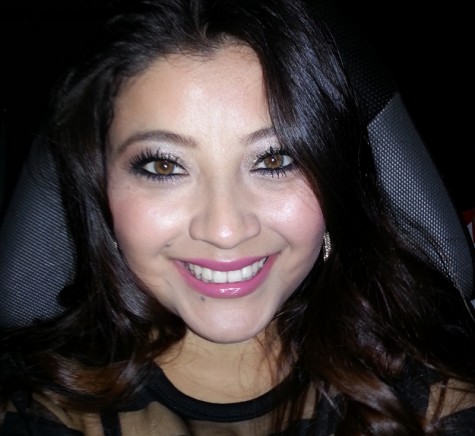 Bertha Aguilar, Assistant Photo Editor
Hello my name is Bertha Aguilar and after a long hiatus from school, I have returned to LMC and the Experience to finish up my credits and receive my AA...