Puente fundraises for scholarships
Day of the Dead is celebrated
Puente, a program focused on improving college success for underrepresented students, hosted a Day of the Dead lunch fundraiser to help generate money for its scholarship fund Monday, Nov. 2 from 11 a.m. to 1 p.m. in the indoor quad.
At the event, tostada bowls, tamales, rice and
beans, horchata and a variety of desserts were sold as part of the fundraiser.
"We're putting on this fundraiser to support the Puente program here and to help support the transfer students so we can help give them scholarships," said Puente President Selena Martinez.
The scholarship fund is meant to raise money for Puente students who are looking to transfer to four-year universities.
"The Puente scholarship fund is a fund that helps Puente students on their road to transfer," said Puente Adviser Stacey Miller. "They can apply for the scholarship to help with books or tuition here at LMC or to give them money to take with them when they transfer to a four-year university."
There was also some face painting of the classic sugar skull and dancing as music was played at the event.
"We're just trying to spread love, that's all we're really trying to do, have a good time," said Puente Inter Club Council Representative Jesus Briseno.
"Sí se puede," meaning yes, it can be done, is the slogan of Puente.
The Day of the Dead, also known as Día De Los Muertos, begins on Oct. 31 and is celebrated through Nov. 2. It is meant to commemorate the dead, rather than a fear death.
"It's important because as Latinos, it has a lot to do with our culture, we want to keep those memories alive," said Briseno.
The holiday is associated with the catholic holidays of All Saint's Day and All Soul's Day, which take place Nov. 1 and Nov. 2, respectively.
"Here in the U.S. people celebrate Halloween and in Central America they celebrate Day of the Dead," said Martinez. "We celebrate it to remember those who have passed and to let them know they're not forgotten."
Leave a Comment
About the Contributors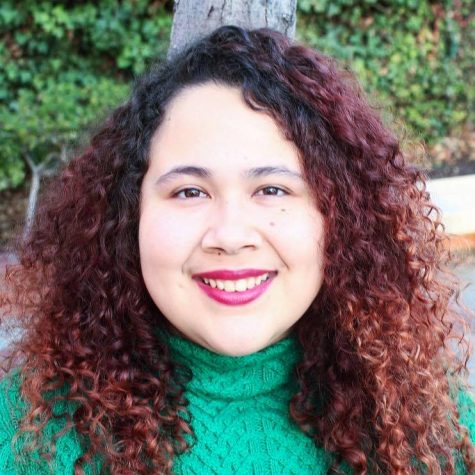 Beatriz Hernandez, Editor in Chief
My name is Beatriz and this is my last semester at LMC. I am a journalism major and I hope to transfer to UCLA.