Musical 'Block' is coming
Hip-hop drama to premiere next week
The Los Medanos College Drama Department is bringing the first hip-hop musical produced in the Bay Area, "My Block" written by Federico Bartolo, to the LMC community and will be performed at the Little Theater on campus.
The show is about the struggles that can come from living in a bad neighborhood and what happens when a man named Rafael falls in love with his best friend Pancho's sister Simone.
"It deals with things that people in our community go through," said Drama professor and director Nick Garcia.
He explained that the meaning behind the name "My Block" refers to the feeling that the neighborhood that you grew up in is your place – it's a part of you.
"We want to take you to a neighborhood, anywhere you want to go," said Bartolo.
Bartolo was inspired to write the musical after meeting keynote speaker Daniel Banks, the founder and director of the Hip Hop Theatre Initiative that uses Hip Hop Theatre to promote youth self-expression and leadership training at the Kennedy Center American College Theatre Festival (KCACTF) last spring.
"It's everything the festival represents," said stage manager Dee White.
After being inspired to write the first song at KCACTF, Bartolo was challenged by Drama teacher Nick Garcia to write the musical. The script for this musical was completed in three months.
"It's a very different type of musical," said Lenard Jackson who plays Rafael.
Bartolo wrote all the lyrics to the songs and collaborated with Blunted Beatz, Empty Beatz, Crack Moses, and Jason Park to create the music.
"I see a lot of [the actors] in their characters," said Gabby Brown who plays Simone, "it's relatable."
"My Block" opens Thursday April 16 and runs through April 17, 18, 20, 23, 24, 25, and 27 at 6:30 p.m. with an 11 a.m. matinee showing on April 22.
Tickets will be $7 for students or those with military ID, $10 for the general public and $5 for high school students with an ID.
View Comments(1)
About the Contributors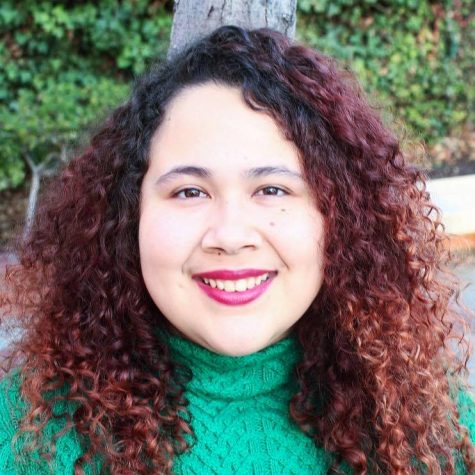 Beatriz Hernandez, Editor in Chief
My name is Beatriz and this is my last semester at LMC. I am a journalism major and I hope to transfer to UCLA.