Bay area native joins staff
LMC welcomes new tech-savy coordinator
With an undergrad in English Literature, a minor in Art, and a Masters degree in Library and Information Science, newly married Technology Training and Development Coordinator Courtney Diputado has already achieved educational success before the age of thirty.
Born in San Francisco in 1984, she had many activities to choose from to pass the time. Like most young children, Diputado enjoyed playing video games and drawing, things she still does today.
"Weekend activities included visits to Golden Gate Park, Douglass Park, the Exploratorium and the beach," said Diputado, adding, "Sometimes I would visit my dad's workplace in North beach."
In 1992 Diputado moved to the east bay to Antioch. She does not remember the exact reason her parents decided to make the move from a large city to a much smaller one, but the change was "weird" to adjust to.
"I think [my parents] wanted a bigger house in another bay area city, and Antioch was one city where they didn't experience redlining in the housing market," said Diputado.
Later on she attended Pleasant Hill Christian School, graduating in 2002. Once she graduated it was clear to her that she wanted to major in English and was considering double majoring in English/Art.
She attended La Sierra University in Riverside, California. During her senior year she was required to take a capstone class that involved taking an internship, which she completed at the Riverside Public Library.
During her internship, she discovered how much she enjoyed being in libraries and decided to pursue a degree in Library Science, even though her degree was English Literature with a minor in Art.
"At the time I did not want to teach, everyone in my department was teaching," said Diputado recalling how she wanted something different.
After some research, she stumbled upon Wayne State University in Detroit, Michigan, where eventually she received her Masters through online classes.
"During that time I was also working as a library assistant in the Contra Costa public library," said Diputado adding, "while I was getting my degree I was also constantly getting the experience that reaffirmed my love for working with the public."
She met her now husband, Tod, 7 years ago during her new employee training for the public library.
"We were hired around the same time and we were in the same training group," said Diputado.
The two have now been married for eleven months, and like with many newlywed couples, the question of children soon arises after marriage
"Eventually," said Diputado adding, "Because we are less than a year into it, not right away." Her reasoning behind waiting on starting a family is because she wants to enjoy being a newlywed and get a chance to travel.
During her free time she likes to read and spend time with her extended family that she does not get to see often.
"I like traveling anywhere, out of the country, day trips," said Diputado adding, "I like all things art related. Since I used to be an art minor I try to take time out to do sketching, painting and if I'm feeling ambitious oil painting."
Being naturally shy and an introvert, you would not expect her to be a Zumba instructor, but leading a healthy lifestyle is a priority to her.
"I am passionate about health and fitness," said Diputado, adding, "A healthy lifestyle is super important." She teaches at both Antioch and Pittsburg In-Shape locations three times a week.
Diputado has a very ambitious personality and it shows in her schooling. Before getting hired full-time at Los Medanos College; she was working four jobs and maintained this rigorous work schedule for a year.
"I usually had 12 to 13 hour days," said Diputado adding, "I would one day start at Contra Costa College, do a shift at LMC, then go to a four hour shift to the public library, then at night, change at the gym, teach a class and at 9 p.m. be done."
Assisting students and faculty with Desire2Learn (D2L) and other technological questions is her main focus, but her job responsibilities expand beyond that and her day-to-day job responsibilities are quite extensive. Whether it is face-to-face classes, online or hybrid classes, Diputado has all bases covered.
"I also support faculty that are in the process of developing online courses," said Diputado. She does this by advising faculty in the best way possible so they can organize their content and aids them in what tools to use to create their online course and make it successful course experience for both the faculty and the students.
For faculty looking to get additional help with D2L, she also offers one-on-one drop in appointments in her office room SC-111. Workshops for faculty regarding D2L basics and techniques will be developed by her and according to her "will be available on campus very soon."
Diputado was drawn to this position because similar to a library setting, she gets to help people by providing them with information to further their understanding of technology, which keeps on changing as the years go by.
"I'm still helping people getting used to technology, showing them how to use certain tools in D2L," said Diputado, adding, "So I still get that connecting people with information aspect that I was using in my degree."
In the next five to ten years she wants to "Really help the college get on that next level as far as online classes and online degrees," said Diputado adding, "This job is a big component of that."
Leave a Comment
About the Contributor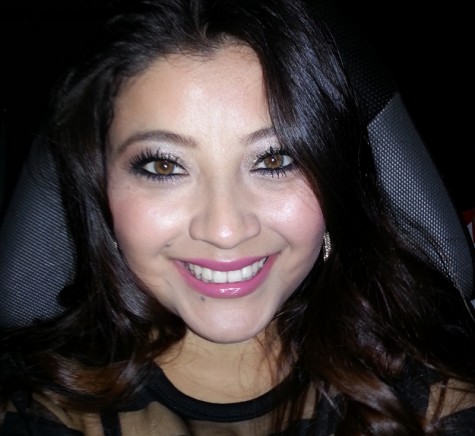 Bertha Aguilar, Assistant Photo Editor
Hello my name is Bertha Aguilar and after a long hiatus from school, I have returned to LMC and the Experience to finish up my credits and receive my AA...