Iron Man 3 Review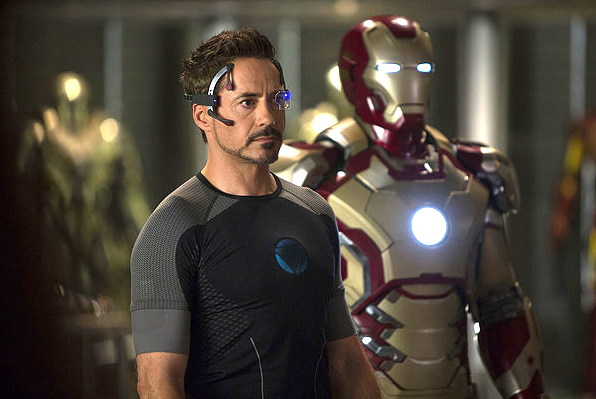 'Iron Man 3'
Movie Summary: The third film of the Iron Man series shows Tony Stark in a new light as he not only battles enemies such as The Mandarin, but is also battling bouts of anxiety and potentially losing his love, Pepper Potts. Directed by Shane Black. Runtime: 2 Hr, 15 Min. Rated PG-13. Genre: Action & Adventure, Science Fiction & Fantasy. Starring Robert Downey Jr., Don Cheadle, Gwyneth Paltrow, Ben Kinsley and Guy Pearce.
 Brendan says:
Too much Stark, not enough Iron Man  (4.5/5 Stars)
The third installment of the Iron Man franchise definitely delivers when it comes to laughs and action, but lacks in a story that I could really sink my teeth into and really enjoy. Tony Stark/Iron Man, played by Robert Downey Jr., certainly takes a lot of screen time, but more as Stark than Iron Man. As funny as the Tony Stark character can be, ultimately what people want to see is Iron Man showing off new suit mechanics and beating bad guys to oblivion, which there was not enough of.
The focus of the story was The Mandarin, played by Ben Kingston, joining forces with Aldrich Killian, played by Guy Pearce, in hopes to bring a new breed of terror to the world. Meanwhile, Stark suffers from bouts of anxiety, which affects his work and causes him to lose sleep. Perhaps the first movie in the franchise left the bar raised to high, but I feel as though the franchise has lost its identity a bit.
Despite its flaws, it deserves a watch from anyone who has followed the Marvel movie time line in years past.
Dakotah says:
Even when vulnerable,Downey Jr. shines (4/5 Stars)
Iron Man 3 was full of action and it put the viewer on the edge of their seat. Robert Downey Jr. was flawless in his role as Tony Stark. He was sarcastic, egotistical, but yet serious when events began to get heated.
Pepper Potts (Gwyneth Paltrow) and Colonel James Rhodes (Don Cheadle) are excellent supporting characters. Both keep Stark level headed help him to hunt down the Mandarin who is the main antagonist.
My only problem with the movie is that there is too much of Tony Stark and not enough of Iron Man. He spends a lot of time out of his suit, which leaves him vulnerable. Yet, Stark uses his brains and wits to get out of sticky situations. It shows that Stark is still a hero even without his suit, but at the time he is Iron Man and him in his suit would have made for more explosions and action.
Stark's sarcasm leads to some good laughs, which the viewer needs in such an intense movie, especially before an action scene.
This movie would be excellent to see with anyone, especially any fans of Marvel or superheroes.