One and done in playoffs
Stangs finish the season strong, exit playoffs early
LMC Mustang's baseball season and hopes for a State Championship ended on Tuesday, April 29 at the hands Canada College in Redwood City.
The matchup between the two teams was a single play-in game because they were ranked outside of the top 14 in the final Northern California rankings. The winner of the game would go on to face one of the top two teams in Northern California.
The game matched up the team's two best starting pitchers, Sam Alton for Canada and Ryan Petrangelo for LMC.
It was clear ahead of time that Alton would be a tough matchup for the Mustangs. He ranked high in two of the major pitching categories in the state, second in wins with 10 and fourth with an era of 0.79.
Petrangelo's stats weren't as eye popping as Alton's, but he was solid all season long for the Mustangs and had pitched some of his best games of the season leading up to the playoffs.
With a pitching match up like that it was no surprise that it would come down to which pitcher executed best, and in this case Alton continued his dominance with eight shutout innings.
Head Coach Anthony D'Albora said it was Alton's ability to put the pitch on the inside part of the plate that was key.
"I'll give their guy a lot of credit," he said. "He executed his fastball in pretty well and our level there are not a lot of guys who do that very well. It's an adjustment as a hitter when you're not use to seeing a guy that can execute in to be able to consistently get barrels to the baseball."
Alton's execution not only helped throw off the hitters, it also held them close at first when they did get on base slowing down another key to the Mustangs game, stolen bases.
In the game the Mustangs only attempted two steals, second baseman Chaz Meadows was caught in his attempt and first baseman Ryan Welsh was successful in his.
"Their guy does a good job at holding runners," D'Albora said. "Especially with runners at first base he did a good job."
With Alton holding runners close D'Albora used other techniques to move the runners over dropping down two successful sacrifice bunts.
The key to the game, D'Albora said, was that after getting those runners over they failed to get the big hit.
"There's always going to be one or two moments in every game that you look at and say 'Did we execute in that moment or did they?'" D'Albora said, "and usually the team that wins is the team that says 'we did' and not 'they did.' That was it yesterday."
That inability to execute was key because D'Albora felt that Petrangelo was pitching just as well as Alton, but where the Mustangs batters were failing Canada's batters were executing.
"In games like that, from at bat to at bat you may get one pitch to hit and if you miss your pitch it's a tough battle to win," D'Albora said. "I give them credit, their guy (Justin Gubser) he hit his one pitch in that at bat."
In that at bat Canada designated hitter Gubser got his only hit of the game, a two-run home run.
Gubser's home run was just one example as first baseman Dylan Cook also executed and drove in two runs.
The Mustangs eventually got to Alton and got him out of the game in the top of the ninth after outfielder Matt Jacobson hit a two-run homerun of his own. It was too little too late as Canada then brought in their closer, Ryan De Gregorio, to finish off the win and end the Mustang's championship hopes.
Before losing in the first game of the playoffs the Mustangs finished strong on Saturday, April 26 shutting out Laney College 12-0.
Starting pitcher Ben Polansky pitched his third consecutive complete game in the shutout allowing only six hits and two walks.
Polansky's performance earned him his second Player of the Week from the California Community College Baseball Association.
This is the third week in a row that a member of the Mustangs was honored with this award. Catcher Wyatt Foreman won last week for his offensive performance and Polansky won the week before behind another complete game shutout.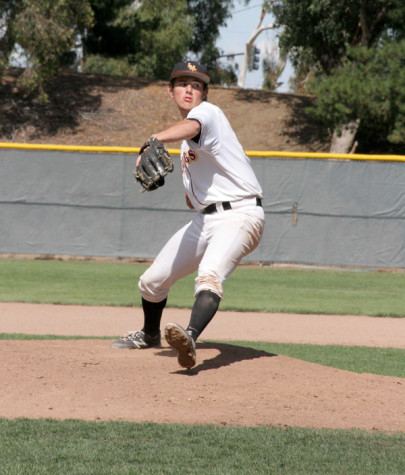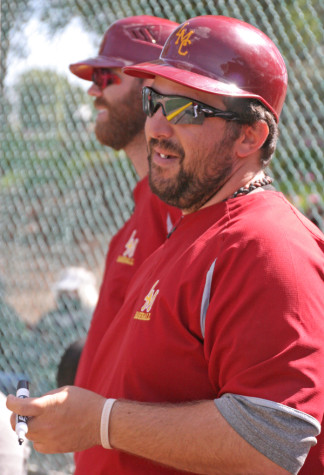 Leave a Comment
About the Contributors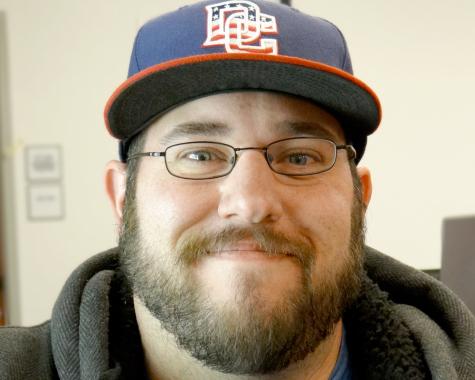 Steven Luke, Sports Editor
My name is Steven Luke and I am currently in my fifth semester at LMC and my third on staff for the LMC Experience. This semester I am the Sports Editor...