Volleyball wins three in a row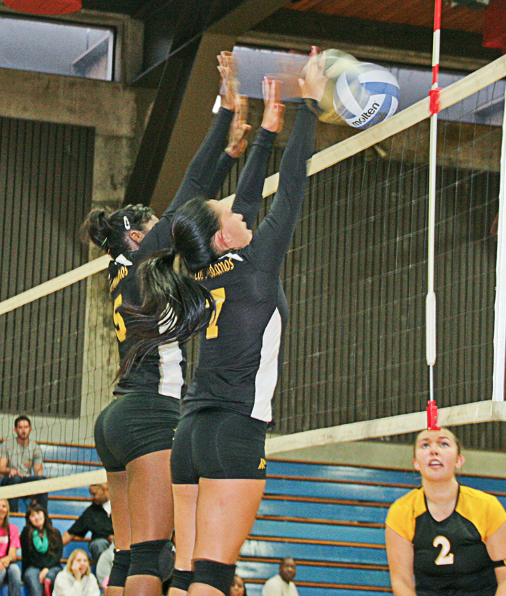 The Los Medanos College Mustangs beat the college of Marin Mariners soundly 3-0 to win their final game of a three-game streak.
The Mustangs maintained a healthy lead most of the night and won every match by at least five points.
"Our effort was consistent all night and we felt like we worked really hard'" said LMC head coach Lou Panzella
The stats were dominated by three LMC players; Taylor Scriven, Michelle Mayfield, and Kiana Pinkowski.
Pinkowski had almost all the assist with 38 0f 40 of them. Mayfield (15) and Scriven (16) finished off the plays with a combined 31 of 41 kills. Abigail Tatman contributed with nine kills. Mayfield also committed 13 errors on the night.
Marin had stats distributed across the board but Ashley Hernandez lead the way in assist with nine of the teams 12.
Marin only had 15 kills on the night compared to LMC's 41 but despite that, Marin still had bright spots.
"I think they did a good job, they are very scrappy, they get the ball up, they are definitely good competition,' said Pinkowski.
Marin hung in the game for a majority of it and played well,  but still have areas they would like to improve on.
"We're going to have to up our communication…and just stay committed," said libero Stephanie Nava.
Panzella is impressed with how his team has been playing and he attributes the win streak to "players making plays."
The Mustangs have been improving steadily since the beginning of the season and this is the first time all season that the team has a .500 record in conference.
"Were making other teams work a little harder for their points, we're not making as many errors, so other teams have to earn more of their points," said Panzella.
With the first half of conference play over the Mustangs currently sit at 4-5 in conference and are improving every game.
"[We plan on] playing hard every match," said Panzella.
Leave a Comment