Baseball on successful 'Mission' to advance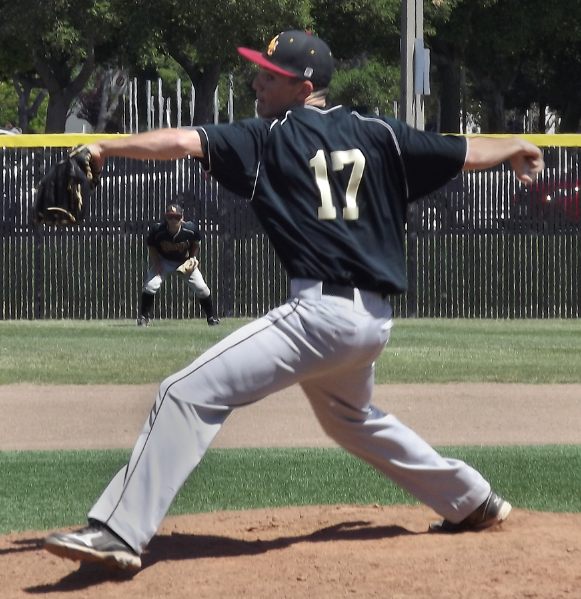 The Mustangs live to fight another day as they defeated the Mission College Saints 8-5 in Santa Clara. Although they were fifth in their division, the Mustangs made the playoffs as an 18 seed and had to face off against the 15 seed Saints in a single-elimination game. It looked to be a pitcher's dual early, but the runs poured on late.
LMC starter Ben Polansky and Mission starter Brett Solano matched four scoreless innings, but in the bottom of the fifth Mission struck first with the help of two LMC infield errors and a balk that pushed one run across.
LMC broke out of their hitting slump as they scored two runs in the sixth and added another four in the seventh, finally getting to Solano and Kyle Fimbrez, who came out of the bullpen after Solano was pulled.
Ryan Lacy started off the scoring with a single that scored Alex Laidley. Later in the inning Christian Kaplan hit a sacrifice fly medium depth center that scored Jimmy Gardner to give LMC the lead. Kaplan said, "I was just trying to get the barrel to the ball, and I knew it was carrying here so I was just trying to get it out, and the count was 2-0 so I was just sitting on a fastball."
Along with Jimmy Gardner and Kelly Starnes, Kaplan added another RBI with a single to right in the seventh. He said, "It should have been a walk, I swung at ball four but he just left one up outside so I just poked it into right."
In the bottom of the eighth, with the LMC leading 6-1, Mission struck for four runs. Polansky, who was still in the game, loaded the bases with no outs and was pulled for Peter Nyznyk, who is normally a starter but was available out of the bullpen for the game.
Nyznyk took a few batters to find his groove, as he allowed a bases clearing triple by Andy Furia and a sacrifice fly that scored Furia by Reed Kienle to make the score 6-5. He did get out of the inning striking out two and leaving LMC with the lead heading into the ninth, however. About the eighth, Polansky said, "I kind of lost it there in the eighth and I feel like I have an eighth inning curse, it's happened all year."
As far as starting Polansky or Nyznyk, LMC head coach Anthony D'Albora said, "We thought about it for a while [starting Nyznyk]. Could he have started today and been great? Sure, because he's Pete and he's always good for us. But we knew it was Ben's turn and he was really good in our inter squad game on Saturday. Not that I needed a vote of confidence for him, but I just could tell the look in his eyes that he was ready to pitch. He was as good as we could have asked him to have been."
With the bases loaded and one out in the ninth, catcher Dylan Bezayiff laced a single to the opposite field that scored two and provided LMC some breathing room heading into the bottom of the ninth. Wyatt Foreman, who started the year as a first baseman, has pitched more as of late and closed out the game. He got in a bit of trouble, allowing the first two runners to get on, but got out of the inning without being scored upon, highlighted by a double play ball that ended the game.
Talking about the atmosphere and game, D'Albora said, "At practice yesterday we talked about how no one expected us to be here, let alone with this game, and that is a fun feeling to have sometimes, as a team you have nothing to lose and it's a dangerous feeling for the other side. I give our guys a lot of credit because they played with some reckless abandon today."
LMC, being the 18 seed, has to play the one seeded Santa Rosa Junior College in Santa Rosa in a best two of three series Friday May 3 and Saturday May 4.