No campus pass, no entry
CCCCD daily health checks are now required for students and employees who come onto campus.
With the return of students coming back to the LMC campuses, the Contra Costa Community College District is rolling out a new protocol to make sure the college environment remains a safe place. Students and employees will not only need to submit their proof of vaccination and wear a mask at all times, but will also be required to take a daily health assessment to receive a campus pass if attending in-person classes or using in-person services on campus.
The campus pass is a green checkmark that students and employees receive after taking the assessment that determines whether or not it's safe for you to be on campus. After receiving the campus pass, it will last until 11:59 p.m.. Students and employees can receive the pass through the CCCCD app which can be downloaded from the app store, but android users will have to download the apk file instead (instructions found here).
However, if you have no access to a smartphone or computer, LMC has provided Daily Health Assessment stations located at the Pittsburg Campus. The police services lobby has one station that is open Monday through Thursday from 9 a.m. to 6 p.m. and on Friday from 7:30 a.m. to 3 p.m. Another can be found on the third floor of the Student Services center open Monday through Thursday from 9 a.m. to 4 p.m. but is closed on Fridays.
As of now, the campus pass is here to stay. Tanisha Maxwell, vice president of Student Services, said the whole semester will require students and employees to have a campus pass when attending in-person. There are no plans being made on making a weekly campus pass, so remember to take your assessment before coming on campus. As for the future, Maxwell is unsure.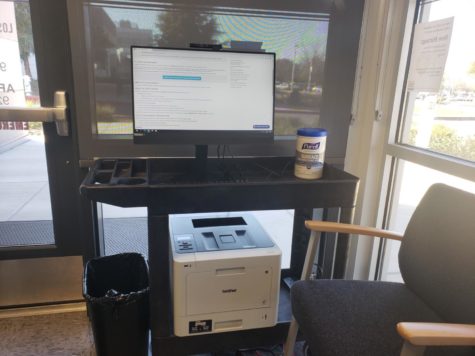 "It is hard to predict the future regarding what will become the norm. We will continue to follow CDC guidelines and align our protocols accordingly. Students who violate our policies will be held accountable via our student conduct processes," said Maxwell. 
LMC students may also be asked by faculty to see their campus pass, however it is currently uncommon. LMC students Kirti Ladhar and Gabriel Perez Cano both keep their campus pass on them but have yet been asked to show it.
"So far no one has asked," Cano said. "I have heard that some services do ask to see it."
Lieutenant Ryan Huddleston of Police Services understands how some might feel uncomfortable sharing their campus pass. He emphasizes that these protocols to stop students are not enforced and are completely up to the staff to ask and see.
"A lot of people feel more comfortable knowing each other's statuses," said Huddleston. "But we also understand and respect the privacy that everyone has when it comes to their own medical decisions. In the end, we want to support everybody on campus."