Book buyback happening remotely
Students can return and sell class materials
The long lasting shelter-in-place order has affected many programs and services at Los Medanos College, including the end of the semester Bookstore Buyback event. Because the Bookstore only recently found its new home in the new Student Union building, the fact that it had to close barely a month later has proven to be quite troublesome.
However, the Bookstore's staff and management has continued to work through this pandemic. The end of the semester textbook buyback event is still on track to be held, but now online.
The textbook buyback has been an extremely helpful service provided by the college, to support students as textbook costs rise.
In 2018, the result of 1,122 students taking a survey about the cost of their textbooks from Open Education Resource surveys shows that the students spent $317 each on books, totaling $355 thousand during the spring semester of that year alone.
"Textbook Buyback will be 'online only' for the spring 2020 semester. We are currently working with the company that hosts the Bookstore website on making this happen," said LMC Bookstore Manager Robert Estrada. "We thank everyone for their patience as we work through these unprecedented times."
According to an Instagram post that features facts and directions to take in order to send your books in,"the bookstore has partnered with Nebraska Book Company, one of the nation's largest used textbook buyers, to pay you top dollar for your books."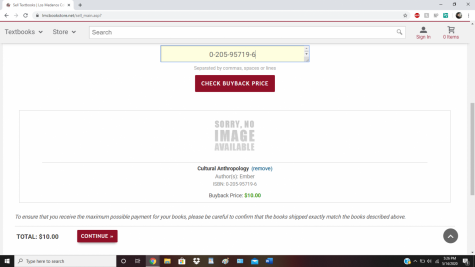 Students can begin the process by visiting this website and entering the ISBN number to see the buyback price, enter an address to send the check and print the prepaid shipping label.
Since the books wouldn't be used again, they "provided me with a bit of cash at the end of the semester," said LMC Student Kelly Williams.
Also for those students that have rented textbooks from the library before the shelter-in-place order, there will be an allotted time period to stop by the campus and drop off the books, as well as your rented calculators in the library drop box. This period lasts from now through May 22. Extensions will be allowed if necessary, for classes that exceed the May 22 deadline.
The bookstore staff wish to spread positive wishes. "I hope every student is safe and adjusting accordingly during this difficult time," said bookstore Supply Buyer Andrew Murphy. "I look forward to the day when I see students on campus again when we start our new 'norm.'"