LMC transfers rising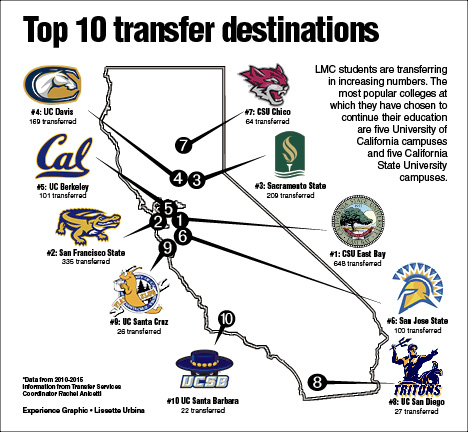 The University of California and The California State University systems each claim five of the top 10 colleges LMC students transfer to.
According to LMC Transfer Services Coordinator Rachel Anicetti, the five CSU schools include East Bay, San Francisco, Sacramento, San Jose, and Chico.
The five UC schools are Davis, Berkeley, Santa Cruz, Santa Barbra, and San Diego.
Anicetti said students choose to go to these institutions because they want to find schools that offer their preferred major, that have great financial aid packages, and are within easy driving distances from their homes.
"I always try to push for schools with more activity," added Anicetti. "Schools that have a lot of internships, dynamic majors where they do a lot of work outside of the classroom, schools that are easy to transfer to."
Anicetti said that students also get more attention because of the programs these colleges offer transfer students.
For example, UC Davis and UC Berkeley have their own transfer and support programs with representatives who visit LMC to help students apply.
"This draws students in to transferring to those schools," said Anicetti.
Anicetti added that the "Berkeley Transfer Alliance Project" and "Experience Berkeley Transfer Program" has a 75 percent to 85 percent acceptance rate for the students who work with them.
Another reason may be because some of the UCs like Davis, Santa Barbra and Santa Cruz have Transfer Admissions Guarantee programs.
"If students take 60 transferable units, have as much as their major prep done, and —depending on the school — they maintain a 3.0 to receive this guaranteed admission," said Anicetti. "This makes it easier to transfer to these schools because it's like 'OK, I've taken these classes, I'm going to have guaranteed admissions to this school.'"
Anicetti said she wants students to also consider colleges that are not well known because these schools could offer better financial aid packages or programs that are perfect for a student's major, but because the school is underrated, they may not pay attention to it.
"What I always throw out there is these are where our students transfer to but just because a bunch of other people transfer there doesn't necessarily mean that it's the right school for you," said Anicetti.
LMC student Ericka Castaneda can vouch that the lesser-known school could end up being the perfect choice after a recent visit to University of Nevada.
"At first, I thought, 'I'm never going to go here so why should I visit the campus?'" said Castaneda, "But at the end of the day, I fell in love with the school because they have a really good nursing program and California [universities] have impacted nursing programs."
Castaneda said that is one thing she's looking for in terms of where she wants to transfer to. A school with a non-impacted nursing program means less pressure to compete with other students. And she added that it might be a better learning environment for her because the campus is on the smaller side.
Castaneda is also a part of LMC's Transfer Academy and said that it has helped her get organized and stay on top of what she needs to do to transfer.
"Rachel is really good with helping students when they're applying to schools and makes sure that they have everything together in order to transfer. That's a big help," said Castaneda.
Ancetti said that last year LMC had 100 students transfer to the UC system — the biggest number of transfer students in the last five years.
She also said that, even though they do not have the official numbers yet, this past fall might have been the highest number of students transferring from LMC to 4-year universities than ever before.
LMC Counselor Marco Godinez, who has been working at LMC for 15 years, said he has seen a huge spike in transferring in the past five years.
"They're more mindful of it. They're more mindful of the language and transfer is becoming more fluid," said Godinez.
Godinez believes this is because of Senate Bill 1456, The Student Success Act, which was implemented about a year ago.
"Now every student has to have an educational plan, a major when they come in right away," Said Godinez.
Godinez said that bill really pushes what student success is about and that the schools get additional funding from the state and more special programs to help students with the transferring process.
If you have questions about transferring visit the Transfer Services website at losmedanos.edu/transfer or make an in-person visit to Transfer and Career Services located on the upper level of the Student Service Center.
Students may also contact Rachel Anicetti at [email protected] or schedule an appointment with her.
View Comments (1)
About the Contributors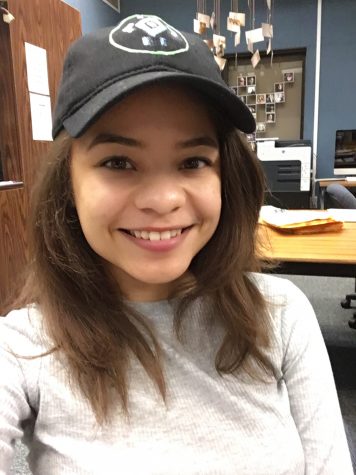 Lissette Urbina, Graphics Editor