Paper staff shines
The Los Medanos College Experience staff brought home eight awards from the 60th annual Journalism Association of Community Colleges State Conference April 9-11 held at the DoubleTree by Hilton Hotel events center in Sacramento.
"While we don't do it for the awards, it's nice to receive them," said Editor-in-Chief Joseph Delano.
California community college students went to workshops, which taught key skills needed to be a good journalist, participated in on-the-spot contests and attended the JACC Publications Awards ceremony, which recognized work published in community college newspapers and magazines from the spring and fall semesters of 2014.
The convention started with Keynote Speaker Jason Wells' take on the relevance of news today. He is a Los Angeles Buzzfeed news editor and JACC alumnus. Wells, very bluntly, expressed the reality of the dying print media and told students to stay relevant.
With different workshops, from investigative writing to social media writing, the activities catered to every form of journalism, and the many on-the-spot contests put students in real-life journalistic scenarios.
Managing Editor Brendan Cross took part in the Twitter/Instagram/Storify Contest, in which they covered the Sacramento State University "Festival of the Arts, You Create!" event and the Sports Writing contest, which covered a University of California, Davis baseball game.
"It was the first time JACC has taken a group of reporters to Davis for sports." Said Cross.
During the conference's two separate awards ceremonies, one for publication on Friday and another for On-the-Spot Saturday, the Experience news team took home several awards, most notably for General Excellence for both its print edition, published weekly and distributed Fridays, and its online news site lmcexperience.com. Several staff members won awards for their work as well.
Chief Copyeditor Cassie Dickman said her fourth-place win for Feature Profile, a story about engineering major Fiona Pizarro, was unexpected.
"Since it was the first JACC state conference I attended, I was surprised and excited to receive an award," said Dickman.
Other awards received by the LMC Experience staff include:
Second place for Feature Story, awarded to Arts Editor Damian Lewin for a story about two sons of a late auto mechanic following in their father's footsteps by opening a local automotive repair business.
Fourth place for Inside Page Layout, awarded to Cross and former Photo Editor Irvin Trigueros for their two-page spread "Framing the Future" about the construction of the new Student Services Center.
Honorable mention for Inside Page Layout, awarded to Cross and Delano for their two-page spread previewing the 2014 Oscars.
Honorable mention for Photo Essay, awarded to Trigueres for his depicture of the 2014 annual "March in March" at the State Capital in Sacramento.
Honorable mention for On-the-Spot Copyediting contest, awarded to Delano for his ability to demonstrate his knowledge of journalistic news-writing style.
"I think for a state tournament we did very well in that we were able to receive both Print and Online Excellence," said Delano. "Just goes to show how well our staff is doing and hopefully continue to do a good job in the future."
Leave a Comment
About the Contributor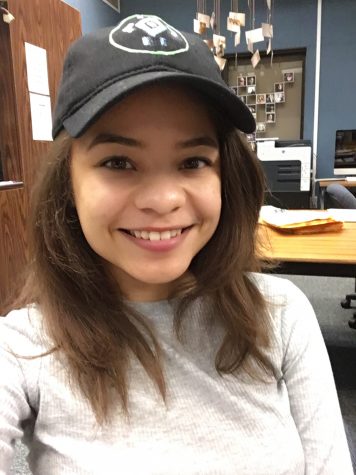 Lissette Urbina, Graphics Editor