Residents take strong stand: oil proposal sits badly with some local citizens
A new project is being planned for Pittsburg that will not only bring forth new job opportunities to those seeking them, but will also bring property tax revenue as well. There are many concerned residents who oppose this new project because it is felt that the risks outweigh the benefits.
This project is known as the Pittsburg Energy Infrastructure Project and the company bringing this project to light is WesPac Energy Group.
The project entails reopening and modernizing an old PG&E oil storage and transfer terminal located at 696 West 10th Street near downtown Pittsburg. This facility will be used to store and transport virgin and refined crude oil from the Bakken shale oil fields in North Dakota.
WesPac will have to completely revamp the facility as it has sat dormant for 15 years. A statement on WesPac's website indicated that the modernization of this facility will include state-of-the-art equipment and technology to ensure environmental compliance with all federal, state and local regulations.It will also have an automatic monitoring system that will monitor safety 24 hours a day.
The facility will receive oil shipments from trains, pipelines and marine vessels which will then be stored in tanks for various periods of time and then transferred to local refineries through existing and new pipelines connected to the facility as well as loading marine vessels to be transported to other destinations.
With every new project that can potentially affect the environment, an Environmental Impact Report, or EIR, has to be drawn up. The EIR evaluates the effects the proposing project will have on air quality, public health and explores other potential risks that the project can bring.
In WesPac's case, the EIR report they released is not adequate as it does not present all of the impacts this project will have on air quality, potential accidents that could result from the multiple forms of transportation and it does not fully disclose other potential impacts this project will bring.
A safety alert released on January 2 by the department of transportation indicated that the type of crude oil being transported from the Bakken region may be more flammable than traditional heavy crude oil; this is the same crude oil that could be making its way to the city of Pittsburg if this project is passed.
A city council meeting was held on January 6 to further discuss the WesPac project and to hear the publics concerns. Among the present were Mayor Salvatore Evola and Vice Mayor Pete Longmire as well as council members Ben Johnson, Will Casey and Nancy Parent.
The first citizen remark came from Pittsburg resident Paulette Lagana. She expressed her disapproval on the WesPac proposal.
"I am not against this project by saying, not in my backyard, there are multiple industrial complexes already in my backyard. I'm saying, enough is enough," said Lagana. Not all attendees were against this proposal. Jim Cooksey from Boil Makers International said, "I believe with the unemployment in this area and the opportunity for people to train at our training center over on Piedmont Way, we have a thousand members and we're always willing to train more, bring more people in and with the unemployment in this area I think this is nothing but good for this area."
Although there was not much sway from the council members on whether they are for or against this project, it was a great meeting where the voices of those opposing and supporting sides could be heard. Pittsburg resident, and Defense Council Member, Kalli Graham is very active in trying to stop this project from happening and is trying to inform other residents about this project by canvassing. "It's not if, something happens, it's when," said Graham adding, "It's so close to schools, so close to communities and churches." Kalli lives near the site and is not going to give up on stopping this project. "There is nothing about this project no matter which angle you look at it that's good, it just isn't good," said Graham.
On January 16th Kalli Graham, neighbor Susan Burkitt and Pamela Arauz, administration manager for global community manager, held a community meeting from 6:30 to 8:30 p.m. at the Yacht Club building in downtown Pittsburg.
On the agenda were upcoming events, city council meetings, next canvassing location, media reports and to report on recent meetings with the Mayor, the City Manager and one of the Planning Commissioners and future plans to meet with the other Planning Commissioners and City Council members as well as to report back about any new information regarding the WesPac Project.
Many concerned residents, other defense council members as well as high school students and teachers from Pittsburg High School were in attendance, even residents from as far as Oakland, Berkeley and San Francisco came out to show their support in stopping this project from happening.
John Reimann, a retired carpenter and Oakland resident was inspired by the march and rally that 0 any way that I can," he said in his introduction.
Pamela Arauz, while showing a map of Contra Costa County on the overhead, said "we have the highest rate of Asthma," she said. This map was a report received from the Contra Costa Health Department, which shows that Pittsburg has the highest rate of asthma emergency room visits and hospitalizations in the county. The map showed that per every 10,000 people, the rate of hospitalizations for asthma was between 104.9-150.3 for Pittsburg, Antioch and Richmond as other cities such as Orinda and Moraga had less than 17. Many people were stunned at this report.
Susan Burkitt expressed the importance of attending city council meetings and speaking up, "it's really important that our voices be heard," said Burkkit adding, "I am a firm believer in that if you are persistent and you are tenacious and you are like dripping water on their fingernails, that you will eventually have influence on them, so we need to keep doing this."
A big break came when Attorney General Kamala Harris released an 11-page letter criticizing the RDEIR report for not mentioning what type of crude oil will be transported. In this letter she urges the City of Pittsburg to correct the deficiencies before certifying the RDEIR and approving the project.
Another city council meeting was held January 21 at the Civic Center in Pittsburg and the turnout from concerned citizens was more than expected.  "I want to thank everyone for coming out today," said Lyana Monterrey over the speaker. "I do want to say that I did meet with the City Manager and Mayor not too long ago and they told us, a whole group of us, Pittsburg residents, that this has to all go through a process and they also told us that they were listening."
Although the WesPac project was not on the agenda and will not be on the agenda for months to come many residents took time away from their families to show their support and let their voices be heard. Many were wearing T-shirts, pins and stickers that read "Stop WesPac" as well as "I ❤ Pittsburg" stickers. In total, there were 23 speakers and the city council members listened attentively and took notes.
The defense council members will keep on doing anything in their power to keep this project from happening. If you would like to learn more about this project or want to know what you can do to help, you can go to the defense council website at www.pittsburgdc.org or you can email them at [email protected]. You can also email city council members at [email protected] or you can call (925) 252-4850 to try and arrange a meeting with them.
Leave a Comment
About the Contributor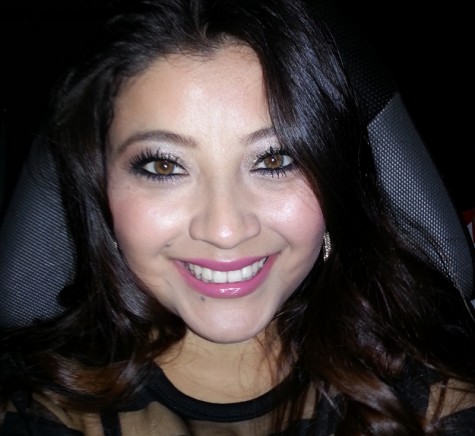 Bertha Aguilar, Assistant Photo Editor
Hello my name is Bertha Aguilar and after a long hiatus from school, I have returned to LMC and the Experience to finish up my credits and receive my AA...