Senate a bunch of crocks; $842 raised makes Cook Off a success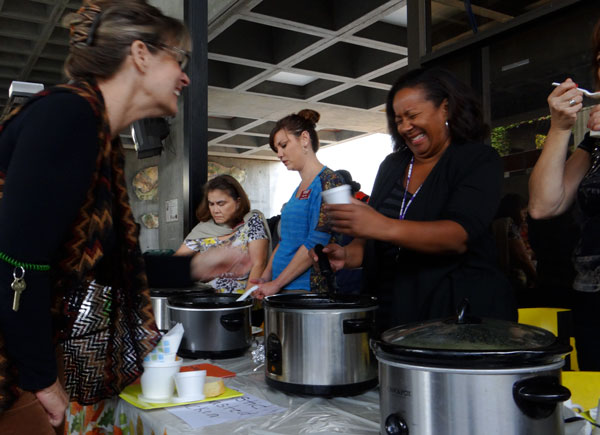 On November 12, the Classified Senate held their 4th Annual Soup Cook Off in the indoor quad. All funds were donated to the Classified Senate Scholarship fund to provide LMC students with scholarship opportunities. There were fifteen entries in the cook-off with each soup offering their own unique flavors.  Tables were lining up the way for hungry students and faculty members to enjoy the culinary creations of those who participated.
Linda Maniscalco is a Cashier with Admissions and Records who has been using her creativity to find ways to raise money for LMC scholarships "This is my fourth year running the Annual Soup Cook-off. The reason we do this is to raise money for scholarships for LMC students. It all started with the Chili cook-off that we do each March and it was so successful I suggested we came up with something else mid-year and soup was a hit. It's fun, we have a good time."
Students gathered around with friends as they tried different soups and discussed which ones they favored. Samantha Lo appreciated that students and faculty members shared interests with each other like cooking for a good cause "I find this to be a great chance for students to get to know faculty outside a classroom or office environment. It gives students a chance to see that faculty members are people with hobbies too, like cooking. The food was also tasty and it was for a good cause!"
Some faculty members decided to experiment with recipes to try something new. Melina Rodriguez is a Secretary for the Workforce Development Program who entered the soup competition with Chicken Soup "It's basically the gnocchi from Olive Garden without the gnocchi. I've been in all of the chili cook-offs and have always placed in them. I decided I wanted to try something new so this is my first soup cook-off"
Fifteen entries made the soup cook-off more popular than ever before. According to Maniscalco more departments decided to participate too.
Raffle tickets were also available for purchase. Gift baskets that contained various items were donated by supportive students and faculty members. All proceeds also went to the Classified Senate Scholarship fund.
There were three judges representing different areas of the school to vote who had the best soup. Jeffrey Benford the Dean of Counseling also affiliated with Student Support Services helped judge the competition. The second judge was Classified staff member Beth Robertson who works in the Nursing department and for Planning & Institutional Effectiveness. The third judge represented the students, Brianna Klipp the LMCAS President.
The judges have spoken and awarded first place to Rikki Hall with Admissions for her Chicken Tortilla Soup. Second place went to Kathy Griffin with Human Resources and the Business department for her newly award winning Clam Chowder. Adrian Williams with LMC's Foundation earned third place with her Rustic Roasted Chicken soup. Each winner was awarded a ribbon which opened the door for bragging rights.
The 4th Annual Soup Cook Off was a success bringing in $842.10 for scholarships. According to LMC's Classified Senate webpage, "this is an increase of $188.10 over last year's cook off." Scholarships will be awarded in May.
The Classified Senate along with the many volunteers who participated made it possible for students to receive scholarships. Students and faculty members who purchased a raffle ticket or soup have also helped a student fund their education. The 4th Annual Soup Cook-Off showed LMC that if the academic community can come together they can impact together.
Leave a Comment