Combating the Coronavirus
How the CCCCD is taking precautions
The Contra Costa Community College District, along with other schools in the Northern California Study Abroad Consortium, are responding to the Novel Coronavirus outbreak in Europe by bringing home all students and staff currently studying abroad in Italy.
Over 100 students, who have been staying in Florence Italy, are expected to fly back home over the course of the next two weeks to maintain their health and safety.
"The decision was made, in collaboration with our consortium partners, to return all our study abroad students and faculty from Italy now," said Interim Chancellor Gene Huff in an email to staff.
COVID-19, a form of Novel Coronavirus, became a staple of the public eye in January of this year. Originating in Wuhan, China, the virus has since been transmitted to individuals in 84 of 196 countries worldwide.
While the virus has provoked fear in citizens across the world, especially the United States, Los Medanos College officials and district higher-ups have been planning behind the scenes to combat the epidemic.
"Please be assured that while we hope COVID-19 won't affect the district, plans are in place or are being firmed up to deal with a range of possible scenarios," said Huff.
According to the Centers for Disease Control, "immediate health risk is currently low, but the current global circumstances suggest it is likely that this virus will cause a pandemic."
The CDC recommends that people try to distance themselves from large public spaces, wash their hands for 20 seconds with soap and water on a regular basis and stay home if they are feeling ill.
The district suggests that students and staff follow the CDC guidelines to maintain community health and safety.
Precautions have been taken by the district at LMC and its sister colleges, through the implementation of new informational signs and posters. These signs and posters have been placed throughout campuses regarding proper hand washing etiquette and other precautions that are suggested to be taken.
"We added signage onto the website and around campus. We are still printing some out and displaying it around," said LMC President Bob Kratochvil.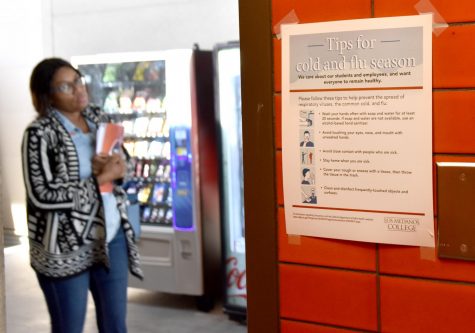 The LMC campus custodians have also incorporated precautionary methods regarding the COVID-19 virus into their cleaning rounds every night.
"Our custodial manager started ordering different cleaning supplies to better sanitize and disinfect areas on campus [in January when the Coronavirus first began to spread in China]," said Carlos Montoya, Vice President of Business and Administrative Services and Safety and Security Committee President.
The custodial staff has received specific cleaning instructions to incorporate into their normal rounds from officials on campus as well. Albeit, maintaining cleanliness on campus is a community effort that all students and staff are expected to contribute to.
"The custodial staff has been instructed to disinfect table tops, handrails, doorknobs all in general areas, but students and staff have to be conscious toward this and hold some responsibility as well," said Kratochvil.
The district is doing everything they can to respond and react to the state and nationwide health announcements about the COVID-19 virus in a positive manner. Ensuring preparedness and prevention within the staff and student body is the main goal of the district at this current moment in time.
In a statement given during a district Governing Board meeting held Feb. 26, the group announced that "in the event of a public health emergency, the district will follow recommendations from County health officials. On managing instruction in response to the potential of long term closures, the District will follow guidance from the State Chancellor's Office."
Teachers are now trying to ease students' worries by explaining what they understand through information from reliable sources.
"As educators people look to us for answers about the things they are concerned about, and as educators we should be able to provide our students, and each other, with the most complete and accurate and up to date information available on any topic of interest, whether it be economics, politics, the environment, or a new lethal germ," said biology instructor Mark Lewis. "There is some good news about Coronavirus that should make most LMC students feel better: This new virus seems to spare people under the age of thirty. Young people, including children, just don't seem to become seriously ill from this germ."
While this situation is constantly changing, students should know that there are various talks going on behind the scenes regarding active preparation to combat the COVID-19 virus without instilling unnecessary panic in the community.
"I do personally believe that this new Coronavirus will ultimately have a significant professional, personal, and financial impact on all our lives, and knowing as much as possible about it in advance may allow us to better protect ourselves, protect those we love, and protect what we have," said Lewis.