Chancellor Oakley endorses senate bill 291
Newly proposed bill looks to expand financial aid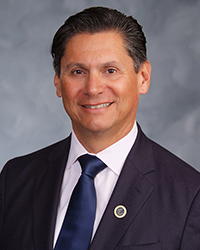 The future of financial aid for California community colleges is in need of a major overhaul.
On March 6, California Community College Chancellor Eloy Ortiz Oakley held a statewide conference call for California community college student newspaper and radio representatives. The purpose of the call was to explain his endorsement for Senate Bill 291 and foster awareness for the bill.
Senate Bill 291, according to a press release from the Chancellor's office, "would create a new student financial aid program specifically for community college students to address the disparity between the current levels of financial aid and the true cost of college."
California does have the lowest tuition in the nation and has continued to waive expenses for nearly 50 percent of community college students, however, the Chancellor's office believes that the true cost of community college is still higher than expected, especially considering the cost of living in the state.
Chancellor Oakley made reference to a recently published study during the conference call, which pointed out the needs for California community college students. The study, according to Oakley, stated that 52 percent of community college students could not afford food, 41 percent would skip meals or eat in smaller portions and 12 percent did not eat enough in the previous month. Oakley also stated that 60 percent of students faced housing issues in the previous academic year.
"Even with tuition waived for nearly 50 percent of our students, financial challenges remain the greatest obstacle to college completion," said the Chancellor's press release. "In addition, most low-income students start their high education journey at a California community college, and with the disparity in financial aid options available, the total cost of attending a community college is often higher than a UC or CSU."
During the conference call, Chancellor Oakley announced a new website to correspond with the proposed bill explaining his endorsement. The website, www.truecollegecost.com provides information on Senate Bill 291 for those looking to dive deeper on the proposed legislation. Additionally, the website allows the public to reach out to their legislators directly via email or social media.
"The goal of the website is to encourage Californians to reach out to their legislators and encourage them to make real changes in the amount of financial aid community college students can receive," stated the Chancellor's press release.
Chancellor Oakley expressed his encouragement for all media to spread the word on the proposed bill. If the bill goes into legislation and passes, it would bring in a investment of $1.5 billion for a total of six years.
"We want our students to not have to worry about where they park their car in order for them to sleep," said Chancellor Oakley.
Visit www.truecollegecost.com for more information.