Police brutality protested in Pittsburg
The Oscar Grant Committee Against Police Brutality and State Repression and the Anti-Police Terror Project held a rally protesting police brutality and honoring Terry Amons Junior who was killed by Pittsburg police this January in the Nation's Giant Hamburgers on Railroad Avenue.
The rally started around 2 p.m. and lasted until about 4 p.m. and consisted of picketing, chanting and marching around the swelteringly hot parking lot of Nation's Giant Hamburgers. Rally-goer Gerald Smith estimated the turnout at "about 50."
The rally was organized chiefly by Sandra Talbert, Amons's mother, Brother Kingdom and Smith. Talbert herself stood at the center of the huddled crowd in the exact spot where Amons was killed, giving speeches and leading the crowd in "Justice for Terry" chants.
"I want justice for my son," Talbert stated. "I want more people to know what these police are doing… they are killing, killing, killing and getting away with it."
Amons's case was a focus of many of the speeches and demonstrations that day as his family and the Oscar Grant Committee are preparing to request the recently installed Contra Costa County District Attorney Diana Becton to launch a new, independent investigation into Amons's death and the officers involved.
"I want them police locked up," Talbert said. "They killed him here, right where I'm at… they honestly assassinated my son for no reason."
The flyer the Oscar Grant Committee used to promote the rally contained a url to an edited-for-time version of the body cam footage showing Amons's death posted by The Mercury News. The video is available at https://www.youtube.com/watch?v=VVhBiDilpzs though viewers should be warned it is graphic. Smith personally requested the url "so that people can judge for themselves."
"That is one of our best tools," Smith said of the url. "When people see with their own eyes what's going on, their mind will change very quickly. We have a new friend every time they look at the video."
While Amons and his case were a focal point for the rally, the speakers also took the time to acknowledge other victims of and call for wider action against police brutality.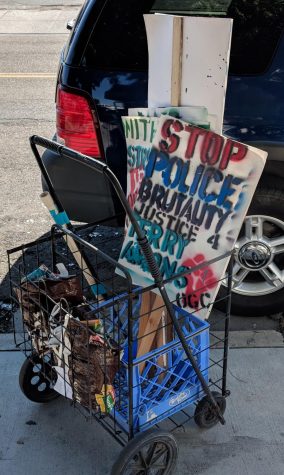 One speaker was Rick Perez, father of Pedie Perez, who was shot and killed at a liquor store across the street from his father's trucking business Sept. 14, 2014. "Justice for Pedie" chants and signs were also present at the rally.
"The first story is like the last, the last story is like the first… We have to change these laws," Perez said. "We got to restore integrity in policing again… I respect all life and I respect the good police. I do not respect these police that are trigger-happy and can't admit they made a mistake."
Perez and the Oscar Grant Foundation are working a new investigation into Pedie's death as well.
"[We] settled immediately," Rick said of the civil case he won. "Because we wanted them to tell the truth. They still didn't do it… it's just so horrible to see an honorable police force lie like this on a daily basis."
While much of the rally reflected on the past, there was also a strong element of a call to future action.
"We're not just here kicking up dust," said Kingdom. "This is a strategic action… we need more energy… we need people to be loud… we need people to participate."
Kingdom described the rally as the "kickoff" for future discussion and action against police violence. After marching around the restaurant, organizers sent out donation hats and sign-up sheets for the Justice for Terry Amons, Jr. Committee.
"Which side are you on… Pittsburg?" Kingdom asked during a speech. "This question is starting at Nation's, but it is going to vibrate across East Contra Costa County."
Talbert is also currently planning additional rallies in Amons's name, with the next scheduled for Nov. 20 at Buchanan Park.
The Oscar Grant Committee meets the first Monday of the month at 7 p.m. at the Niebyl-Proctor Marxist Library, 6501 Telegraph Avenue in North Oakland. For more information, visit www.oscargrantcommittee.org or email them at [email protected].