Communication pros to share tips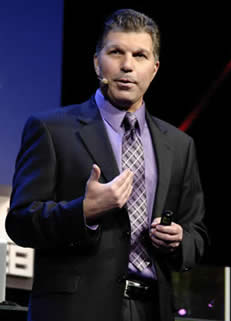 Los Medanos College students will learn how to polish their public speaking skills from a pair of pros during the "Communication: Insider Tips from the Experts" event Wednesday, Oct. 26. Author and Harvard University Instructor Carmine Gallo and his wife, non-verbal communications expert Vanessa Gallo, will offer students tips and tricks to improve their communication skills and show them the secrets of non-verbal cues.
Carmine Gallo's books "Talk Like Ted," "The Presentation Secrets of Steve Jobs" and "The Storyteller's Secret" has all achieved best-seller status, and has advised more than his students at the Harvard University School of Design. Top executives for companies like Chevron, Coca-Cola and Google have looked to Gallo for his skill and knowledge.
Formerly a news anchor and correspondent for CNN and CBS, Gallo has made his name in the world of business and is giving LMC the privilege of having him speak on campus for free.
Gallo's book, "Talk Like Ted," is being used this semester in the Honors speech course, and Speech Professor Marie Arcidiacono said she selected it because of its structure and approach, including its use of the "Rule of Three."
"What drew me to the book was the fact that it was unique. It wasn't going to be the stereotypical public speaking textbook," said Arcidiacono, adding that the book is broken up into three parts, and within each part are three chapters, which makes the whole work more organized and easier to digest.
Arcidiacono said she was also impressed that the book "incorporates quite a bit of science behind each of the different concepts that he talks about."
Did you know most professional public speakers limit their speeches to only 18 minutes because after that length of time it becomes more difficult for audience members to pay attention? That is just one of the many facts Gallo provides in his book, and that he and his wife will likely highlight in their presentations at LMC.
Vanessa Gallo is a body language expert who has taught at San Francisco State University and now coaches business executives on how to effectively communicate their messages. She will focus on how non-verbal cues can positively or negatively affect the successful delivery of a speech.
The Gallos' engagement here at LMC is largely due to Arcidiacono, who said she "put out a cold email to Carmine Gallo's contact" and was pleasantly surprised when both he and his wife agreed to volunteer their time to connect with students.
"Two amazing speakers are coming to our campus to chat with us, and they want to do it because they want to empower out students." said Arcidiacono.
The event will be held in Library Room L-109 on the Pittsburg Campus. Doors open at 2:55 p.m. and the presentation starts at 3 p.m. with a Q&A session following at 4 p.m. The Gallos will then be on the floor for a meet and greet, and refreshments will be available. If you have a copy of Carmine Gallo's book "Talk Like Ted," you can bring it with you to have it signed. If you don't have it but want to pick up a copy, it's available in the LMC Bookstore for $15.99.
Samantha Hernandez, Ramon Hurtado and Alberto Zelidon also contributed to this report