Remediating success: English courses see shift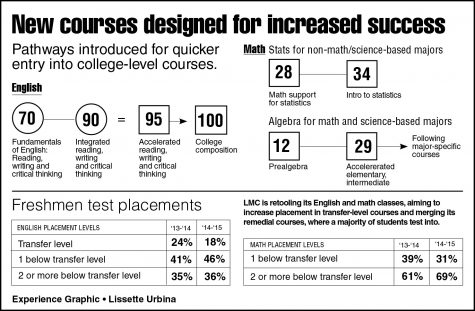 Los Medanos College will be transitioning from its current remedial English offerings to a more modern, streamlined path that department faculty hope will improve student success.
The two current five-unit remedial classes — English 70: Fundamentals of English: Reading Writing and Thinking and English 90: Integrated Reading, Writing and Critical Thinking — will be phased out over the 2016-17 academic year in favor of a single, five-unit English 95: Accelerated Reading, Writing and Critical Thinking class. meaning students who don't score high enough on their assessment test to register for college composition course English 100 will no longer have to take up to two English courses before enrolling in the first transferrable English class. In the 2014-2015 academic year, only 18 percent of LMC's 893 incoming freshmen tested into English 100.
These changes — nearly four years in the making — are designed to improve academic outcomes, said one of the plan's architects, LMC English professor Morgan Lynn.
"There are two facets to it — one is increased success for all students, and the other is making sure other students succeed," said Lynn, speaking of the college's new student equity targets, which seek to eliminate deficits in student achievement among student demographics. "Right now we have gaps between student populations, and we're looking to reduce those gaps. Datawise, this is supposed to help that."
These changes come at a time when many American community colleges are responding to new data that suggests the current modes of remediation aren't working.
A 2010  Columbia University study found only 37 percent of students who enroll in a remedial English class make it to a college-level class, and the attrition rate increases for each added class.
According to Complete College America, colleges in Colorado, Indiana, Tennessee and West Virginia that implemented single-course remediation pathways saw student success rates double in English.
How will LMC be cutting two or three semesters of English into a one-semester course? By trimming the fat, says Professor Scott Warfe.
"We're dropping anything that isn't relevant to the student that comes into the classroom," said Warfe, explaining that professors will now be taking a more hands-on approach, using essays instead of worksheets. "Every day, we're going to focus on reading or writing an essay, and then we're going to work with students one-on-one to work on their writing. We're meeting students where they are."
Warfe is no stranger to remedial classes: Besides teaching English 90 and 95 here at LMC, he also tested into his community college's basic skills English class when he was a student. Warfe said the sheer number of units between him and a transferrable class was daunting, and he felt he would never graduate from college.
"By getting more students into 100 — which is something we're also working on — and allowing all students into 95, that really eliminates some of that exhaustion," said Warfe, referring to another change that would allow students who tested just under the cutoff for English 100 to take the class regardless, avoiding the potential pitfalls of remedial courses.
California is implementing a new Common Assessment Tool, which allows colleges to use a wide range of measures to assess a student's preparedness — from high school GPA to writing prompts and self-assessments.
Though the prospect of a five-unit class may cause some students to feel lightheaded, professors are confident the model will be beneficial to both students and instructors.
"The additional time in class lets students get homework done in class. We're able to actually help in the moment — to troubleshoot and give them what they need — versus only meeting with them for a short amount of time and having them do all the work outside of class," said Professor Jill Buettner-Ouellette. "When you're supporting them in the moment, they're much more likely to make progress and get things done."
This isn't the first time LMC has reformed its remedial pathways.
The college originally had two remedial composition classes and two optional remedial reading classes.
"The problem is that students were not doing very well if they did not place into [college composition] from the start," wrote Dean of Liberal Arts Nancy Ybarra in an email.
In 1996, the Academic Senate formed a committee to reassess this system and created the English 70 and 90 courses, which remained the norm for some 15 years.
"We discovered that although our course completion rates had improved, students who began in English 70 were highly unlikely to persist into English 100 and complete it," wrote Ybarra, and so the process to find a more effective method began again and ended with the new 95 course.
"The idea of remediation started with good intentions," said Lynn. "It's just that it wasn't thinking of the students' journey, and how we help them with their journey entirely, instead of how we help them with their tiny English problems."
Lynn added that though this change has been in the making for some years now, it isn't final, and corrections and alterations will continue to be made to address problems as they arise.
"I think a big part of 95 is addressing students as people instead of data. We may have done that individually, but now it's a very explicit part of the pedagogy," said Warfe. "I don't think I've ever felt as personally invested in a course than I have in English 95."
View Comments (1)
About the Writer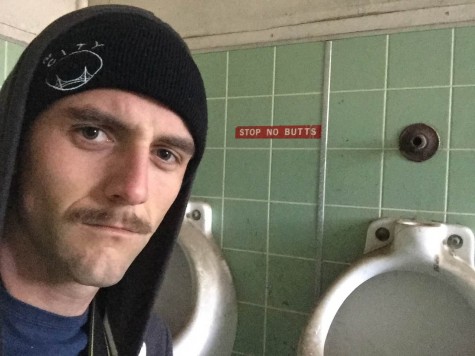 Tyler Mortimore, Staff Writer
I graduated from Rio Vista High School in 2010 and goofed around for a couple years before registering at LMC in spring of 2013. I continued goofing around...