Celebrating Cesar Chavez
Seven awarded for their own local contributions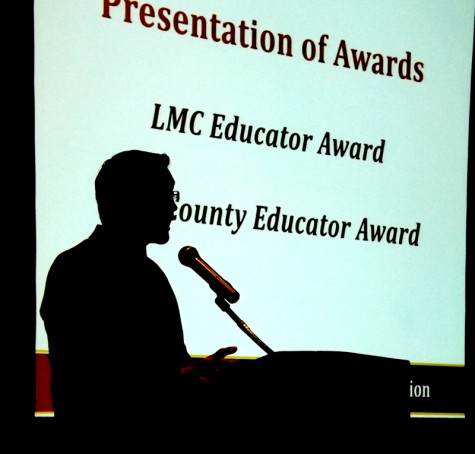 Seven members of the college and local community were honored April 1 at Los Medanos College's annual Celebration of The Life of César Chávez.
The recognition awards were presented to individuals who have contributed to East Contra Costa County in ways that embodied Chávez's core beliefs — service to others, sacrifice, helping the most needy, determination, non-violence, acceptance of all people, respect for life and the environment, celebrating community, knowledge and innovation — and mirrored his dedication and service to the community.
LMC drama professor Nick Garcia was presented with an LMC Educator Award for his involvement and commitment to his students.
"There are three things that drama does," said LMC counselor Marco Godinez, who introduced Garcia at the ceremony, "One, it makes you laugh. It brings emotion to your life – your spirit. The second, it makes you think… The third thing that drama does, it makes you cry. Those three elements is what makes us human. These are things that move people, that create people. Nick Garcia embraces this… Every time I hear students speak of Nick, they love him. The word of love comes in. They respect him. They honor him…"
Garcia has been at LMC since 2009 and is well liked by students and colleagues alike. He works to encourage and empower his students. For example, Godinez said, Garcia mentored Federico Bartolo, a local playwright from Pittsburg and creator of "My Block," which has now earned widespread acclaim and national awards.
"When you're an educator, I think what you try to do is try to be the teacher you wish you would have had," said Garcia, "And when you look at the students that you have, when you look at the community members that you have, what you see is not another person. What you see is family. You see your future and you see yourself. You see your children. You see the future that you will build."
LMC staff member Laura Subia, a counselor with the Extended Opportunity Programs and Services, was also presented with an LMC Educator Award.
"Laura embodies the values modeled by César Chávez in so many ways… Laura is an advocate for students, particularly first generation Latino and students of color. She contributes daily to the experience of East County students by serving as their academic counselor and mentor. She brings her own experience to the table, committed to ensuring more students like her reach their goals," said director of Transfer Academy Rosa Armendariz during the ceremony.
Subia first came to LMC as an intern to the Puente program and has been an EOPS counselor for 15 years. Having grown up in Richmond as a first-generation Chicano in an immigrant family, Subia knows firsthand how hard life is for many Latinos with similar backgrounds. She has worked toward social change and through the campus equity and diversity efforts advocating for more ethnic study courses at LMC and by looking for new methods and approaches to better serve students at LMC.
Awards were also presented to members of the local community for their service and dedication. The Special Recognition for Perseverance and Achievement Award were presented to Norma Cendejas, a supervisor of the Spanish Speaking Council (El Consilio), an organization that offers programs primarily for the Hispanic population of Central Valley. The Chávez Spirit award was given Sarai Espinoza, program coordinator at the youth development and leadership program One Day At a Time.
Both Cendejas and Ezpinoza were honored for their significant impacts on the local community regarding advocacy and social justice.
Three East County Educator Awards were given for commitment to student success and equity, particularly students of color and low-income: Samy D'Amico, principal of Pioneer Elementary School, Annalouisa Gonzales-Ortega, Spanish teacher at Freedom High School and Louie Rocha, principal of Antioch High School.
The last award, The César Chávez Award for Exemplary Community Service, was given to community advocate and volunteer Eren Mendez from the Contra Costa County Elections Division, who best exemplified the core values of César Chávez. Mendez is a notable member of the community, most recognized for her efforts in planning youth conferences for The Hispanic Chamber of Commerce.
César Chávez was a labor leader and human rights activist who worked toward improving the treatment, working conditions and pay for farm workers and who later formed the National Farm Workers Association, now known as the United Farm Workers.
Chávez was and still is a respected leader and his actions have been remembered and honored to this day.
"He was an advocate for non-violent protests and assemblies. He wanted the silenced voices of his brothers and sister to be heard by the government of society. I am honored to call myself a Latino, because of leaders like him," said LMC Puente student Emmanuel Pantoja, who spoke during the ceremony, "As a student activist, I find strength and inspiration from his legacy… Our generation must continue to advocate and take action on social justice issues of today such as social barriers, immigration reforms, poverty, and reaching out to the disenfranchised communities."
Leave a Comment