LMC preps for worst
At 10:30 a.m. Oct. 1, a 26-year-old student at Umpqua Community College in Roseburg, Ore., walked into his English composition class armed with five handguns and a semi-automatic rifle and began to shooting his classmates.
By 10:48 a.m., nine students were dead and nine more were wounded, and the shooter had committed suicide after a two-minute shootout with police.
Less than two weeks earlier, Los Medanos College had held a staff meeting addressing the possibility of an active shooter on campus, in response to the shooting Sept. 3 at Sacramento City College.
"It's one of those meetings you really wish you didn't have to have," said Los Medanos College President Bob Kratochvil at the start of a staff meeting Sept. 21.
Attendees were shown "Shots Fired: When Lightning Strikes," a video produced by the Center for Personal Protection that details survival strategies to be used in school shootings.
"With the proper mindset and the necessary tools," said video co-host Randy Spivey, "You'll be better equipped to react with purpose and maximize your chance of survival."
The video stressed preached preparedness, and instructed the viewer they have three choices when a shooting begins: get out, hide out or take out, referring to a violent neutralization of the shooter, a last resort.
After the video, LMC police Lt. Ryan Huddleston spoke and responded to questions from concerned faculty.
Huddleston highlighted the countywide response agreement held by the region's law enforcement organizations.
"We have the ability to communicate with every agency throughout the county," said Huddleston in a later interview. "Our officers carry radios that have direct communication with the Pittsburg Police Department, the [Contra Costa] Sheriff's Department, some 13 organizations all on their handheld radios."
But even with a rapid, interagency response to a shooting, law enforcement agencies stress that people should be prepared.
In a 2014 report on active-shooter situations, the FBI found that 69 percent of shootings ended in less than five minutes, and half of those ended in less than two minutes.
LMC Police Services has been reaching out around campus to create contingency plans for such a situation.
"People are thinking about it, not that anybody wants to think that this will every happen," said Huddleston. "But the fact that they're thinking about if it does happen, I'm going to do A, B, C, and if I do A, B, and C, I'm putting myself in a position to be as safe as I can when this horrible event is taking place."
Thanks to a tip, a possibly violent situation at LMC was thwarted a few years ago.
"Six or seven years ago, we actually got a tip from a citizen outside, that there was an individual that was thinking about coming to the college to hurt people," recounted Huddleston. "Our officer met with Pittsburg PD, and when he was coming back to the college, as soon as he pulled into the far west entrance, the individual had just entered the college property, and that's when he was taken down at gunpoint, and we did find loaded weapons."
Police Services has been facilitating this preparedness by giving localized briefings to departments campus-wide, from the Math Building to Childcare Services.
"Departments now are understanding that we're a resource," said Huddleston. "We're asked to come out and talk, we talk for 15-20 minutes, we answer a few questions, and they go about their day – that 20 minutes is invaluable. Nobody wants to think about these heinous things that happen, but the fact we're having a conversation is a start."
Interim Library Director Kim Wentworth recognizes the unique challenges the LMC library would present in an active-shooter situation.
"I reached out and asked them to give a talk specially for the librarians and library staff," Wentworth said. "We went to the Monday training, and then, because the library is a lot different from a classroom, I wanted them to do some specific training for our staff."
Wentworth said that while the training was useful, it didn't necessarily put her at ease.
"I really appreciate the police coming," Wentworth said, "But the one thing you want to hear them say, they can't – that it won't happen here."
Technical Services Librarian Christine Kromer said "hide out" doesn't work very well when you're in one large room.
"The first floor of the library, where I spend most of my time – there's nowhere to hide," said Kromer. "If I'm lucky and I'm in my office, my office happens to have a lock, but if you're out at the reference desk… same with all the students that are out there, and the study rooms don't have locks on the doors, and they have all those windows. This building was not designed with that in mind."
Contra Costa Community College District Chancellor Helen Benjamin addressed the security dilemma that American colleges, designed for education not terrorism, face.
"We are committed to supporting on-campus safety and security measures at our colleges, with a priority emphasis on prevention whenever possible," Benjamin said in an email. "While campus safety is of the utmost priority, due to the open nature of our colleges, we are all susceptible to these types of events."
Huddleston said the talks are fairly straightforward, but cover essential questions, like where you should go should a shooting begin on campus, and what sort of odd behaviors you should look for in a potential shooter.
"I think if we have an understanding of where exits are, who's around us… not that we're going to stare at people all day, but just to say: this is odd," he said. "This activity, the way that they're talking, it's grabbed my attention. Maybe I need to alert the authorities."
Huddleston emphasized the danger of the bystander effect and pointed to the thwarted shooting plot at Summerville High School in Sonora Sept. 30, which was prevented by a student who overheard the boys discussing their plan and reported it to administrators.
"Talking to us [is important], getting on the phone and saying "Listen, I overheard something or saw something on social media," he said. "You might be the one person who heard it. You might be the one person who read it. It's better to be safe than sorry."
According to the FBI report, which studied 160 active shooter situations from 2000 to 2013, schools were the second most common location for such shootings, which were often perpetrated by a student or employee of the institution.
Over the 14 years covered by the study, it was found that there was an average of 11.4 incidents per year. The shootings are on an upward trend, however, with an average of 16.4 incidents per year from 2007 to 2013.
A moment of silence was held on campus Thursday in remembrance of the victims of last week's Umpqua shooting.
Leave a Comment
About the Contributor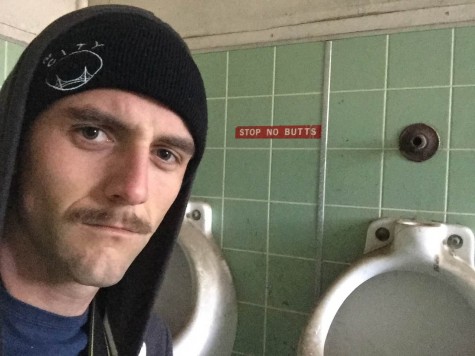 Tyler Mortimore, Staff Writer
I graduated from Rio Vista High School in 2010 and goofed around for a couple years before registering at LMC in spring of 2013. I continued goofing around...